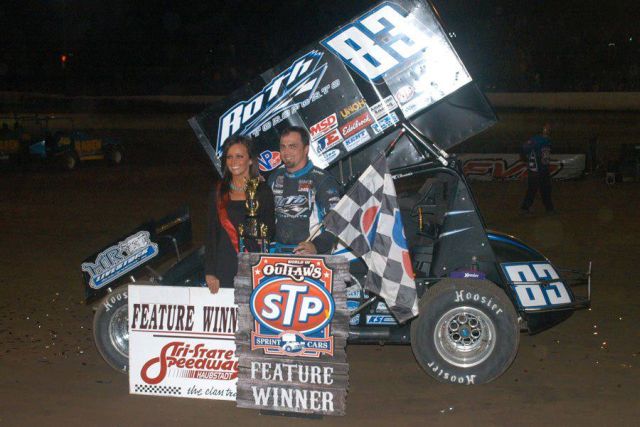 From Peterson Media
Leaving California and following the World of Outlaw series back East, Tim Kaeding and his Roth Motorsports team had all the confidence in the world after their impressive start to the season, and kept it going on Saturday night as TK picked up his third win of the season at the Tri-State Speedway in Haubstadt, IN.
"I can't say enough about this Roth Motorsports team," Kaeding said. "We have been strong all year, and it is a great feeling to win another World of Outlaw race."
Running in the third spot for much of the race, TK watched as the lead duo of Joey Saldana and Cody Darrah battled for the top sot as the duo exchanged 'slide-jobs' for what seemed like every lap.
Biding his time, and sitting behind them, TK made sure to keep his distance, as the two raced each-other extremely hard.
"They (Darrah and Saldana) had a gutsy battle going on, and I was trying to be careful in case they made contact, I didn't want to get collected," he said.
TK's patience paid off, as the duo in fact made contact on lap 24, knocking both of them out of the race, putting TK and his Roth Enterprises/HR Livestock Transportation/3H Cattle machine at the helm with just 15 laps remaining.
With the high, scary side to his liking, TK rode the berm as he led David Gravel, but as Gravel pressured and showed Kaeding the bottom, the San Jose, CA moved down, and held him off for the final few laps in heavy traffic, picking up his third win of the season.
"We were just in the right place at the right time," he said. "This place is usually up on the curb where we like it, but Gravel showed me a nose, I moved down, and the bottom ended up being the place to be."
In preliminary action, TK qualified sixth quick aboard his Mobil1/FK Rod Ends/Weld Wheels backed entry before winning his heat race, and finishing fourth in the dash.
Tim and his Roth Motorsports team would like to thank Roth Enterprises, HR Livestock Transportation, 3H Cattle,  Mobil1, FK Rod Ends, Weld Wheels, Brown and Miller Racing Solutions, Kent Performance, Kaeding Performance, and Astro Titanium for their support in 2013.
2013 ROTH MOTORSPORTS BY THE NUMBERS: Starts-12, Wins-3, Top 5's-9, Top 10's-11.
ON TAP: TK and his Roth Motorsports team will now check out some different schedules before deciding on their next move, stay tuned for an announcement.
STAY CONNECTED: Stay connected with Roth Motorsports by checking out their new website, www.rothmotorsports83.com. You can also follow Tim on Twitter by following @tkaedingracing.