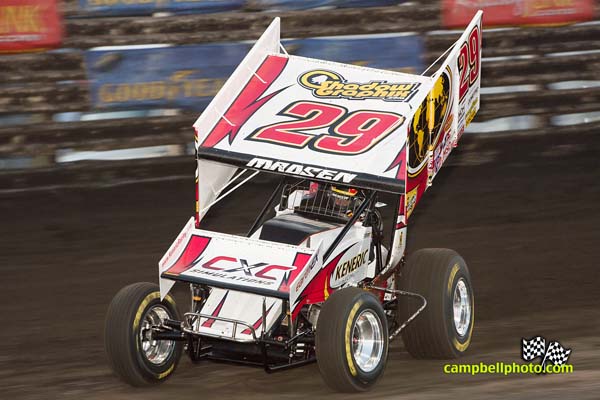 By Bill W
April 24, 2013 – Kerry Madsen and the Keneric Racing #29 team are back on familiar ground in a couple of ways.  They are back on familiar tracks in the Midwest and they had a more familiar finish for them…a top five run at the Tri-State Speedway near Haubstadt, Indiana on Saturday night.  Friday's event at Paducah (KY) International Raceway was a wash.  This weekend, the team heads to the Salina (OK) High Banks with the World of Outlaws on Friday, before heading back to the opener at the Knoxville Raceway on Saturday.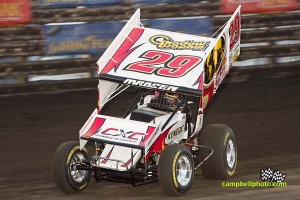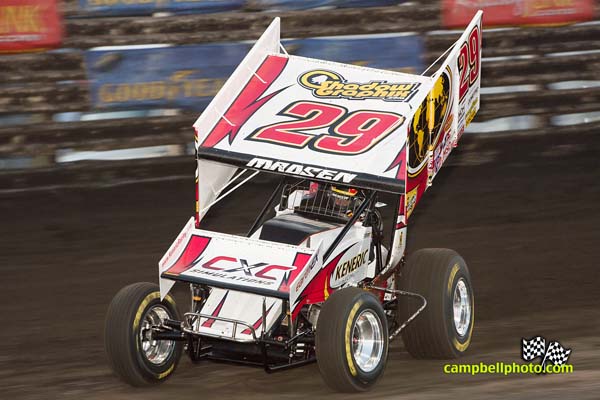 Kerry's strong night started with a strong qualifying effort…tenth quick.  It came despite a late pill.  "It was a pretty good lap for when we went out," he says.  "I'm hoping we found something that will translate into some better qualifying down the road.  I think we've come up with some baseline platforms to work from.  Hopefully, we can translate it to other tracks."
The St. Mary's, New South Wales, Australia native ran second in his heat, which put him in the Dash.  A good run saw him advance from row four to a sixth place finish.  "It was good to run second," says Kerry about the heat.  "That puts you in the Dash, and we were able to move forward there."
Starting outside row three, Kerry ran a strong race in the top five on a track that saw plenty of action.  "We had a good race," he says.  "We battled the whole way.  We got up there with (David) Gravel for a while.  We battled with Steve Kinser.  I thought I had (Paul) McMahan a couple of times, but that didn't happen."
Kerry was happy with the run.  "We had some good battles, and in the end, we ended up fifth," he says.  "I probably had a little better car than a fifth place car, but all in all, we put a solid night together.  We qualified well, heat raced well, and finished well.  That's exactly what we need right now.  We need to string some of these nights together and the wins will come."
After Friday's race at Salina, Kerry plans on getting some laps at the Knoxville Raceway, where he picked up a WoO win last season.  "If everything goes as planned at Salina, we'll definitely be back to run Knoxville," he says.  "Our shop is a mile away from the track, and I live here.  Any laps we can get there are definitely a bonus.  There's no doubt about that."
Salina will be new territory for Kerry.  "I've never been there, so that will be a new track," he says.  "Most have only been there once, but that was with Goodyears and not Hoosiers, so we're all pretty much at square one.  It will be interesting, and I'm looking forward to it.  It will be fun to get on something that isn't a tight and tacky bullring right now."
Follow Keneric Racing & Kerry Madsen on Facebook and Twitter!
Keneric Racing
www.KenericRacing.com
http://www.facebook.com/kenericracing
http://twitter.com/kenericracing
Kerry Madsen
http://www.facebook.com/pages/Official-Fan-Page-for-Kerry-Madsen/101145169933686
http://twitter.com/kmr29