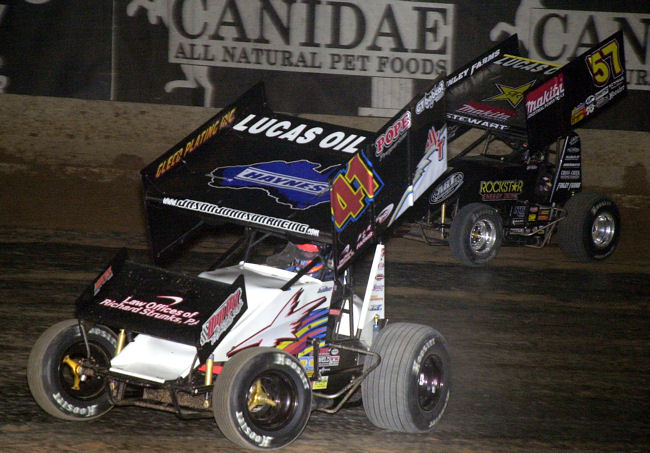 Inside Line Promotions
RISING CITY, Neb. (April 30, 2013) – The wait was well worth it for Jack Dover on Saturday night.
After a couple of red flags and a handful of cautions, Dover emerged from the Nebraska 360 Sprints hour-long feature at Butler County Speedway with his second victory of the season.
"It was the longest race I've ever done," he said.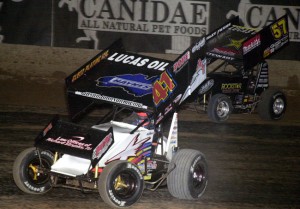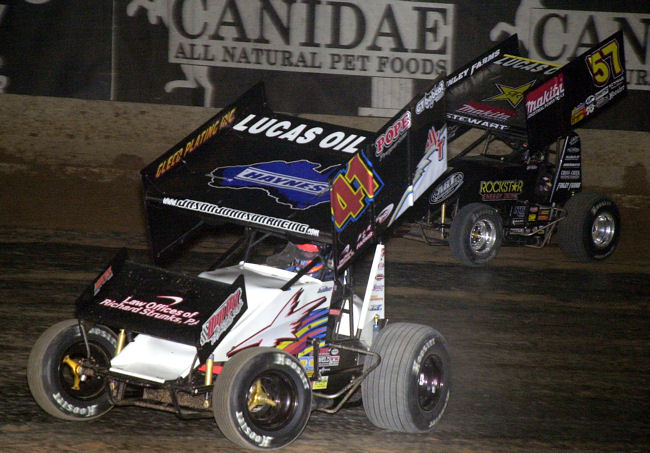 In his first appearance at the third-mile oval since 2009, Dover was second quickest in group qualifying. With a four-car inversion in each heat race, Dover started on the outside of the second row and battled with Robby Wolfgang for most of his heat race before taking over third place. He reeled in the runner up, but fell a lap short of getting close enough for a pass as the top two cars in each heat advanced to the dash.
That lined Dover up 10th for the 30-lap feature.
"We ran eighth for about the first 12 laps," he said. "My car was a little tight at the beginning. I knew once the fuel load burned off we'd be good at the end and that's exactly what happened. We started making some moves and doing some slide jobs."
Dover gained four more positions in the next five laps before a red flag with approximately a dozen laps remaining. The crew changed the spacing in the rear end and adjusted the shocks, giving Dover the comfort he needed. The leaders quickly reached traffic on the restart and Dover maneuvered into the top spot for the final 10 laps.
"My experience and patience helped," he said. "There were a lot of good drivers who could win an ASCS National show, but they have to learn patience. When they would lose their head, that's when I would get them."
Dover felt the engine sputtering on fuel during a caution in the final two laps, but was able to find just enough to restart strong and get to the checkered flag first.
With an eye on the weather, Dover said he will compete on Saturday at either Knoville Raceway in Knoxville, Iowa, or at Lucas Oil Speedway in Wheatland, Mo., with the Speedway Motors ASCS Warrior Region.
QUICK RESULTS –
April 27 – Butler County Speedway in Rising City, Neb. – Qualifying: 2; Heat race: 3 (4); Feature: 1 (10).
SEASON STATS –
4 races, 2 wins, 3 top fives, 3 top 10s, 4 top 15s, 4 top 20s
UP NEXT –
Either Knoxville Raceway in Knoxville, Iowa, or Lucas Oil Speedway in Wheatland, Mo., with the Speedway Motors ASCS Warrior Region on Saturday
SOCIAL MEDIA LINKS –
Website: www.JackDoverRacing.com
Twitter: https://twitter.com/JackDoverRacing
Facebook: https://www.facebook.com/jackdoverracing?fref=ts
SPONSOR SPOTLIGHT – Eagle Motorsports
Eagle Motorsports, formerly known as Eagle Chassis, has fabricated sprint car chassis since 1998. Eagle has been a part of winning three Knoxville Nationals. For more information, visit www.EagleMotorsports.com.
"Eagle chassis are one of the easiest to drive and one of the easiest to work on," Dover said. "And they've been great with custom, reliable chassis because of my height."
Dover would also like to thank Certified Transmission, Home Pride Companies, Inc., Roush Yates Racing Engines, Thorpe's Body Shop, Trail Performance Coatings, Inc., The Oil Medics, ButlerBuilt Professional Seat Systems, Keizer Wheels, Schoenfeld Headers, Shaver Racing Engines, Langfeldt Overhead Doors, K&N Filters, FK Rod Ends, DMI, Speedway Motors and Vortex Wings for their continued support.
INSIDE LINE PROMOTIONS –
Inside Line Promotions specializes in affordable public relations, media management and merchandising services for sprint car teams. ILP Founder Shawn Miller leverages professional journalism with new media technologies and social networking to improve your exposure and your sponsors' return on investment.