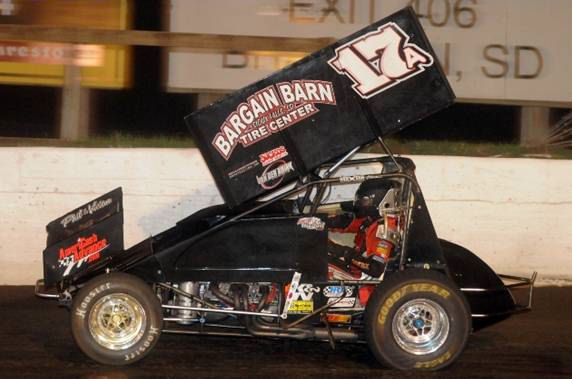 By Bill W
May 8, 2013 – When Austin McCarl's New Gulf Resources/Excel Therapy Specialists #17A went up in big balls of flame in the season opener at the Knoxville Raceway, most in attendance, including the driver, thought the worst.  Alas, there is good news as the culprit was an oil line coming loose, and the Altoona, Iowa driver will be back in action this weekend both at Knoxville and in the opener at the Huset's Speedway near Brandon, South Dakota on Sunday.
Early fuel problems meant a rough time trial lap for Austin in Knoxville's opener.  "We went to practice night to work some things out," he says.  "Hot lapping on Saturday felt great.  We were sixth quick.  We had a fuel pickup problem qualifying and that really put us behind the 8-ball."
Austin was forced to start 11th in his heat, with the top six transferring to the feat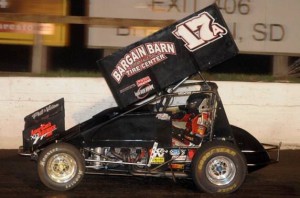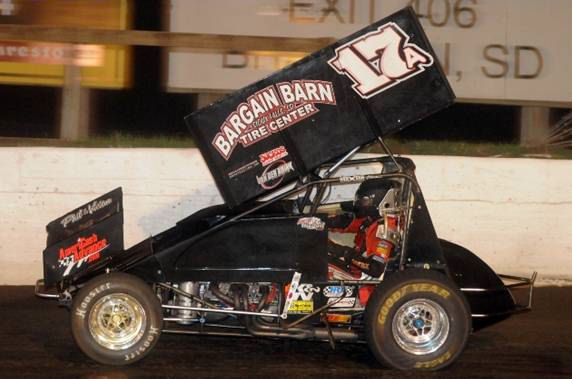 ure.  "We were able to catch some yellows at the right time and move up through there," he says.  "We were able to make it out, which was good.  I just needed to get back racing.  I hadn't raced in seven months, so that was good."
The qualifying time would put the #17A towards the back of the main event starting grid.  "We got the car ready to go for the feature," says Austin.  "We started 18th, and Brian (Brown) got me on the start.  We made our way up to 13th or so.  I was following Brian, and we were coming up to pass the twelfth place car.  That's when things got really hot."
It was evident something serious was going on.  "The cockpit filled with smoke," says Austin.  "I couldn't see, so I lifted and hit the kill switch.  When I did that, it got really hot."
Austin was relieved later to find out about the oil line issue.  "It was a weird deal that no one had seen before," he says.  "We had an oil line come off the pump.  It was a return line, that goes to the oil tank.  It actually came off.  It covered the car and me in oil.  Miraculously, I don't think we hurt the engine.  We dodged a bullet there.  I thought there would be a big hole in the pan!"
It will be a busy weekend for Austin.  He'll be a crew chief on Friday night before his two evenings of racing.  "We're building a new racecar for Dad this week," he says.  "I'll crew chief for him at Elko Speedway.  Hopefully, we can learn some for my car.  Then I'll run Knoxville and Huset's.  It's going to be a fun weekend."
Visit Austin on the Web!
Keep up to date on Austin's exploits and check out the new look at www.AustinMcCarl.com!
Austin's Releases
If you'd like to be included via e-mail, shoot one to sprntcar@hotmail.com with "Austin" in the subject line.
Austin would like to thank New Gulf Resources, Excel Therapy Specialists, Bargain Barn Tire Center of Sioux Falls, AmeriCashAdvance.com, Sweeter Construction, Rossie Feed and Grain, DeBerg Concrete, Deanfield Farms, Phil and Vivian, Bosma Poultry, Vortex, Kosama of Altoona, Chris Spaulding-Attorney at Law, CM Rock, 212 Bar & Grill, Hinchman Racewear, Maxim Chassis, Schoenfeld Headers, All Pro Cylinder Heads, Justice Brothers, Van Der Brink Designs, Engler, HRP, Aurora Rod Ends, Butlerbuilt, KSE, Hoosier Tire, BRMS, K&N Filters, Sander, Jocko's Sprint Parts, Crow Safety and Bell Helmets for all their help!