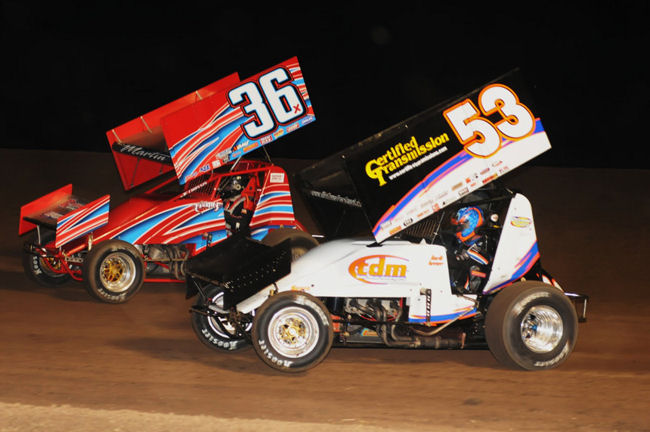 Inside Line Promotions
HARTFORD, S.D. (May 14, 2013) – There aren't many words that describe Jack Dover's frustration after his third victory in five races this season was stripped away.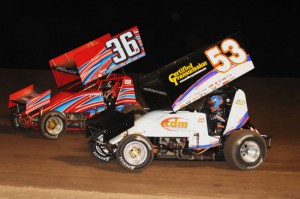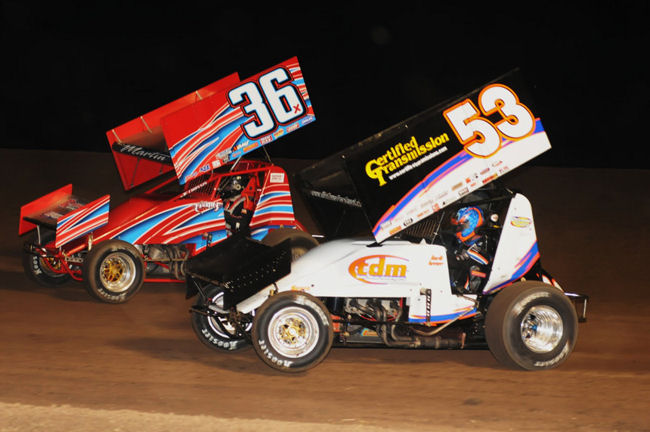 After dominating his heat race and the feature at the 3rd annual Loren Barstad Memorial at I-90 Speedway on Saturday, Dover was told he didn't make weight at the scales and was disqualified.
"I was the first one to the scales and it showed up 1,490 (pounds) so in my mind I think I'm good because I'm used to 1,475," he said. "Pretty much everywhere else I've raced they have the same weight rule. There is nowhere else in this country I'm pretty sure that has a 1,550 weight rule."
For that race, the weight rule was 1,550 – used widely as the weight for 305ci sprints. Dover said the weight rule was never discussed in the prerace drivers meeting and that Gregg Bakker, the runner-up, was also disqualified for being under weight. Lee Grosz, who finished third, was credited with the win.
"That is why we like to run with sanctioning bodies," Dover said. "For one, they run it professionally. They tell you all the rules and what you need. I guess you'd say it's more organized."
After charging from fourth to first in the opening lap of his heat race, which he won handily, Dover advanced as one of the top eight cars in the redraw. The random draw pulled the No. 27, which was the third lowest, to give him a starting position on the inside of the second row for the main event.
"We took the lead on the first lap," Dover said. "Going into turn one if I remember right I think I split them."
And then everything began to slow down. In fact, the first two laps took approximately 20 minutes and the feature lasted nearly an hour.
"Once again I was running out of fuel," Dover said. "There was a yellow with four laps to go and I was chugging on that. I was praying I would finish the race and I don't think I could have made another lap."
Dover led the entire race before the weight mishap.
He will compete on Friday at the 2nd annual US 36 Nationals Presented by RacinBoys at US 36 Raceway near Cameron, Mo., with the Lucas Oil ASCS National Tour. Last season, Dover won an ASCS Midwest Region event at the track, charged from 10th to finish third in another event and placed 12th at the US 36 Nationals.
He will conclude the weekend on Saturday with the Nebraska 360 Sprints at Butler County Speedway in Rising City, Neb., where he drove from 10th to win on April 27.
QUICK RESULTS –
May 11 – I-90 Speedway in Hartford, S.D. – Heat race: 1 (4); Feature: 19 (3).
SEASON STATS –
5 races, 2 wins, 3 top fives, 3 top 10s, 4 top 15s, 5 top 20s
UP NEXT –
Friday at U.S. 36 Raceway near Cameron, Mo., with the Lucas Oil ASCS National Tour for the 2nd annual US 36 Nationals Presented by RacinBoys and Saturday at Butler County Speedway in Rising City, Neb., with the Nebraska 360 Sprints
MEDIA LINKS –
Website: www.JackDoverRacing.com
Twitter: https://twitter.com/JackDoverRacing
Facebook: https://www.facebook.com/jackdoverracing?fref=ts
SPONSOR SPOTLIGHT – Home Pride Companies, Inc.
Home Pride Companies, Inc., is a leader in vinyl siding, window replacement, roofing and guttering. Based in Omaha, Neb., Home Pride Companies, Inc., also specializes in storm damage repair and has served Nebraska and Iowa for more than 25 years. For more information, visit www.HomePrideCompanies.com.
"Luke Cochran has become a family friend the last few years and he's been instrumental in keeping our program going," Dover said. "He also has a great company, which we've seen firsthand when Home Pride Companies, Inc., roofed my parent's house."
Dover would also like to thank Certified Transmission, Roush Yates Racing Engines, Eagle Motorsports, Thorpe's Body Shop, Trail Performance Coatings, Inc., The Oil Medics, ButlerBuilt Professional Seat Systems, Keizer Wheels, Schoenfeld Headers, Shaver Racing Engines, Langfeldt Overhead Doors, K&N Filters, FK Rod Ends, DMI, Speedway Motors and Vortex Wings for their continued support.
PARTNERSHIP OPPORTUNITIES –
Jack Dover Racing is close to being able to compete across the country by returning to the Lucas Oil ASCS National Tour, where Dover has finished in the top 10 both seasons he has raced full time with the premier 360 sprint car series. He is also ready to compete with the World of Outlaws STP Sprint Car Series en route to his dream of racing in NASCAR. The only variable missing is a reliable truck and trailer. For more information on partnership opportunities, e-mail teamdover@gmail.com.
JACK'S SHOUTOUT –
This week Jack wants to give thanks to Certified Transmission owner Peter Fink.
"Peter is a guy to look up to and is inspiring," Jack said. "He's been successful in business. I feel really fortunate to have a partnership with a great person like Peter and a business like Certified Transmission."