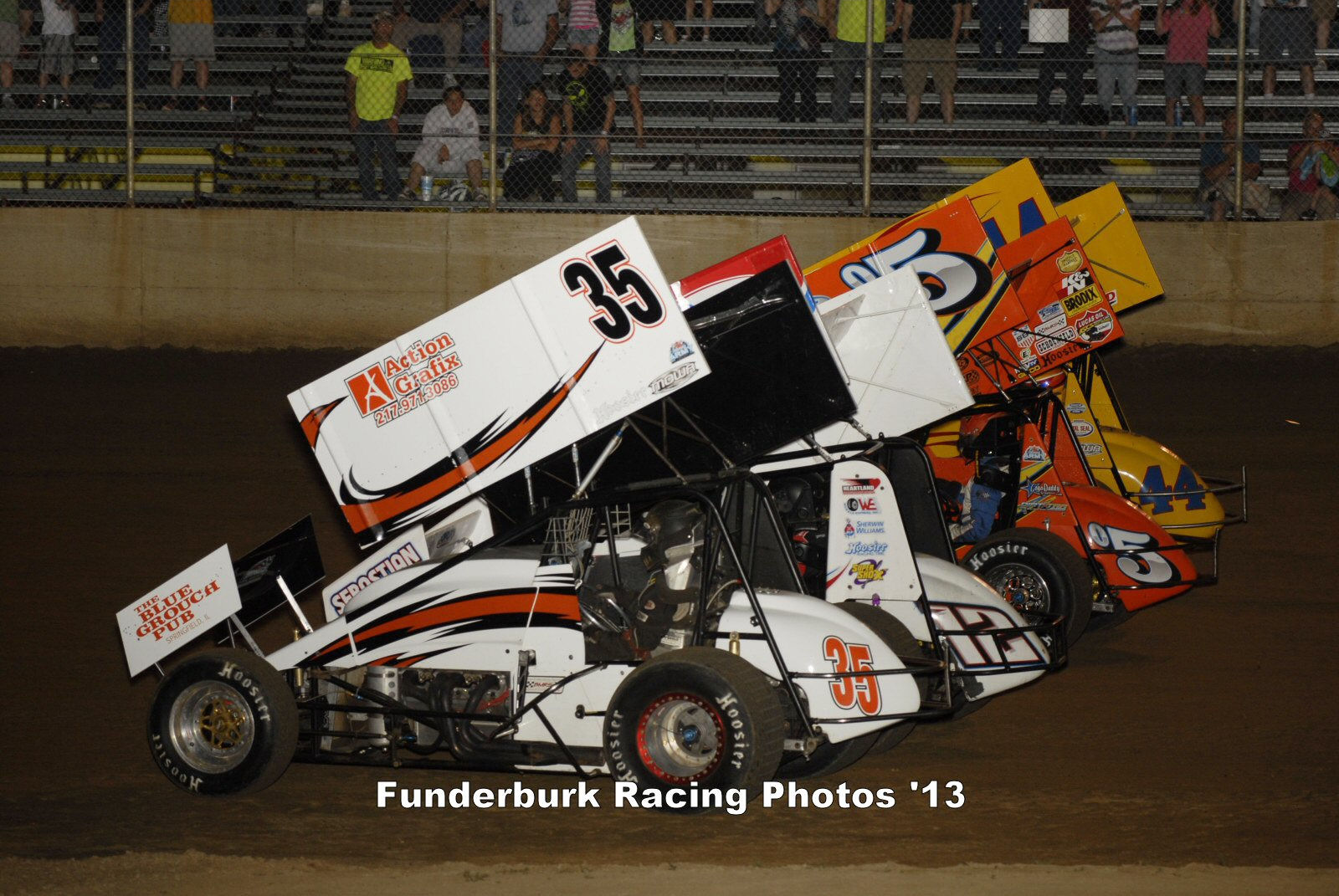 By Bill W
May 23, 2013 – More bad luck was in the offing for Jerrod Hull and the Rockwell American #12 team last weekend at Montgomery Motorsports Park in New Florence, Missouri.  He broke his quick-change gears while vying for the lead.  This weekend, will offer a chance at that first win of the season with events in Benton, Missouri, Pevely, Missouri and Quincy, Illinois.
After getting rained out at Jacksonville, Illinois' Mary Lee Standridge Memorial, the MOWA series headed to New Florence.  Things started well in the heat.  "The night started out well enough," says Jerrod.  "We drew outside row one for the heat race and we were able to win it.  That's three heat race wins in three races for us, so I thought that was cool.  Unfortunately, it has seemed to turn sour after that."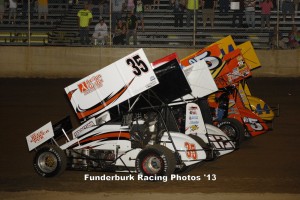 After running from fourth to third in the Dash, Jerrod would line up inside row two in the feature.  "We were running third," he says.  "It was a really good fight in lapped traffic between AJ (Bruns), Jimmy (Hurley) and me.  We were all there slicing and dicing."
Things were going well, and the Sikeston, Missouri driver made a bid for the lead.  "I kind of dove under AJ once," says Jerrod.  "I thought we may even end up with the lead there.  At that point, one of the lapped cars flipped out of the place, so that put me back in third for the restart."
That's when mechanical issues arose.  "I could smell smoke and rear-end grease, so I wondered what was going on," says Jerrod.  "We went maybe another three laps, and we busted the quick-change gears and the rear plate, so we were done after that."
The problem added to a string of bad luck that saw Jerrod upside down twice in his previous two starts.  "That's the way racing goes sometimes," he says.  "I don't know what else we can do, but keep racing.  We'll try this weekend and see what happens."
Jerrod was encouraged by how well the car was running.  "We were definitely fast," he says.  "We weren't back in fifth or sixth just hanging out.  We were in contention to win, so that was pretty cool.  We were pretty fast all night long.  We'll put some new gears in it and try again."
The team has three shows planned this weekend, starting close to home.  "We're running in Benton, Missouri this Friday night for their special show," says Jerrod.  "It's eight miles from my house.  Then we have Pevely and Quincy (with MOWA) Saturday and Sunday.  Winning one of those would be nice."
Jerrod and the #12 team would like to thank: Rockwell American, Midland Performance, Super Shox, Sebastian Sand Blasting & Powder Coating, Inc., Sherwin Williams, Chuck's Small Engines, Don Hamilton, HRP, Lighthouse Christian Center, Logo Daddy, Hoosier Tire, Simpson, Weld, Automotive Machine, Maxim and Heartland Trailer Manufacturing.