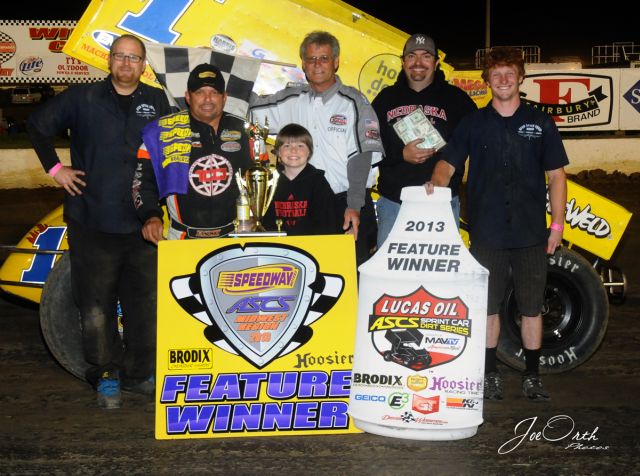 From Inside Line Promotions
Salina, KS — (June 4, 2013) — For the first trip to Salina Speedway, Mark Burch Motorsports had a very good showing.
After drawing a high pill on Friday to line up sixth in the Lucas Oil ASCS National Tour heat race, Danny Lasoski powered into a runner-up finish.
"If you would look at the lineup in the heat race we thought we had our work cut out for us," he said. "As usual, Mark had the car set up great. If your car was good you could run the top, bottom and middle.
"We found some places on the race track that we thought would come to us for the A Main."
The performance in the heat race gave the team enough points to advance to the redraw, where Mark Burch Motorsports plucked the highest number possible – eight – to line up on the outside of the fourth row for the feature. The track was also reworked, changing the team's strategy prior to the 30-lap main event.
Lasoski battled between fifth and ninth place for most of the first half of the feature before the car started to come to life.
"I'll take 100 percent of the blame," he said. "We were just a little sparing on the car as far as how tight to get it. We were a little too loose. My car wouldn't square up and drive forward soon enough."
Car owner Mark Burch also accepted full blame for not reading the track after it was changed.
"I will take 100 percent of the responsibility for not having the right setup on the car," he said. "We gave away an opportunity for another win."
As the track became more slick each lap, Lasoski maneuvered his way into the top three in the final 10 laps before closing on Seth Bergman and Logan Forler, who were running first and second, respectively.
With Bergman and Forler committed to the bottom line, which had the most grip, Lasoski tried through the middle and briefly passed Forler for the runner-up position before losing it in traffic with a couple of laps remaining.
"They were definitely in the preferred line," Lasoski said. "It was our job to find a place to get by them. I thought on the white flag lap we had a shot to get by them."
Lasoski drove to the high side in turns one and two and dove to the bottom entering turn three, but was unable to get by as Bergman narrowly held off Forler with Lasoski in tow.
It marked the third consecutive podium finish for Mark Burch Motorsports.
QUICK RESULTS –
May 31 – Salina Speedway in Salina, Kan. – Heat race: 2 (6); Feature: 3 (8).
SEASON STATS –
7 races, 1 win, 4 top fives, 5 top 10s, 5 top 15s, 5 top 20s
UP NEXT –
TBD
MEDIA LINKS –
Website: www.MarkBurchMotorsports.com
Twitter: https://twitter.com/mbmotorspt
VIDEO –
Here are highlights of Mark Burch Motorsports victory at I-80 Speedway in Greenwood, Neb., on May 23 thanks to Moore Race Videos: http://youtu.be/FQchd9GJmmo
SPONSOR SPOTLIGHT – Joe Gibbs Driven Racing Oil
Joe Gibbs Driven Racing Oils are specially formulated for the specific needs of racing engines. The engineers and engine builders at Joe Gibbs Racing have put in countless hours perfecting the oil to maximize horsepower and protect vital parts. The line of synthetic racing oils offer the best protection available with improved cold start protection. For more information, visit DrivenRacingOil.com.
"We are happy to be partnered with Scott Diehl at Driven Racing Oil for the 2013 season and beyond," Burch said. "Utilizing the full line of Driven Racing Oil products helps our team save money and is better for the environment. Fewer oil changes is good for everyone. Not only does our Driven Racing Oil provide us with great performance, all of their products are designed for each specific racing application. Due to tightening environmental regulations, other oils just do not compare to the Gibbs born products. We have found on our in-house testing that excessive detergents can be very harmful to your racing engine. Don't just take my word for it. Visit www.drivenracingoil.com and find out why you should be using Driven Racing Oil."
Mark Burch Motorsports would also like to thank Engler Machine and Tool, Wolfweld Chassis, AFCO Gas Shocks by Speedway Motors, King Racing Products, Speedway Motors, Speedway Shock Service, Hot Dot, Inc., Wireless Amber Alerts, Hoosier Tire, Arrow Truck Sales, Donovan Blocks, Diamond Pistons, Rod End Supply, Saldana Racing Products, MSD Ignition, Vortex Wings, S & S Welding, Inc., Lee Power Steering, Gessford Machine, DMI Bulldog Rears, Wulff Pumps, Schoenfeld Headers, Red Devil Brakes, Total Seal Piston Rings, Dyer's Top Rods, Huggins Cams, Weld Racing Wheels, Goodridge Fluid Transfer Systems, Harris Decals and Awesome Racewear for their continued support.