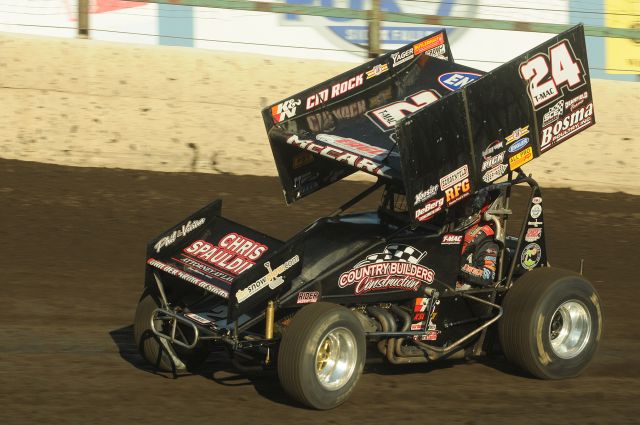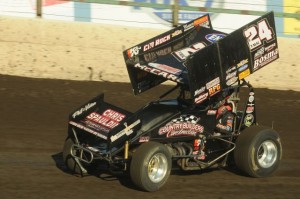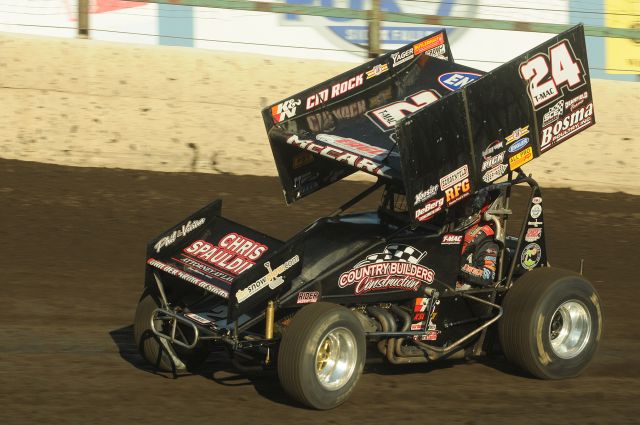 From Bill W
June 25, 2013 – Two podium finishes have Terry McCarl and the TMAC Motorsports #24 aiming for a win this week.  After a third place finish at Knoxville Raceway Saturday night, and a second place finish at Huset's Speedway in South Dakota, four races await this week.  Tomorrow night, the Altoona, Iowa driver will tackle the Jackson Speedway Spring Nationals in Minnesota.  On Friday, he'll run with the 360 UMSS series along with son Carson at the St. Croix Valley Speedway in St. Croix Falls, Wisconsin.  Saturday and Sunday it will be back to Huset's.
TMAC started things at Knoxville on Saturday by timing in third quick in the 27-car field.  "I suggested we do two cars at a time, like they do in Australia, but they went with three cars for two laps instead," he says.  "I think it worked out o.k.  Third quick is as good as we've been this season."
The heat went well, with the seven-time track champion winning from outside row three.  "The track had moisture on the top, bottom and middle, but it was slick at the same time," says TMAC.  "Two of the three heats were won from the sixth position, so the fans got to see some good heat races."
The main event also saw him post outside of row three.  "We got a good start and got to third," says TMAC.  "We were kind of hanging in there with them.  When Danny (Lasoski) and Mark (Dobmeier) were battling, I thought I might have a shot at them.  It was difficult for me to leave the top and go to the bottom.  I did it early on, but late in the race, the track was pretty slick and my tires were gone."
He would settle for a third place finish.  "It was a heck of a show to watch," says TMAC.  "It was a great race for the fans.  It was a good finish, so it was good all around."
Huset's Speedway attracted a nice field of 410's on Sunday night as well.  "We love to see guys like Ian (Madsen) and Tim (Kaeding) come up there," says TMAC.  "It gets you a little more pumped up.  We qualified decent (third).  That was our fifteenth night on the engine, so I have to thank Tommy Rider for giving me a reliable engine."
The track conditions were near perfect on Sunday.  TMAC ran third in his heat, and started sixth in the feature.  "Greg Rubin did an excellent job with the racetrack," he says.  "They've been wet most of the year, but it slicked off by feature time and you had moisture on the bottom, and moisture on the top.  It's getting more like the old Huset's."
TMAC was able to surge to the front.  "You could slide someone or run the bottom," he says.  "With that many cars, it made it really fun in traffic.  We were able to get to the lead and the car felt awesome.  I probably got a little too excited.  I was overdriving the car a bit.  I think I got my tires hot."
At that point, Kaeding took advantage of traffic.  "I just made a mistake in traffic," says TMAC.  "I was following a lapped car on the top, and he wasn't moving.  I went to the bottom and lost some momentum.  Tim got by us in traffic there and it was one of those deals where you are better to be second.  Of course, the lapped car went to the bottom and Tim rode around him (laughs)."
It was a great race, and though he finished in the runner-up spot, TMAC can respect that.  "We definitely don't come to run second," he says.  "It pays to win.  But in my heart, I'm a promoter and Huset's gets a great crowd on Sunday nights because of racing like that."
It will be a busy week for the McCarl clan.  "I'm racing the Jackson Spring Nationals tomorrow, and we're going to St. Croix on Thursday to help Carson with practice in Rick Mastel's car.  I'm going to race Friday there with him, and Austin and I will come back on Saturday to run Knoxville.  Then it's back up to Huset's on Sunday."
To check out opportunities to partner with TMAC Motorsports on a nightly basis, visit www.TerryMcCarl.com or call 515 957-0020!


Websites for the McCarl Gang!
Driverwebsites.com develops the websites for the McCarl boys. Check out www.TerryMcCarl.com, as well as www.AustinMcCarl.com and www.CarsonMcCarl.com!
This Month in TMAC History!
TMAC has two wins on June 30 at the Huset's Speedway.  In 1996, he drove Brad Gray's #51 to victory over Danny Lasoski, Randy Nygaard, Patrick Bourke and Chad Mellenberndt.  A win in 2002 came ahead of Gary DeWall, Justin Henderson, Don Droud Jr. and Gregg Bakker.