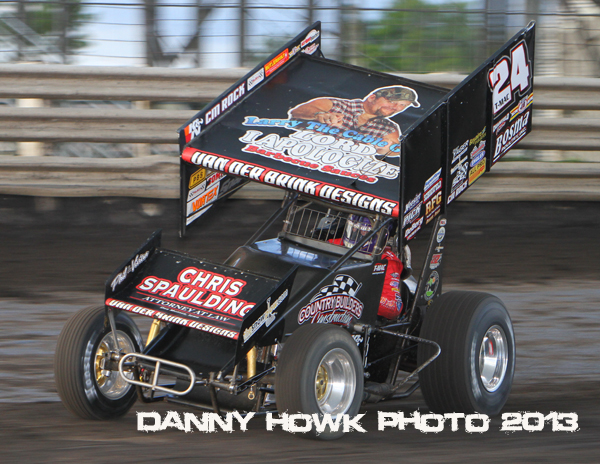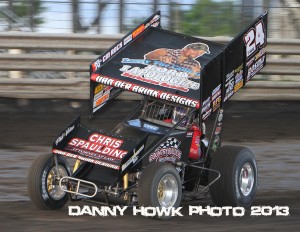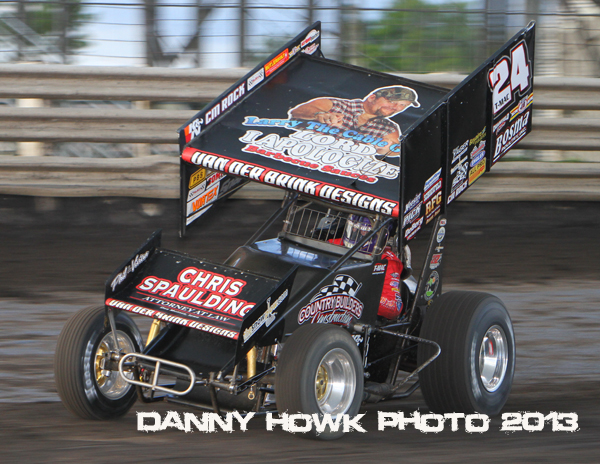 From Bill W
June 25, 2013 – A busy week has Terry McCarl and the TMAC Motorsports #24 ready for action tomorrow night at Huset's Speedway and this weekend at Knoxville Raceway's Twin Features night.  A third place showing at the Folken Brothers Jackson Spring Nationals in Minnesota, a fourth  place finish at Knoxville and a near win at Huset's Speedway highlighted the week.
Last Wednesday, TMAC won his heat in Jackson to start the night off.  "We don't run the 360 too often, but our Rider engine does really well," he says.  "We started with Jason Solwold beside us in a pretty tough heat race and were able to get the win.  It was a good start."
The win put him in the draw for the Dash.  "It was a typical redraw," says TMAC.  "There were ten numbers, and we drew number nine!  I love this A.R.T. car and we were able to get up to fifth against some tough competition."
The Altoona, Iowa driver started inside row three for the feature.  "(Brian) Brown drew number one for the Dash and he's one of the top teams in the country," says TMAC.  "We tightened it up a little too much.  Knowing it may be a little too tight, I thought the only shot we had at him was to be a little tighter, and hopefully, the track came to us."
TMAC would come home third at the checkers.  "We were happy with the finish," he says.  "I think we did the best we could with the car we had.  I like the A.R.T. chassis, because after the race, I usually know why it reacted like it did.  I'd like to thank Folkens Brothers Trucking for putting the event on.  There's a lot of history at that track.  A lot of our fans and sponsors come from that area."
The best laid plans had TMAC running with son Carson at the St. Croix Raceway in St. Croix Falls, Wisconsin on Friday night.  Unfortunately, after running third in his heat, with off and on rain, he was forced to head home to get ready for Knoxville.  "It's a fun little racetrack," he says of St. Croix.  "I was looking forward to driving, but mostly, I was there to watch Carson race.  He was driving for Rick Mastell and his family.  It just kept raining, and storms were coming and going.  Finally, at midnight, I had to leave.  I'm the only one who can drive the semi.  I guess they canceled finally after we left.  I got in bed at 6:00 Saturday morning, so I was a little grumpy Saturday."
The grumpiness subsided with the first quick time of the year in the 30-car field at Knoxville Saturday night.  "That made me feel better," says TMAC.  "The track has been awesome for the heats at Knoxville.  It's been easy on tires too.  It was a fun racetrack.  The credit has to go to Hoosier tires and the Dunkin's.  Last week, we were able to win the heat from sixth and this week, we were able to get up to second.  Heat races have been fun."
With the invert of eight in the feature, TMAC started outside row four.  "There was a top, a bottom and a middle," he says.  "When you have a well funded team like Lunstra/Dobmeier starting up front, they're going to be tough to catch.  I'm really proud of the way the local guys have been running here.  They ran well with the Outlaws, and it's really tough competition week in and week out."
TMAC advanced to fourth at the checkers amongst the stout field.  "We had a really good night," he says.  "The car felt great, the motor felt great…we just need to get a little better."
Quick time followed again Sunday at Huset's.  "Our Rider is really running," says TMAC.  "We started sixth in the feature.  Dobmeier got to the front pretty quick.  I kind of got a bad start and got behind the 8-ball a little bit.  We were able to run him down with about five to go or so and take the lead.  It was great to be able to run him down and pass him.  It really shows how good the car and motor is right now."
Unfortunately, the entertaining run came to a close.  "I just made a mistake and got into the corner a little too hard," says TMAC.  "I'm not a guy who stays on the gas and does a 360.  I don't think I've done that in my life really.  I don't want to crash the people behind me.  I wasn't able to save it, but we were fast.  We just need to get our driver not to make a mistake like that."
TMAC hopes the solid runs continue tomorrow night at Huset's when the World of Outlaws visits, and Saturday at Knoxville for Twin Features night.
To check out opportunities to partner with TMAC Motorsports on a nightly basis, visit www.TerryMcCarl.com or call 515 957-0020!
Tony Stewart Racing at Front Row Challenge!
The anticipation of the August 5 Front Row Challenge at the Southern Iowa Speedway in Oskaloosa just turned up a notch with the announcement that Tony Stewart will be competing!  "It makes it pretty exciting for the area, and for Oskaloosa," says TMAC.  "To have a three-time NASCAR champion come and race with us is a neat deal and really adds to the show.  He's a great driver…that he comes and races sprint cars is amazing, but the fact he is competitive is even more amazing.  He's capable of winning anywhere he goes."
TMAC says several other of the country's best are entering.  "Four-time All Star champion, Tim Shaffer and Brian Brown have both said they will attend," he says.  "Also, if given the Front Row Challenge, both have said they will take it!"
Order your tickets for the Front Row and Ultimate Challenge by calling 515 957-0020!


Websites for the McCarl Gang!
Driverwebsites.com develops the websites for the McCarl boys. Check out www.TerryMcCarl.com, as well as www.AustinMcCarl.com and www.CarsonMcCarl.com!
This Month in TMAC History!
TMAC has two wins to his credit at Huset's on July 7.  The first came behind the wheel of Brad Gray's #51 in 1996.  He topped Gary DeWall, Steve Beitler, Todd Wessels and Chad Mellenberndt that night.  In 2002, he drove his own #24 to victory over Justin Henderson, Don Droud Jr., Jason Sides and Chad Meyer.