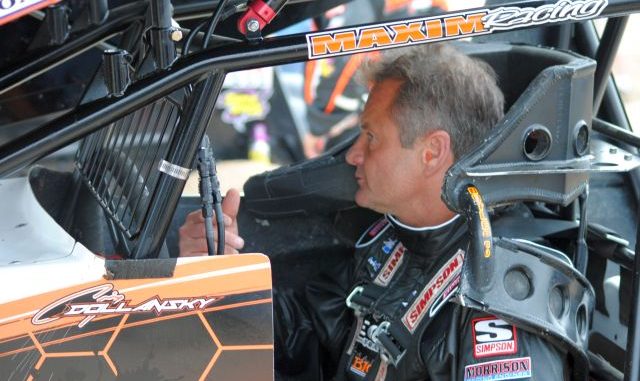 The Eyecon Trail Cameras #7 team made the long trip to the 'Old West' of Dodge City, Kansas for a weekend double dip beginning on Friday.  Recording a podium finish during the last visit to the Dodge City Raceway Park last June, Craig Dollansky made his seventeenth appearance at the 3/8-mile facility that included a victory in 2011.
With 24 drivers signed into the pits on a hot and windy day in western Kansas, a late qualifying draw resulted in the 13th fastest lap for Dollansky, missing the heat inversion by just .072 seconds.  Heat race action pitted the Eaton's Aeroquip Performance Products #7 inside row three where 'The Crowd Pleaser' advanced to 4th.
Starting thirteenth in the A-Main, Dollansky gained three spots before the first caution on lap 4.  After losing a couple of positions before the next yellow four laps later, the MobileStar #7 got jammed on the ensuing double-file restart spinning in turn 4 and bringing out the caution.  Able to restart, passing became increasingly difficult as the field fought for the lowside of the speedway where rubber was being laid down.  Following four more cautions within the final six laps due to tire wear, the Aggressive Hydraulics Maxim crossed the finish line in 14th.
The Eyecon Trail Cameras #7 team will return to Dodge City Raceway Park tonight for the Boothill Showdown finale.