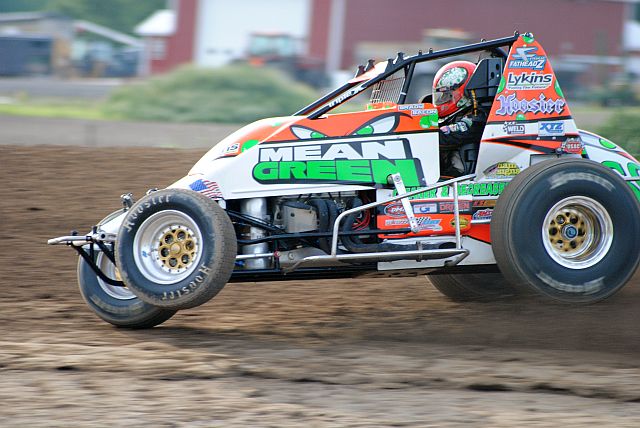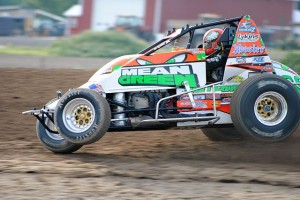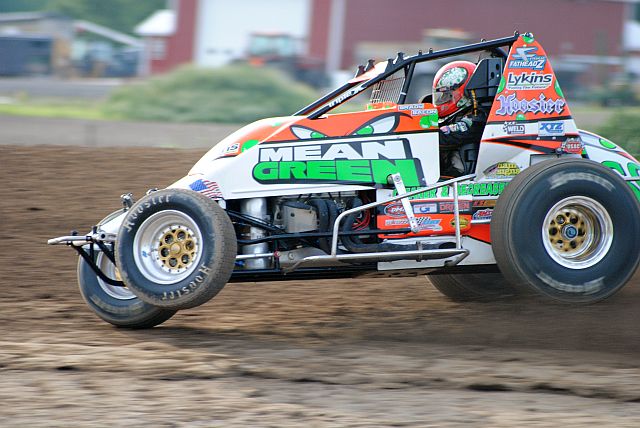 From Bill W
July 10, 2013 – As the only driver to attempt the majority of Ohio and Pennsylvania Speedweeks and Indiana Sprintweek, times are busy for Brady Bacon.  Last week, it was Pennsylvania, and he mixed a USAC start in Indiana into the mix.  Tomorrow night, he'll compete in the Brad Doty Classic at Limaland Motorsports Park before embarking on Indiana Sprintweek with the Hoffman Racing #69 team.
Last Wednesday found Brady at the Hagerstown Speedway in Maryland for Pennsylvania Speedweek.  "We did decent qualifying, but other than that we weren't too good," he says of a night that ended with a DNF.  "I ended up pulling out in the feature.  The brakes were getting hot.  I was actually feeling the heat."
The Broken Arrow, Oklahoma driver flew to Lincoln Park Speedway in Putnamville, Indiana to drive the #69 machine on Thursday.  He qualified fifteenth and ran second in his heat.  "The track was rough and heavy to start the night," says Brady.  "We overcompensated for that, because it got really slick for the feature.  We actually had a really good car in the heat.  We just didn't tighten up enough for the feature."
Brady struggled in the feature, finishing 18th.  "I got caught up trying to run the top a couple of times," he says.  :I biked up on two wheels and almost got over.  I fell way back, and I just couldn't get much going on the bottom.  It was a combination of things.  It wasn't a good night."
He would make his first ever start at the historic Williams Grove Speedway near Mechanicsburg, Pennsylvania on Friday.  "The night started really good," says Brady.  "We qualified eleventh and started second in the heat race.  We won by a straightaway, which there feels like ¾ of a mile!"
The main event would end rather prematurely.  "We started second in the feature," says Brady.  "I think it was a combination of my inexperience there, and not being used to it.  I think we had the car a little off too.  I just spun out going into turn one on the second lap.  The car was so winged out; it felt like the left rear was the only tire touching the ground.  I just lost it and got into the fence."
His early speed was not lost on the locals.  "We did well the first half of the night and I think some were impressed," says Brady.  "Maybe next time we can get there and run a whole feature and see how it pans out!"
Pulling down a new #99 ride, the team headed to Port Royal Speedway on Saturday.  "We had a few bugs with our new car," says Brady.  "We got it down from the trailer, and it was kind of a thrash.  Some things get overlooked.  I had a fuel issue in qualifying and the heat race."
Through some trials and tribulations, Brady moved forward to a 13th place finish at the Port.  "We had to start back in the feature, and traffic was getting pretty rough," he says.  "We broke a left rear shock, and I was kind of riding around.  Eventually, we had a red and got it fixed.  We had a decent car, but everyone was about the same speed the last half of the race."
The team saw its share of rain.  After getting rained out at Sharon and Fremont Speedways in Ohio, they were also washed away at Grandview Speedway and Selinsgrove Speedway this past Sunday.  "I figured it up and we got rained out in 40% of the shows we tried to do in the Speedweeks," says Brady.
After tomorrow night's Brad Doty Classic, Indiana Sprintweek looms with USAC in the #69.  The first half includes Gas City Speedway this Friday, followed by Kokomo Speedway Saturday and Lawrenceburg Speedway on Sunday.  "I just hope the tracks are good," says Brady.  "They've struggled with some of their tracks in Indiana.  I know some of them are doing some things, realizing they have an issue.  Putnamville has some new equipment and so does Bloomington.  They're making an effort to give us a good track.  I think it will pay off for them in the long run when they get good racing.  I hope the fans can be patient sometimes too when the track needs reworked to give them a better show."


Follow Brady on his Website, Twitter and Facebook!
Follow Brady at his website located at www.BradyBaconRacing.com! Also keep up with him on Facebook and Twitter (which also can be accessed at the website) at the following links…
Twitter Link – http://twitter.com/BradyBacon
Facebook Link – www.facebook.com/pages/Brady-Bacon-Racing/278125555137