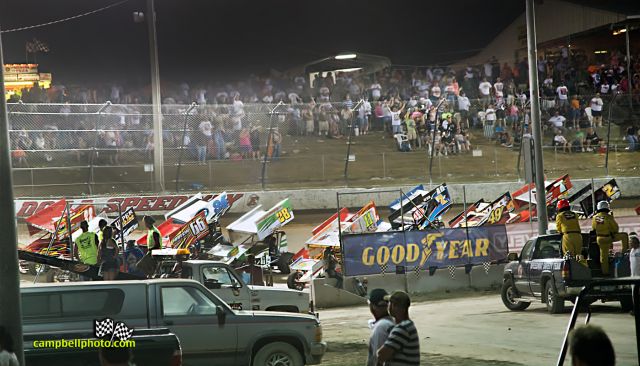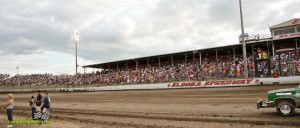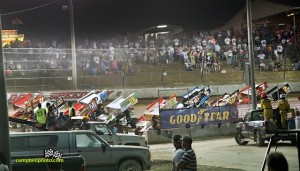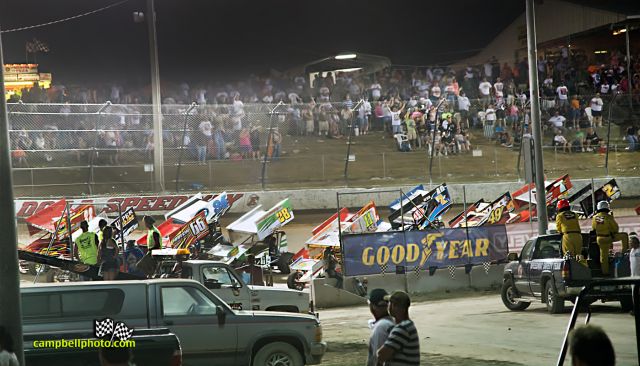 By T.J. Buffenbarger
When you think of big 360 sprint car races around the country events such as the Knoxville 360 Nationals, the Short Track Nationals, and Canadian Sprint Car Nationals come to mind.  When it comes to 360 sprint car racing the division races in front of its largest crowd at Eldora Speedway when the K&L Ready Mix National Racing Alliance 360 Sprint Invaders compete as part of the Kings Royal weekend.
By being part of the Kings Royal 360 teams race in front of a capacity crowd for two nights at the famed Eldora Speedway in Rossburg, Ohio.   360 sprint cars under various sanctioning bodies have been a part of the Kings Royal weekend almost since their inception in Ohio.  While some fans use the 360 races to take a break from the on track action, many stick around to see what is often times the best racing of the weekend. The 360 on track action often times can be as good or surpass the racing you see during the primary portion of the program.
For race teams the lure of racing at Eldora during one of the biggest sprint car events in the world brings travelers to compete against regulars from the NRA Sprint Invaders.  Last year drivers from as far away as Pennsylvania and Australia were on hand to compete in the NRA portion of the Kings Royal program.  Another aspect of the 360 program is the opportunity for fans see some up and coming stars of sprint car racing.  Often times the 410 drivers join in the fun with drivers such as Dale Blaney, Lucas, Wolfe, and even track owner Tony Stewart winning NRA features on Kings Royal weekend.
For the 360 sprint car teams Kings Royal's NRA program gives them an opportunity race at Eldora for two nights in front of a near capacity crowd, giving their sponsors incredible exposure.
"One of my sponsors ended up getting a significant amount of business from being seen at the Kings Royal from a guy in Texas after I won an NRA feature on Royal weekend," said former NRA champion Tim Allison.  "The guy told my sponsor they saw the car at the Kings Royal and were impressed on how the car looked and how professional our team was and got the job."
This year veteran driver Butch Schroeder leads the NRA point standings by 24 markers over J.R. Stewart with up and coming drivers Beau Stewart and Jared Horstman in tow.  360 veteran Darren Long rounds out the top five in points going into this weekend at Eldora.