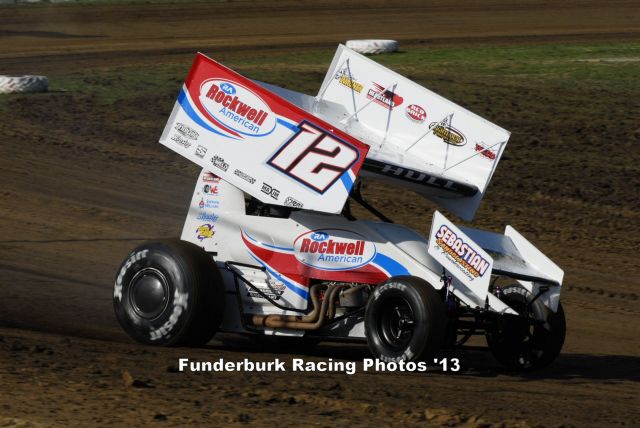 By Bill W
July 15, 2013 – Runner-up finishes seem to be a habit for Jerrod Hull and the Rockwell American #12 team lately.  He registered a pair of second place finishes last weekend to give him three in a row.  The Sikeston, Missouri driver will try to put that streak to an end and start a new one that includes a win this Friday night with the Sprint Invaders at the Jacksonville Speedway in Illinois.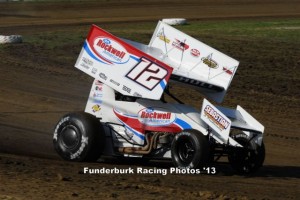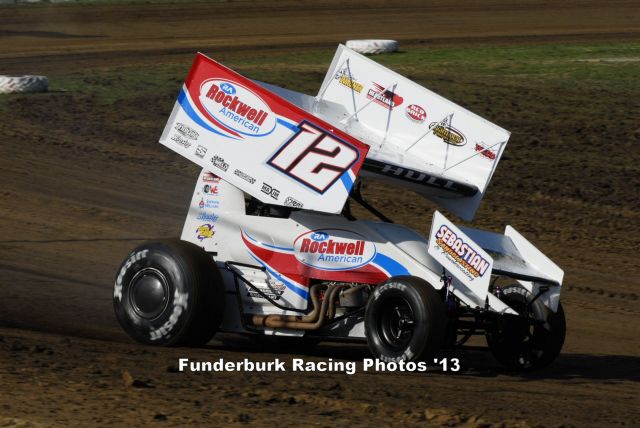 Jerrod raced at Benton Raceway Park on Friday night.  "They had another sprint car special at Benton," says Jerrod.  "We were able to move up to second after starting sixth, so the car was good."
Starting third in the feature event, he quickly put himself in contention for his first win of the season.  "I was able to get up to second, and we had a good race with Timmy (Montgomery)," he says.  "The track was around the top.  There was a cushion there.  I thought I had a couple of chances at him in lapped traffic.  I just couldn't pull it off."
The team towed north to the St. Francois County Raceway near Farmington, Missouri on Saturday night.  "We didn't draw too well this weekend, because we started back in sixth again at Farmington Saturday," says Jerrod.  "It was kind of hard, because the track blew off to a thick cushion.  We ended up third in the heat race."
Jerrod would slot inside row five for the feature, before advancing to second.  "We were alright there," he says.  "We passed some cars, and got up to second.  There was a caution with two laps to go.  We tried a slide job on Joey (Montgomery), but we couldn't make it stick, so we ran second again."
A win seems imminent for Jerrod and the team.  "That's three seconds in a row, so hopefully, that win's coming soon!" he says.  "I'm ready.  I think this Friday, we'll run with the Sprint Invaders at Jacksonville.  That will give us another night there to tune up before Illinois Sprintweek with MOWA."
Jerrod and the #12 team would like to thank: Rockwell American, Midland Performance, Super Shox, Sebastian Sand Blasting & Powder Coating, Inc., Sherwin Williams, Chuck's Small Engines, Don Hamilton, HRP, Lighthouse Christian Center, Logo Daddy, Hoosier Tire, Simpson, Weld, Automotive Machine, Maxim and Heartland Trailer Manufacturing.