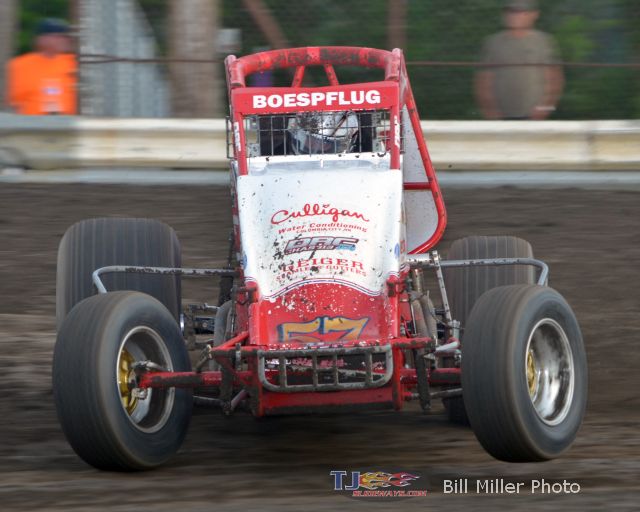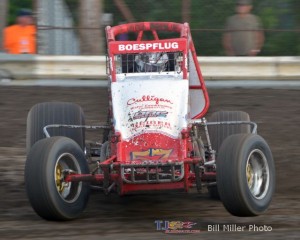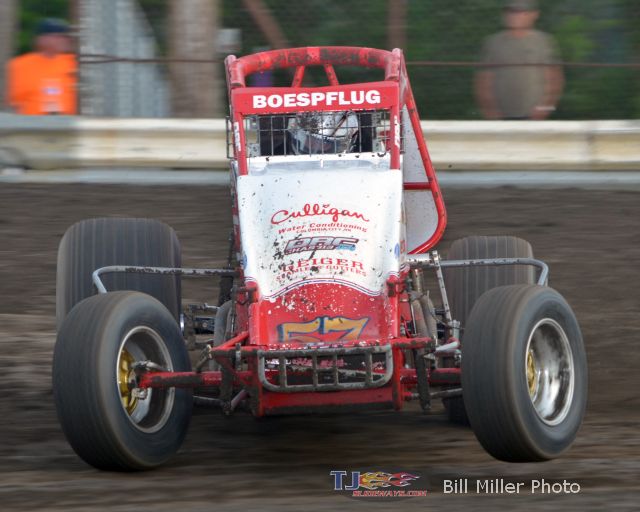 From Peterson Media
Spending his weekend kicking off Indiana Sprintweek 2013, Chad Boespflug scored two sixth place finishes aboard the Paul Hazen No.57, before hitting a speed-bump at Lawrenceburg in his own nine-eight motorsports entry.
"We got off to a really good start to the week with Paul's (Hazen) car," he said. "It isn't the best stuff, but we sure got what we could out of it."
Kicking off this week at the I 69 Speedway in Gas City, IN, Boespflug found himself on the front row, looking to pick up his second career USAC National win.
When the green flag dropped, Boespflug shot out to an early lead, as he looked very strong out front, stretching out to a very sizeable lead.
Looking to have the race in command, a caution on lap 17 erased his lead, and bunched the field back up.
The ensuing restart, did not go the way that he had hoped, as he slipped back to the sixth spot, where he would end up finishing.
"We were awesome early on Friday night," he said. "We started up front and were really good, until the caution the on lap-17, and then we weren't able to get moving forward anymore."
Saturday night at the Kokomo Speedway, Boespflug again found himself on the front row for the feature event, hoping to better himself from his Friday night showing.
Settling into the second spot when the race got underway, Boespflug was able to slide up into the lead on lap seven, where he led for three laps, before again slipping back to a sixth place finish.
"The first two night's were pretty good, like I said," he explained. "It's a tough field of cars, and we held our own to start the week, and the car owner was happy."
Climbing into his personal car on Sunday night at Lawrenceburg, Boespflug had one of those night's he would quickly like to forget about.
Missing the inversion in time-trials, Boespflug was forced to run in a non-qualifiers race, which he won, that put him at the tail of a heat race.
Scoring a sixth place finish in the heat, the Avon, IN driver missed out on the feature transfer spot by two spots, and found himself in the B main.
Starting 18th in the B, Boespflug gave it all he had, as he charged up to a 10th place finish, missing a transfer spot.
Making the decision to utilize a provisional, Boespflug would start 23rd in the feature event, and score an 18th place finish.
"We just chased it all night at Lawrenceburg," he said. "It was one of those night's, and hopefully we can move forward from it when we resume this week."
ON TAP: Sprintweek 2013 continues this Wednesday at the Terre Haute Action track, and Boespflug will be in the Midwest Shades No. 98. On Thursday and Friday, he will be in the 57 at Lincoln Park Speedway and at Bloomington, before closing the week out in Haubstadt, IN in his own No. 98 machine.
STAY CONNECTED: For all of the latest news on Chad, visit his website at www.chadboespflugracing.com, 'like' his Facebook page, www.facebook.com/chadboespflugracing, or follow him on Twitter, @chadboespflug.