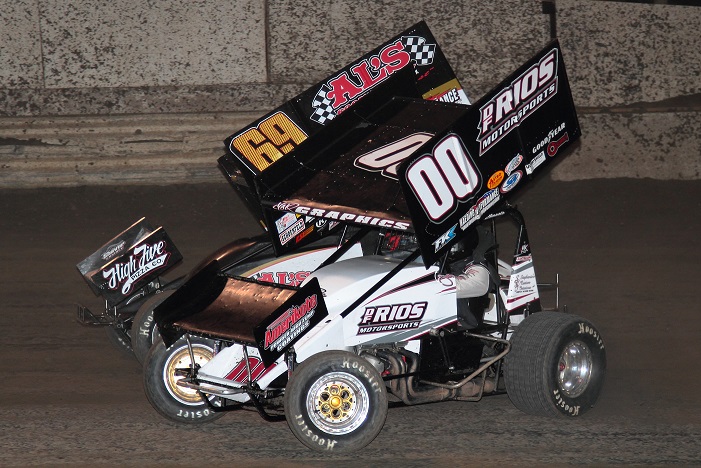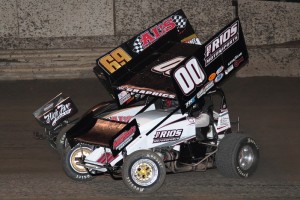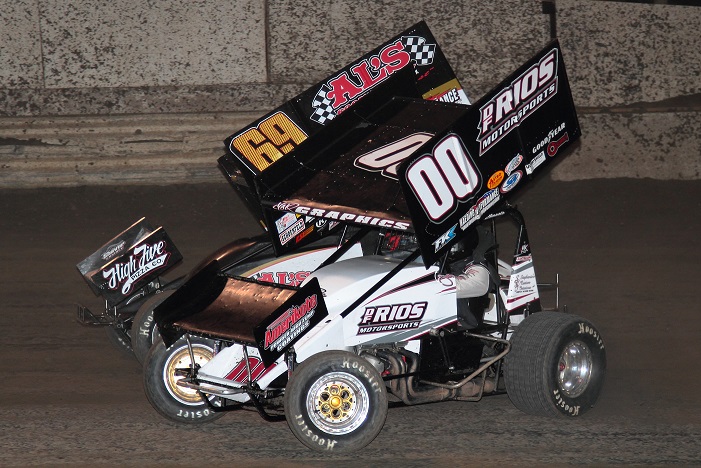 From Gary Thomas
Antioch, CA — (July 16, 2013) — Sitting just on the cusp of the top-five in the standings is former Golden State/ King of the West 410 champion Jason Statler, who captured a series win at the Antioch Speedway in 2003 aboard his DF Rios Motorsports No. 00 mount.
The Grass Valley driver is coming off his best finish of the KWS season last Saturday in Watsonville and will be looking for his first win of the year this weekend. The "Big Guy" won his heat race this past Saturday and finished a solid fifth in the 30-lap feature at the prestigious "Howard Kaeding Classic." Statler sits just 12-digits back of Peter Murphy for the fifth spot in points.
Statler will also be signing autographs on Saturday when the front gate opens at 5pm in Antioch. The popular driver will be just inside the front grandstand gate along with reigning KWS Rookie of the Year Chad Compton & Willie Croft, who captured victory at Antioch in April when the series opened the season.
Ranking seventh in the KWS standings and only nine- markers back of Statler is 13-time Golden State/ King of the West 410 champ Brent Kaeding. The Campbell veteran is always a driver to beat at the Antioch Speedway and this Saturday will be gunning for his first win of 2013 in the famed Al's Roofing Supply No. 69 Sprinter. "BK" has captured four main event victories at the track since 410 Sprint Car racing returned there in 2003.
Kaeding's best run of the KWS 410 season came a few weeks ago at the Placerville Speedway, where he charged to a third place finish behind Jonathan Allard and Shane Golobic. Last Saturday at the event paying tribute to his father Howard in Watsonville, the National Sprint Car Hall of Famer brought home an eighth place finish in the main event.
On Saturday the front grandstand gate of the Antioch Speedway will open at 5pm. Hot laps are scheduled for 6pm, with qualifying at 6:30pm and racing anticipated to start around 7pm.
The Antioch Speedway is located on the Contra Costa County Fairgrounds at the corner of 10th and L Streets in Antioch, California. Take SR-4 East (Highway 4) to the Somersville Road North Exit. Follow Somersville Road to 10thStreet. Turn Right on 10th Street. The address for the track is 1201 W. 10th Street Antioch, CA 94509. The track is located just a little over an hour from the capital city of Sacramento.
Tickets will be available the day of the race with adults being just $20, children 6-12 $10, seniors 65 & older $10 and children 5 & under free. A family pack with two adults & two children will also be available for $50.