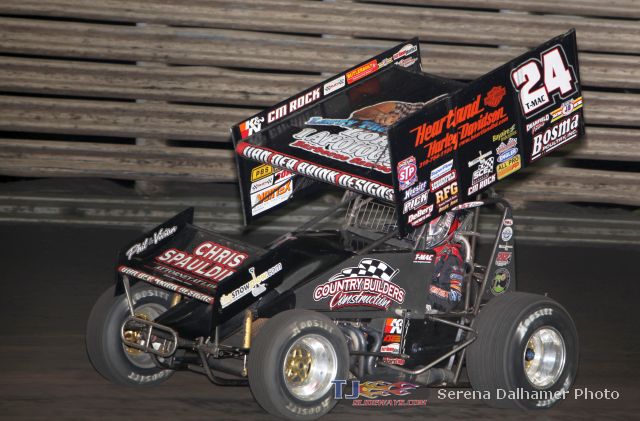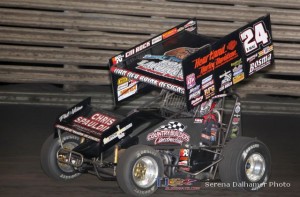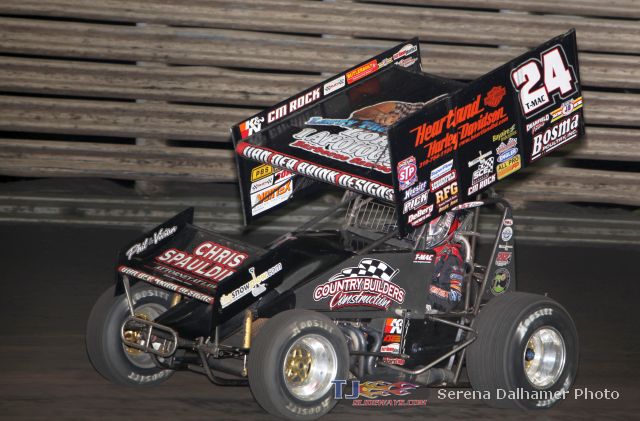 From Bill W
July 16, 2013 – A mechanical issue in time trials put Terry McCarl and the MTAC Motorsports #24 team behind the 8-ball Saturday night at Knoxville Raceway.  Fortunately, he was able to recover with a ninth place finish as the hard-charger in the main event.  The Altoona, Iowa driver has another busy week of racing in store.
A motor issue resulted in TMAC being 26th quick in the 31-car field Saturday night.  "We broke a little piece off the piston by the oil ring," he says.  "That allows it to let all the oil go by.  We dropped a cylinder there.  I wish we could have got at least a lap in.  It is what it is.  We're lucky in that we've never had any problems with our Rider Engines at all.  We run them a lot more nights than most do.  Tommy Rider does a great job for us, and this deal was no fault of his."
Making a transfer position from outside the invert in the heat is tough, but TMAC was able to do it, driving from ninth to fifth.  "We were able to get through the heat," he says.  "The throttle was sticking a bit, or maybe we could have moved up a little more.  The throttle linkage was catching the spark plug wires.  Anyway, we got through the heat."
The feature would see TMAC starting 18th.  "The track was too wet," he says.  "It's been unbelievably awesome lately all night long.  It was just really heavy on Saturday.  When the track is heavy, everyone is fast."
Starting as far back as he was, it was time to try some things with the car.  "I tried a few things I'd wanted to try," says TMAC.  "Starting that far back, I thought even if the car was screwed up a little, we could get a top ten."
TMAC would pass nine cars on his way to a ninth place finish.  "We got going there, and did the best we could," he says.  "There was a yellow early, but we really needed one later in the race.  There wasn't much passing up front either.  The top seven at halfway were the top seven at the end."
Not much more ground could have been made up with the conditions lined up the way they were.  "We were back there with some fast guys and we did our best," says TMAC.  "I haven't been watching the points, and people told me we were back in it.  I guess we drove ourselves back out of it.  I'm not worried about points, just about doing my best night in and night out."
There is still some adjustments to be made for everyone.  "It just doesn't feel like the old days," says TMAC.  "They keep changing the tires, and I think these tires are awesome.  They are wearing really nice.  Our left rear looks new from Saturday.  But you just can't run people down and drive by them like you used to."
To check out opportunities to partner with TMAC Motorsports on a nightly basis, visit www.TerryMcCarl.com or call 515 957-0020!


Websites for the McCarl Gang!
Driverwebsites.com develops the websites for the McCarl boys. Check out www.TerryMcCarl.com, as well as www.AustinMcCarl.com and www.CarsonMcCarl.com!
This Month in TMAC History!
TMAC has three wins on July 8, two at Knoxville Raceway and one at the Huset's Speedway!  The Knoxville wins were both on the front end of Twin Features night.  In 1995, he beat Craig Dollansky, Johnny Herrera, Danny Young and Leonard Lee to the  line.  In 2000, he drove the Serace #55 to a win ahead of Jeff Mitrisin, Chris Walraven, Matt Moro and Randy Anderson.  In 2001, at Huset's, he bested Gregg Bakker, Gary DeWall, Chad Radel and Justin Henderson.


"Tuesdays with TMAC"!
"Tuesdays with TMAC" is an up close and personal look at colorful sprint car veteran Terry McCarl. To receive "Tuesdays with TMAC", send an e-mail to sprntcar@iowatelecom.net with "TMAC" in the subject line.