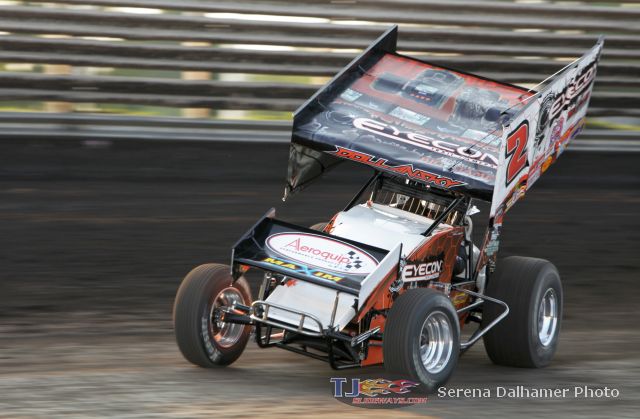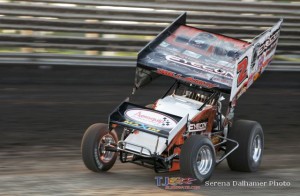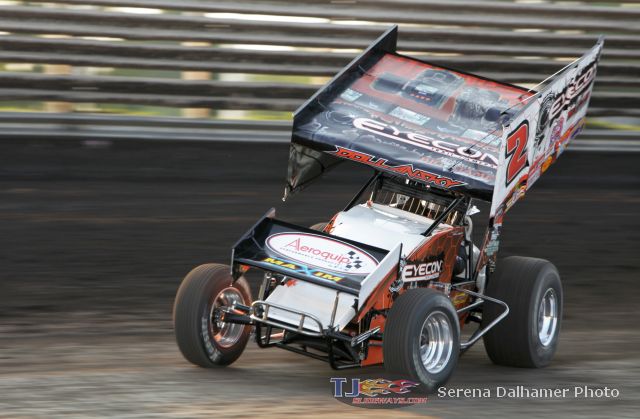 From Craig Dollansky Racing
After Mother Nature washed out the opening night of the Summer Nationals on Friday, Craig Dollansky and the Eyecon Trail Cameras #7 team returned to Williams Grove Speedway for the finale on Saturday as they prepared for their second stop of the season at 'The Grove'.
Set to go in central Pennsylvania, 44 drivers prepared for qualifying where Dollansky piloted the MobileStar Maxim to the 5th fastest lap circling the paper clip shaped 1/2-mile in 18.171 seconds.  Needing to finish top-two in heat competition to transfer into the dash, 'The Crowd Pleaser' started inside row two and dropped to fifth initially before battling back motoring up to 2nd by the completion of the 8-lap event.  A six pill inversion draw for the dash then put the Aggressive Hydraulics Maxim on the outside pole where Dollansky slipped back a few spots finishing 6th.
In the 30-lap A-Main the Elk River, Minnesota native took the green from outside row three and moved into the top five by lap 5.  As Dollansky continued to battle with Fred Rahmer, the #20S reclaimed the fifth spot seven circuits later as the caution-free main event carried on.  Not to be outdone, 'The Crowd Pleaser' would power back around Rahmer on lap 17 and then take fourth from Jason Sides five laps later.  As the leaders worked through lapped traffic, Dollansky tried to close the gap on the top three but Rahmer once again fought back in the final laps as the Big Game Treestands backed sprinter crossed the checkered flag with a top-five finish in 5th.
"We had a solid night, we gave up a few spots on the start of the dash when I wasn't able to get going on the start and we lost two more when I tried to get the two we lost back," commented Dollansky.  "After starting sixth in the feature we got up to fourth and were decent running the highside and then the bottom rubbered up and I lost a spot taking to long to get to the rubber groove.  All in all it was a good night given the competition at The Grove and the Eyecon Trail Cameras team did a great job all night long."
The Eyecon Trail Cameras #7 team of DJ Lindsey, Sean Michael, and Luke Dollansky will now head for Lebanon Valley Speedway in New York where World of Outlaws STP Sprint Car Series action resumes tonight, July 21st.