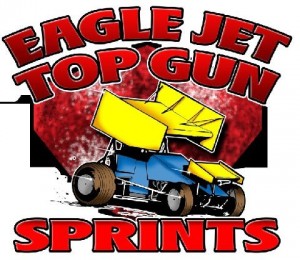 From Curtis Whalin
The long awaited return of sprint car racing to Volusia Speedway Park will come to an end Saturday, July 27th when the Eagle Jet Top Gun Sprint Series make the first of three appearances at the ½ mile, semi-banked high speed clay oval.
Saturday night will also be the first of the Eagle Jet "SHOOT OUT" events with the winner able to take home $1,300.00; second place is$800.00 and third place $600.00.  The second "SHOOT OUT" event will be held at East Bay Raceway Park on September 14th and the final "SHOOT OUT" event is scheduled at Hendry County Motorsports Park on November 2nd. The final night of the "SHOOT OUT" will be a double point's race.
Drivers expected to try to be the winner of the first "SHOOT OUT" race are the series Point Leader Shane Kreidler, Gene Lasker, Danny Martin Jr., A J Maddox, Tony Agin, Tim & Rebecca George, Mike Schoerder, Mark Ruel Jr, Matt Kurtz, David Slawiak, Brandon Grubaugh, Rich & Johnny Alexander, Kyle Pitts, Shawn Murray Robbie Smith and Kenneth Laureno.