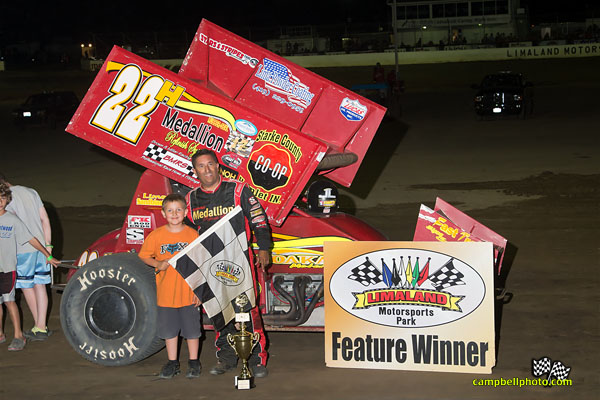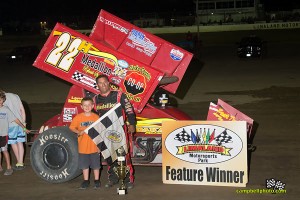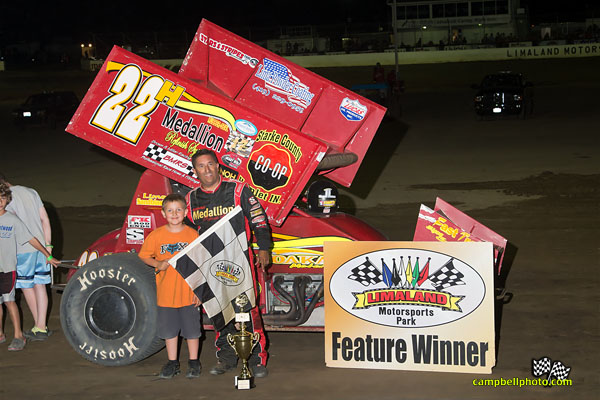 Limaland, OH — (July 26, 2013) — The 2013 Budweiser Thunderstocks division has been dominated by Jeff Koz and Shawn Valenti, although Tony Anderson has held the point's lead for most of the season. Koz and Valenti have won all but one of the season's feature events, while Anderson is still looking for that elusive first triumph; despite being #2 all-time at Limaland Motorsports Park with 30 career wins at the track.
The evening's features began with Anderson moving to the front of the field for the Thunderstocks 15-lap A-Main. The improving Tim Cole and Jeff Koz produced a spirited battle for second with Anderson cruising along through the mid-point of the race.
At lap number nine, Koz was on a serious roll at the top the track surface and made a strong pass around Anderson for the lead. With no traffic in front of him, Koz proceeded to pull away from the rest of the field and roared to his fifth win of 2013 and 14th all-time. "Momentum is awesome around here," said the #16 car pilot. "I tried the bottom for awhile and just couldn't get anything, so I went up top and once I got rolling it was great."
Later in the night's racing program, Koz took another triumph as he bested Cole and a field of ten cars to win the first of the two Fricke Select Shootouts. Shawn Valenti won the second of the eight lap affairs and it set up a titanic showdown for the Fricke Memorial.
The two Thunderstock stars battled nose-to-tail from the start of the Fricke Select feature. It appeared as though Jeff Koz was going to make it two feature wins on the evening until a restart following a caution period on lap 13 set up one of the most exciting finishes in the 2013 season.
Koz was leading with Valenti sticking to his rear bumper at the top of the track. As they rocketed around for the final lap, Valenti was able to gain some space to the outside of Koz and propelled his car off of turn four to snatch a victory at the finish line. Koz spun out at the line, yet still finished second.
"All I could do was stay with him and give myself a chance at the end," said an excited Shawn Valenti. "I knew if I had some room to operate at the top I might slingshot off of four and get him at the end. This is one to remember." Valenti became the 6th different winner in the twelve Thunderstock Select events to be contested since 2001.
Both the Elwer Fence Sprints and K & N Modified features saw the current point's leaders Randy Hannagan and Todd Sherman continue with their winning ways.
Hannagan chased Sheldon Haudenschild for the opening 18 laps as the son of sprint car legend Jac Haudenschild was screaming around the high side of the track in impressive fashion. When he approached lapped cars, the young gun used all of the track surface to work around the traffic and get back up to the faster top side with Hannagan in full pursuit. On lap number 18, Haudenschild appeared to slightly jump the cushion and make contact with the wall in turn four. Moments later his car slowed with damage and Randy Hannagan blasted past him to take the lead. That was all it took for Hannagan to post his fifth win of the season and 14th all-time at Limaland Motorsports Park.
"Sheldon drove a heckuva race and it may have taken something like that (contact with the wall) to happen for me to win it," said Hannagan afterward. "I probably also have to thank lapped traffic for some of that. Dennis (car owner Yoakam) is going to have to put a new rear end in this car because it blew up the last couple of laps." Hannagan and Jared Horstman remain the only two drivers to post wins in the sprint car division at the track this season.
Indiana ace Todd Sherman is developing a rivalry with the UNOH Racers motorsports team Modified drivers in recent weeks. Last week he finished second to Racer Kody Weisner with a pair of other Racers finishing third and fourth in the Modified feature.
Racer Dwight Niehoff (Lockwood, MO) and Sherman shared the front row to start the 20-lap K & N Modified feature and those two drivers, along with Jerry Bowersock, gave the fans an excellent show at the bottom of the track. Niehoff led at the start and initially seemed to want to race a higher groove. Sherman was looking inside and was threatening to pass before Niehoff decided to move down and hold him off using the shortest distance around the ¼-mile oval.
The veteran Sherman patiently rooted out Niehoff to the inside and made a pass for the lead on lap number 12. That was all it took for Sherman to move ahead and gain his fourth win of the season and extend his all-time record in the division to 36 checkered flags taken.
"I like the bottom," said Sherman stating the obvious. "I was a little slower going in (to the corners), but I could get runs coming off. His (Niehoff) tires may have been becoming a little hot, but he and Kody (Weisner) are both doing a great job."
Limaland Motorsports Park returns to action on Friday, August 2, for Meet the Drivers Night featuring the Elwer Fence Sprints, K & N Modifieds and the Budweiser Thunderstocks all competing. Gates open at 5:00 p.m. with hot laps beginning at 6:30 p.m. Racing begins promptly at 7:30 p.m.
All the latest news and information about America's premier quarter-mile dirt track, can be found at www.limaland.com. You can also find 2013 Limaland Motorsports Park on Facebook and Twitter.
Limaland Motorsports Park – 7/26/2013
Stocks
Heat 1 – (8 Laps – Top 5 Transfer)
1. 7B-Shawn Valenti 2. 16-Jeff Koz 3. OOK-Tommy Klein
4. 21H-Dave Hollon 5. 01S-Jordan Shipley 6. 93-Zach Gustafson
7. 8C-Brad Conover 8. 01C-Andrew Clark 9. 25-Nick Bowers
Heat 2 – 8 Laps – Top 5 Transfer)
1. 6-Emily Gade 2. 22T-Tony Anderson 3. 7C-Jordan Conover
4. 23-Chad Barr 5. 19-Bill Reimund 6. 2-Ray Seech
7. 25H-Jim Hatcher 8. 7W-Dan Wooten
Heat 3 – (8 Laps – Top 5 Transfer)
1. 82-Chris Douglas 2. 48-Tim Cole 3. 89-Keith Shockency
4. OOM-Bryan Martin 5. 1-Anthony Flannery 6. 32-Scott Boyde Jr.
7. 27-Frank Paladino 8. 1W-Mark Wooten
B-Main – (8 Laps – Top 5 Transfer)
1. 27-Frank Paladino 2. 2-Ray Seech 3. 25H-Jim Hatcher
4. 7W-Dan Wooten 5. 01C-Andrew Clark 6. 93-Zach Gustafson
7. 8C-Brad Conover 8. 25-Nick Bowers 9. 32-Scott Boyde Jr.
10. 1W-Mark Wooten
A-Main – (15 Laps) [#]-Starting Position
1. 16-Jeff Koz[3] 2. 48-Tim Cole[1] 3. 22T-Tony Anderson[2]
4. 7B-Shawn Valenti[6] 5. 7C-Jordan Conover[8] 6. 82-Chris Douglas[4]
7. OOK-Tommy Klein[7] 8. OOM-Bryan Martin[12] 9. 23-Chad Barr[11]
10.01S-Jordan Shipley[13] 11.8C-Brad Conover[22] 12.21H-Dave Hollon[10]
13.93-Zach Gustafson[21] 14.19-Bill Reimund[14] 15.01C-Andrew Clark[20]
16.2-Ray Seech[17] 17.1-Anthony Flannery[15] 18.27-Frank Paladino[16]
19.89-Keith Shockency[9] 20.7W-Dan Wooten[19]
Sprints
Heat 1 – (8 Laps – Top 5 Transfer)
1. 33M-Sheldon Haudenschild 2. 2M-Dallas Hewitt 3. 22H-Randy Hannagan
4. 49-Shawn Dancer 5. 23-Devon Dobie 6. 2-Brent Gehr 7. 4J-Bob Gehr
8. 12X-Don Ryder
Heat 2 – (8 Laps – Top 5 Transfer)
1. 28H-Hud Horton 2. 6S-Jr Stewart 3. 12W-Tim Hunter
4. 7C-Max Stambaugh 5. 19-Jimmy Snead 6. 22R-Kevin Roberts
7. 69-Scott Curren 8. 31N-Greg Nichols
Heat 3 – (8 Laps – Top 5 Transfer)
1. 7-Darren Long 2. 17-Jared Horstman 3. 2S-Kyle Sauder
4. 27-Beau Stewart 5. 12R-Nick Roberts 6.11-Tim Allison
7. 22D-Dennis Yoakam 8. 10J-Jarrod Delong
B-Main – (10 Laps – Top 5 Transfer)
1. 11-Tim Allison 2. 2-Brent Gehr 3. 22R-Kevin Roberts
4. 22D-Dennis Yoakam 5. 69-Scott Curren 6. 10J-Jarrod Delong
7. 12X-Don Ryder 8. 4J-Bob Gehr 9. 31N-Greg Nichols
A-Main – (25 Laps) [#]-Starting Position
1. 22H-Randy Hannagan[7] 2. 7-Darren Long[3] 3. 6S-Jr Stewart[5]
4. 28H-Hud Horton[1] 5. 2M-Dallas Hewitt[4] 6. 2S-Kyle Sauder[9]
7. 49-Shawn Dancer[10] 8. 17-Jared Horstman[6] 9. 12R-Nick Roberts[15]
10. 23-Devon Dobie[13] 11. 12W-Tim Hunter[8] 12. 11-Tim Allison[16]
13. 22R-Kevin Roberts[18] 14. 22D-Dennis Yoakam[19] 15. 7C-Max Stambaugh[11]
16. 69-Scott Curren[20] 17. 19-Jimmy Snead[14] 18. 33M-Sheldon Haudenschild[2]
19. 27-Beau Stewart[12] 20. 2-Brent Gehr[17]
Modifieds
Heat 1 – (8 Laps – Top 8 Transfer)
1. 20-Kody Weisner 2. 40-Terry Hull 3. 93-Tyler Stump
4. 20K-Bill Keeler 5. 17T-Ryan Ordway 6. 21S-Mike Hohlbein
7. 53-Hillard Miller
Heat 2 – (8 Laps – Top 8 Transfer)
1. 23J-Cory Seeling 2. 65-Todd Sherman 3. L5-Casey Luedeke
4. 19B-Brandon Ordway 5. 4B-Darryl Banks 6. 25-Josh Lolmaugh
7. 6-David Sibberson 8. 34-Scot Miller
Heat 3 – (8 Laps – Top 8 Transfer)
1. 5X-Jerry Bowersock 2. OO-Dwight Niehoff 3. O1-Joel Ortberg
4. 28-Chad Rosenbeck 5. 47-Collin Thirlby 6. 22T-Tony Anderson
7. 69-Tommy Beezley
A-Main – (20 Laps) [#]-Starting Position
1. 65-Todd Sherman[2] 2. OO-Dwight Niehoff[1] 3. 5X-Jerry Bowersock[4]
4. 20-Kody Weisner[6] 5. 47-Collin Thirlby[15] 6. O1-Joel Ortberg[9]
7. 40-Terry Hull[3] 8. L5-Casey Luedeke[8] 9. 93-Tyler Stump[7]
10. 28-Chad Rosenbeck[12] 11. 22T-Tony Anderson[18] 12. 25-Josh Lolmaugh[17]
13. 19B-Brandon Ordway[11] 14. 20K-Bill Keeler[10] 15. 4B-Darryl Banks[14]
16. 23J-Cory Seeling[5] 17. 21S-Mike Hohlbein[16] 18. 6-David Sibberson[20]
19. 17T-Ryan Ordway[13] 20. 53-Hillard Miller[19] 21. 69-Tommy Beezley[21]
22. 34-Scot Miller[22]
Stocks
Vern Fricke Shootout #1
1. Jeff Koz 2. Time Cole 3. Jordan Shipley 4. Jordan Conover
5. Bryan Martin 6. Zack Gustafson 7. Bill Reimund 8. Ray Seech
9. Tommy Klein 10. Andrew Clark
Bill Fricke Shootout #2
1. Shawn Valenti 2. Tony Anderson 3. Frank Paladino 4. Keith Shockency
5. Brad Conover 6. Dave Hollon 7. Scott Boyde Jr.
Fricke Memorial Select
1. Shawn Valenti 2. Jeff Koz 3. Tony Anderson 4. Tim Cole
5. Chris Douglas 6. Jordan Shipley 7. Frank Paladino 8. Bryan Martin
9. Jordan Conover 10. Keith Shockency