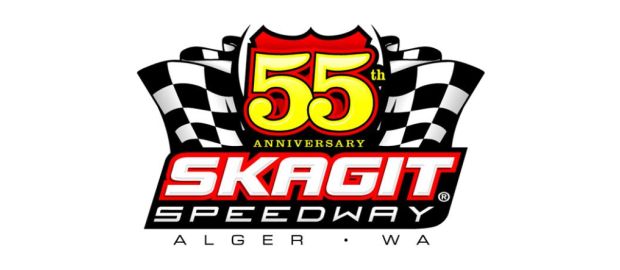 By Kelly Hart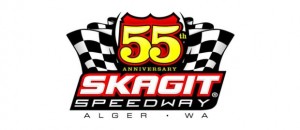 Skagit Speedway was swathed in summer heat this Saturday night and the action on the 3/10th mile clay oval was just as hot. Winning main events were Colton Heath (360 Sprints), Tyler Fox (Sportsman Sprints), Kenny Miller (Modifieds) and Rick Young (Outlaw Tuners).
When Colton Heath blew around Brock Lemley coming out of turn two the only question was could anyone catch him. They didn't and Heath went on to lap up to the 9th place car in an 18 car field for his third straight regular season win on the season in the LAW Motorsports #33. Lemley finished second, a season high for the Steve Dyer racing program and Chad Hillier was third. Hillier set fast time at 11.790 with Michael Bollinger and Travis Jacobson winning the heat races.
Travis Fox made it two straight wins in the Cook Road Shell Sportsman Sprint division with tonight's win. Fox took off from the pole then held off multiple spirited charges from point leader Steve Parker. Parker who finished second extended his point lead over Zach McCabe who blew a motor in his heat. Fox snagged a heat race win as well. The other heat was won by Ashley Lewellen. McCabe set fast time at 12.885.
The 2013 Shipwreck Beads Modifieds Champion is Craig Moore. Moore won three of the five main events this season en route to the inaugural season championship for Skagit Speedway's newest division. On Championship Night for the Modifieds Kenny Miller drove his #57 Modified to victory. After passing Kyler Moore who led the first lap, Miller opened up a nice lead with Craig Moore and Lawrence O'Connor scrambling to get caught up. In traffic late in the race  O'Connor and Moore closed the gap bringing the crowd to its feet for the last two laps. Moore ran away with the heat and was also the hard charger for the night.
In the Outlaw Tuner events Rick Young did exactly what he needed to do to maintain and extend his point lead. Young led all 17 laps of the main for his first win in a few weeks. Jon Gunderson and Travis Meins won the heat races.
RESULTS 8/10/13
360 SPRINTS
Fast time 24c Chad Hillier 11.790
Heat 1 50b Michael Bollinger, 56 Justin Youngquist, 8 Jayme Barnes, 24c Chad Hillier, 29w Steve James, 79k Kelsey Carpenter, 4b Cale Brooke
Heat 2 18 Travis Jacobson, 87 Liam Ryan, 42 Derek Roberts, 24 Tyler Anderson, 57 Bud Ashe
Heat 3 29 Randy Price, 98 Matt Jensen, 33 Colton Heath, 9al Brock Lemley, 9a Luke Didiuk, 27z Zeth Custer
Main 33 Colton Heath, 9al Lemley, 24c Hillier, 55 Starks, 87 Ryan, 42 Roberts, 98 Jensen, 18 Jacobson, 9a Didiuk, 29 Price, 50m Bollinger, 4b Brooke, 27z Custer, 56 Youngquist, 29w James, 8 Barnes, 79k Carpenter, 24 Anderson
Lap leaders 9al Brock Lemley 1-8, 33 Colton Heath 9-25
Hard Charger 55 Trey Starks +13 positions gained
SPORTSMAN SPRINTS
Fast time 46 Zach McCabe 12.885
Heat 1 0 Tyler Fox, 2 Cory swatzina, 17 Cory Samuelson, 57 James Bundy, 8s Clayton Sibley, 13gr Glen Reinstra, 46 McCabe
Heat 2 13a Ashley Lewellen, 23 Steve Parker, 33 Bill Rude, 22 Devin Barnes, 5 Adam Hinds, 9 Greg Otis
Main 0 Tyler Fox, 23 Parker, 2s Swatzina, 57 Bundy, 8s Sibley, 22 Barnes, 5 Hinds, 9 Otis, 13gr Reinstra, 17 Samuelson, 33 Rude, 9b Burdick, 13a Lewellen
Lap leaders 0 Tyler Fox 1-20
Hard Charger 8s Clayton Sibley +5 positions gained