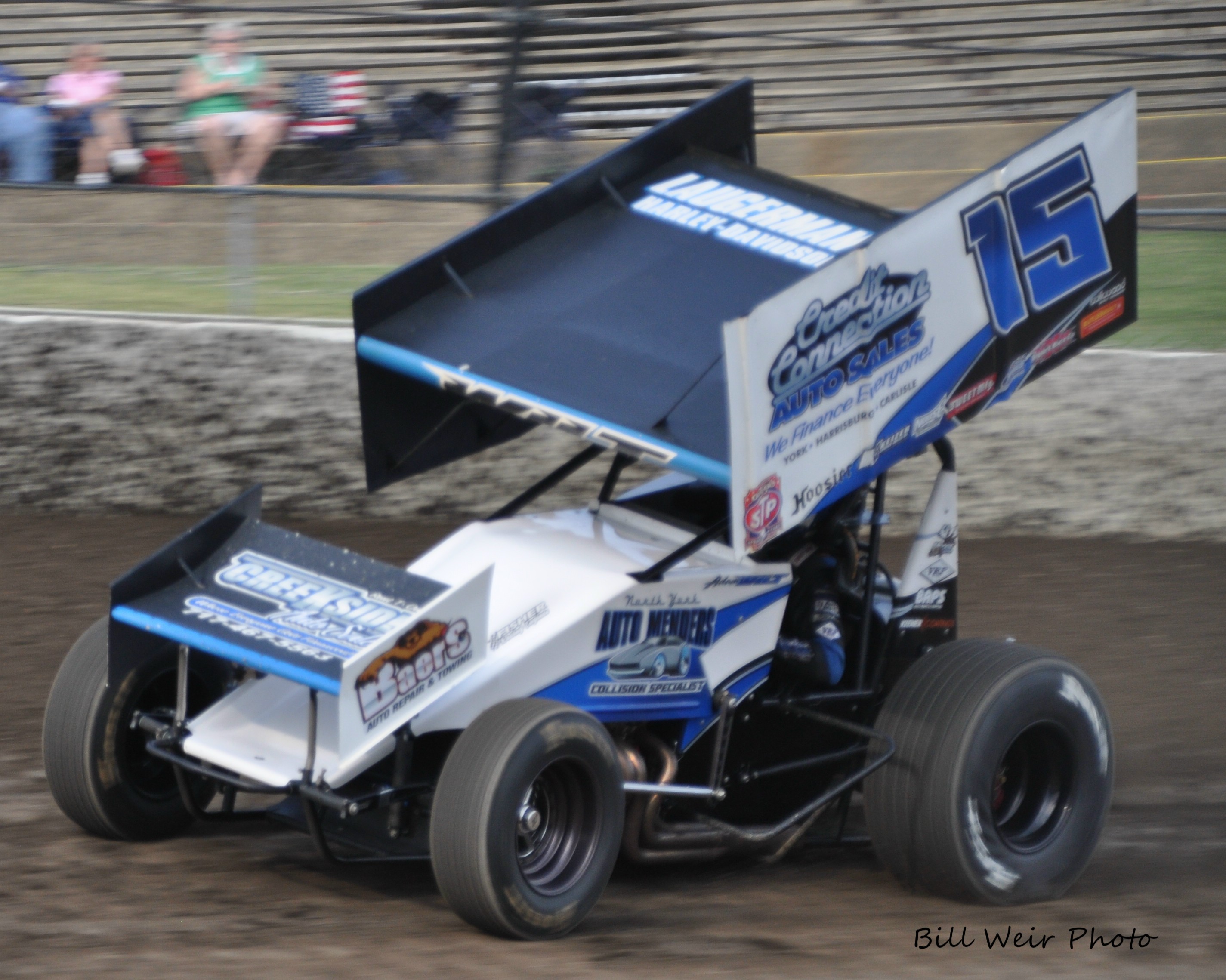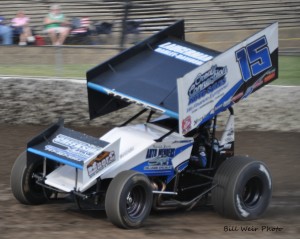 From Bill Meyer
Abbottstown, PA — (August 17, 2013) — Former national sprint car rookie of-the-year Adam Wilt ended a long dry spell by picking up his third career win the Saturday's 25-lap "410" sprint car feature at Lincoln Speedway.
"We've been fast here for a while," said Wilt upon exiting his North York AutoMenders/Creekside Auto Sales/Credit Connection #15 in victory lane, "But I make mistakes. Last week, we had a car to beat and I was racing with the best guys around here and got sucked up in the curb and wheel-packed my right rear. But our team doesn't give up. I want to thank my parents and crew. We've been struggling with these new tires. At the beginning of the year, we looked like a shitbox. We've turned it around and this win really means a lot tonight. The season's not over yet for us."
Handicapping placed Wilt sixth for the start, but the Wide Open Motorsports #15 was already third by the end of the second lap. After racing wheel-to-wheel with polesitter Ryan Wilson, Wilt moved into the runner-up spot on lap four. He then set his sights on outside front row starter and race-long leader Glenndon Forsythe, who had opened up nearly a second and-a-half lead as he entered lapped traffic on lap 7.
Wilt chased down Forsythe through lapped traffic, and made his race-winning pass with a slider in turns three and four of lap 12. From there, he opened up a sizeable lead, with Cory Haas catching Forsythe for second with six laps to go. At the time, Wilt enjoyed a 4.5-second lead.
Wilt was heading into the final turns when Jacob Allen stopped on the backstretch, bringing out the only caution of the event. That set up a one-lap dash to the checkered, but four lapped cars separated Wilt from the other contenders. He crossed 2.34 seconds ahead of Haas for his first sprint car win anywhere since last year's "Icebreaker" opener on February 25th of last year.
Eleventh-starting Danny Dietrich, points leader Fred Rahmer, and 12th-starting Brian Montieth completing the top five. Sixth through tenth were Jim Siegel, Alan Krimes, Wilson, Forsythe, and Billy Dietrich.
Heats for the 25 "410" Sprints on hand were won by Rahmer, Krimes, and Wilt.
Central PA "358" point series leader Austin Hogue started on the pole and led every lap of the 20-lap "358" sprint car feature, claiming the weekend Trail-Way/Lincoln "Shootout" title in the process.
Hogue's third-place finish at Trail-Way Friday night combined with the Lincoln win tied Rohrbaugh's Friday night Trail-Way win and third-place Lincoln finish for the best two-night combined finish. But the tie-breaker was the best Lincoln finish, with Hogue picking up the $500 "Shootout" bonus.
Points leader Niki Young started seventh and finished second, followed by Rohrbaugh, Chase Dietz, and 11th-starting Tyler Ross. Sixth through tenth were Tim Wagaman, Austin Reed, Duane Watson, Doug Hammaker, and Dale Hammaker.
Third in the two-night "Shootout" was Mike Bittinger, with Brian Eichelberger and Tim Wagaman rounding out the "Shootout" top five.
Heats for the 32 "358" Sprints on hand were won by Dietz, Young, Dale Hammaker, and Hogue, with Matt Campbell winning the consolation.
Lincoln will return to action next Saturday night, August 24th at 7:30 PM with FISHER AUTO PARTS NIGHT featuring the 410 Sprints, Central PA Legends, and All-American Outlaws. Gates open at 5:30 PM.
To get all the latest news, results, schedule changes and rule changes, visit Lincoln Speedway's website at http://www.lincolnspeedway.com to stay up-to-date on all the action or pending weather conditions at Central Pennsylvania's "Premier" Saturday night race track – The Fabulous Lincoln Speedway.
Sat., August 17, 2013
LINCOLN SPEEDWAY
Abbottstown, PA
York county racing club night/PEPSI NIGHT
LAWRENCE CHEVROLET 410 SPRINTS
Feature (25-Laps) – 1. 15-Adam Wilt ($3,200); 2. 11C-Cory Haas; 3. 48-Danny Dietrich; 4. 20S-Fred Rahmer; 5. 21-Brian Montieth; 6. 59-Jim Siegel; 7. 87-Alan Krimes; 8. 29-Ryan Wilson; 9. 2W-Glenndon Forsythe; 10. 8-Billy Dietrich; 11. 14-Gerard McIntyre, Jr.; 12. 1A-Jacob Allen (DNF); 13. 95-Hunter Mackison; 14. 92-Ryan Smith; 15. 35-Steve Owings; 16. 0-Steve Storrie; 17. 1080-Jordon Mackison; 18. 2A-Todd Allen; 19. 12J-Bill Jones, Jr. (DNF); 20. 55K-Robbie Kendall (DNF); 21. 4-John Rudisill (DNF); 22. 69-Tim Glatfelter (DNF); 23. 23-Todd Rittenhouse, Jr. (DNF); 24. 21T-Scott Fisher (DNF). No Time
Lap Leaders – Glenndon Forsythe (1-11), Adam Wilt (12-25)
1st Heat (10 Laps/6 to qualify) – 1. 20S-Fred Rahmer; 2. 48-Danny Dietrich; 3. 8-Billy Dietrich; 4. 35-Steve Owings; 5. 95-Hunter Mackison; 6. 69-Tim Glatfelter; 7. 4-John Rudisill; 8. 22T-Matt Boland (DNF). No Time
2nd Heat (10 Laps/6 to qualify) – 1. 87-Alan Krimes; 2. 2W-Glenndon Forsythe; 3. 29-Ryan Wilson; 4. 59-Jim Siegel; 5. 14-Gerard McIntyre, Jr.; 6. 92-Ryan Smith; 7. 0-Steve Storrie; 8. 12J-Bill Jones, Jr.; 9. 1080-Jordon Mackison. Time – 2:25.728
3rd Heat (10 Laps/6 to qualify) – 1. 15-Adam Wilt; 2. 11C-Cory Haas; 3. 1A-Jacob Allen; 4. 21-Brian Montieth; 5. 23-Todd Rittenhouse, Jr.; 6. 55K-Robbie Kendall; 7. 21T-Scott Fisher; 8. 2A-Todd Allen. Time – 2:25.710
KEIZER ALUMINUM WHEELS 358 SPRINTS
Feature (20-Laps) – 1. 52-Austin Hogue ($1,000); 2. 65-Niki Young; 3. 45-Jeff Rohrbaugh; 4. 2D-Chase Dietz; 5. 5-Tyler Ross; 6. 1*-Tim Wagaman; 7. 34-Austin Reed; 8. 3W-Duane Watson; 9. 66H-Doug Hammaker; 10. 66-Dale Hammaker; 11. 56M-DJ Montgomery; 12. 55-Brian Eichelberger; 13. 12-Mike Bittinger; 14. 5O-Brian Allman; 15. 94T-Bryn Gohn; 16. 97-Brie Hershey; 17. 85-Nathan Berwager; 18. 28-Matt Findley; 19. 23-Chris Arnold; 20. 22T-Dave Thrush; 21. 66A-Cody Fletcher; 22. 16-Chris Arnold; 23. 10-Zach Eucalano; 24. 38-Mark Strickler (DNF). No Time
Lap Leaders – Austin Hogue (1-20)
1st Heat (10 Laps/5 to qualify) – 1. 2D-Chase Dietz; 2. 5-Tyler Ross; 3. 66H-Doug Hammaker; 4. 45-Jeff Rohrbaugh; 5. 28-Matt Findley; 6. 16-Matt Campbell; 7. 45H-Jeff Halligan; 8. 47-Michael Hamer. Time – 2:28.38
2nd Heat (10 Laps/5 to qualify) – 1. 65-Niki Young; 2. 12-Mike Bittinger; 3. 3W-Duane Watson; 4. 5O-Brian Allman; 5. 10-Zach Eucalano; 6. 85-Nathan Berwager; 7. 97-Brie Hershey; 8. 30-Seth Kerchner (DNF). No Time
3rd Heat (10 Laps/5 to qualify) – 1. 66-Dale Hammaker; 2. 1*-Tim Wagaman; 3. 55-Brian Eichelberger; 4. 22T-Dave Thrush; 5. 94T-Bryn Gohn; 6. 38-Mark Strickler; 7. 66A-Cody Fletcher; 8. 11D-Mike Duncan, Jr. (DNF). No Time
4th Heat (10 Laps/5 to qualify) – 1. 52-Austin Hogue; 2. 34-Austin Reed; 3. 56M-DJ Montgomery; 4. 23-Chris Arnold; 5. 89-Ashley Cappetta (scratched from feature); 6. 2-Denny Gross; 7. 38D-Kyle Denmyer; 8. 81B-Bob Anderson (DNF). Time – 2:27.69
Consolation (10 Laps/5 to qualify) – 1. 16-Matt Campbell; 2. 85-Nathan Berwager; 3. 97-Brie Hershey; 4. 38-Mark Strickler; 5. 66A-Cody Fletcher; 6. 11D-Mike Duncan, Jr.; 7. 30-Seth Kerchner; 8. 38D-Kyle Denmyer; 9. 2-Denny Gross (DNF); 10. 45H-Jeff Halligan (DNF); 11. 47-Michael Hamer (DNF); DNS – 81B-Bob Anderson. No Time