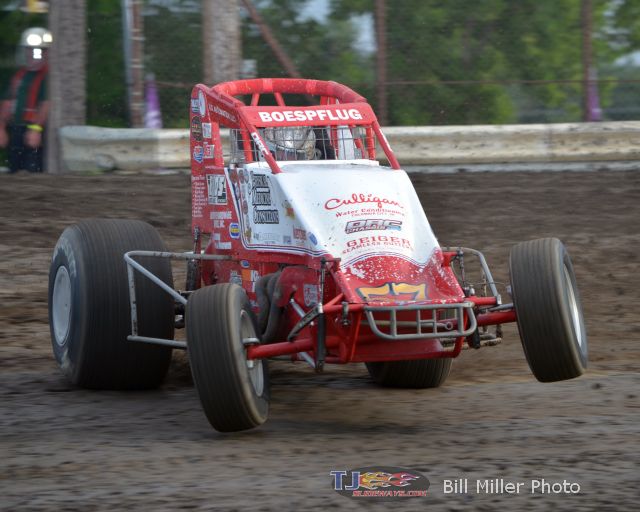 PETERSEN MEDIA
 Chad Boespflug had a great car and plenty of speed during the Kokomo Smack Down, but engine issues ultimately knocked him out of action on Saturday night while running in the top-five.
"All weekend long we had a pretty good car, and it was disappointing for our weekend to end on Saturday night the way it did," Boespflug said.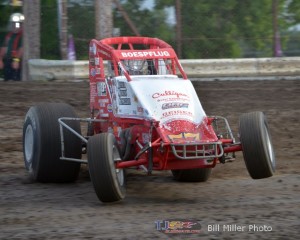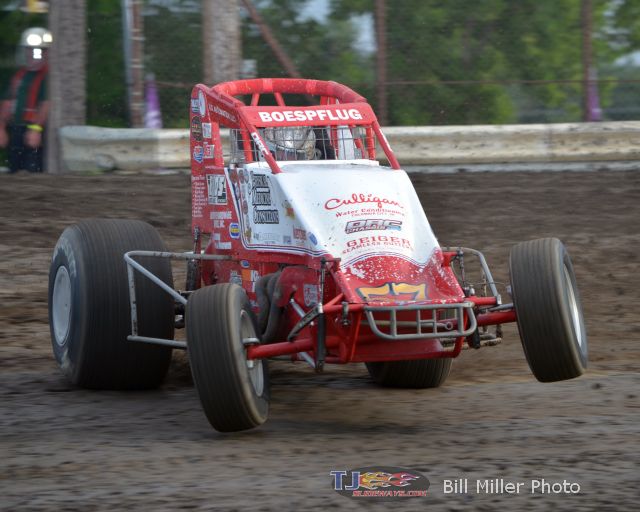 Kicking off the busy weekend on Thursday night, Boespflug timed the Paul Hazen No. 57 in fourth fastest with a lap time of 12.916 seconds.
Starting sixth in his heat, Boespflug was able to score a fourth place finish, putting him fifth in the preliminary night feature event.
When the feature started, Boepsflug had a rough start, but the Hanford, CA native rebounded and scored a top-10 finish.
Friday night, Boespflug was the first driver on the clock, and laid down a lap of 12.863 seconds, and ended up timing in fifth fastest overall.
Lining up fifth in his heat, Boespflug hooked up in an entertaining battle with Dave Darland for the final transfer spot, but as they exchanged blows, Boespflug made contact with another car, and he lost the handle, and wound up scoring a seventh place finish.
Starting third in the B, Boespflug held on to score a fifth place finish, putting him in the fourth row of the feature event.
After some track work, the main event rolled onto the speedway, and Boespflug's machine did not like the newly worked track, and he ultimately slip back to an 11th place finish, but he found himself fifth in weekend points.
"We had such a good car all night, it was disappointing to struggle like we did in the feature," he said. "Fortuatnely we were locked into the main, and were in the 'King of the Hill' on Saturday night to set the top eight starting positions.
After taking part in the Kokomo Kick it For Kid's Cancer event, Boespflug defeated Robert Ballou in his first match, and wound up losing to Dave Darland in his second round match, and lined up for the feature event in the fourth spot.
When the race went green, the current Avon, IN resident jumped to the top of the speedway as he found the cushion to his liking, and got past Brady Bacon and Chase Stockton to over take the second spot, with his sites set on Darland.
Though he couldn't seem to get up to Darland, he was able to keep Darland is shouting distance until the yellow flew on lap six.
The restart saw Boespflug hold the second spot for three laps, until he slipped to third as Shane Cottle overtook him for the second spot on the eighth lap.
With Brady Bacon now battling with him for the third spot, the caution waived on the 15th lap.
Under the yellow, Boespflug noticed his right-rear tire was going low, and as he attempted to buzz his tires to keep air pressure built up, he noticed he had engine woes, and he pulled in, ending his night.
"It was definitely a tough way to end out weekend, but we know we ha a good car all weekend long," he said.
ON TAP: Chad will be in action at the I 69 Speedway in Gas City, IN on Friday night before catching an early flight Saturday morning to compete in the Louis Vermeil Classic at the Calistoga Speedway in Calistoga, CA.
STAY CONNECTED: For all of the latest news on Chad, visit his website at www.chadboespflugracing.com, 'like' his Facebook page, www.facebook.com/chadboespflugracing, or follow him on Twitter, @chadboespflug.