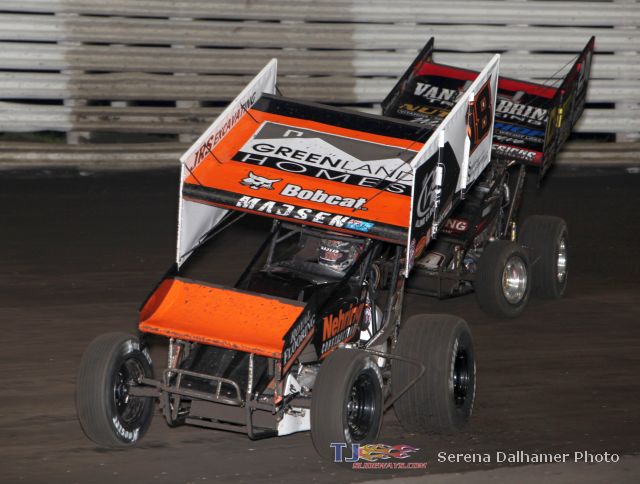 PETERSEN MEDIA
With the Knoxville Raceway behind him, Ian Madsen and his KCP Racing team can focus on winning races, and winning is just what they did on Sunday night at the Huset's Speedway in Brandon, SD.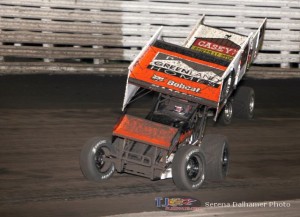 Madsen had a strong night from start to finish, as he opened his night up by timing his Nehring Construction/Team Kline Electric/Logan Contractor's Supply entry in third fastest.
Heat race action saw the St. Mary's, NSW driver score a fourth place finish, and ultimately put his machine on the front row of the feature event.
Sharing the front row with Lynton Jeffery, Madsen settled into the second spot when the race got underway.
With Jeffery leading the way, Madsen stalked him and matched his every move, before making his move to the lead on the sixth lap.
Once out in front, Madsen showed tremendous speed, as he slowly distanced himself from the field, with only Jeffery in striking distance.
Hitting his marks lap after lap, Madsen went on to score the big $5k winner's payday.
"What a great night we had," Madsen said. "Doug Rankin had the car awesome from hotlaps to the feature event, and it was fun to drive. Bret Nehring was in the house, and that made this win that much more special."
Ian and his KCP Racing team would like to thank Nehring Construction, Team Kline Electric, Logan Contractors Supply, Royal Flooring, Greenland Homes of Iowa, Stepping Stone Genetics, Quality Traffic Control, Factory Kahne, Rider Racing Engines, JRS Excavating, Brown and Miller Racing Solutions, Kent Performance, Smith Precision Products, Moose Blocks, Speedway Motors, Aspen Air Inc. Heating and Cooling, and Kustom Concrete Pumping for their support.
2013 BY THE NUMBERS: Starts-54, Wins-9, Top-5's- 20, Top 10's-30
ON TAP: Ian and his KCP Racing team will be busy this weekend as they will be in Burlington, IA on Friday and Saturday night with the MOWA, before returning to Huset's on Sunday night.
STAY CONNECTED: To keep up with Ian make sure you follow him on twitter by clicking over to www.twitter.com/IanMadsen. You can also visit the teams website at www.kcpracing.com.