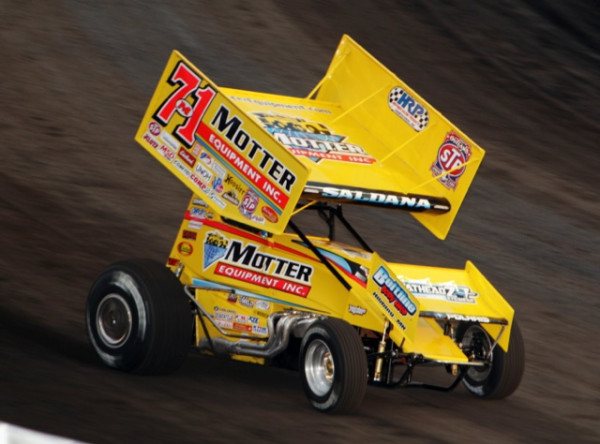 By Susan Arnold
ALGER, Wash. (Aug. 31, 2013) – The World of Outlaws competitors raced for the $12,000 winner's share at the Monster Energy Meltdown at Skagit Speedway's final night.
In preliminary action, Saldana lapped the 3/10-mile oval in 10.994 seconds, placing third in the qualifying order.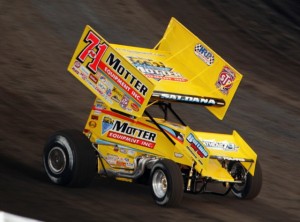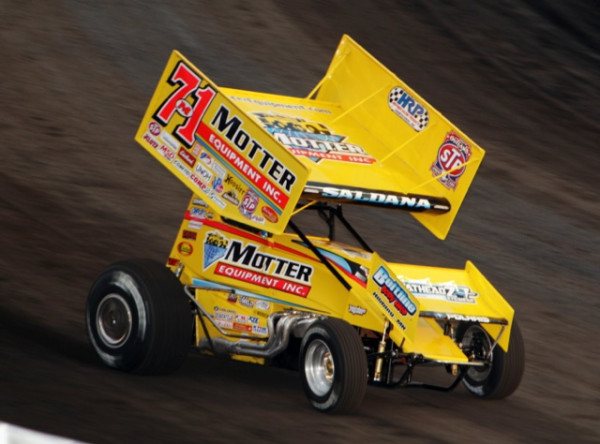 Using the Outlaws mathematical formula, the Motter Equipment Fatheadz Eyewear Beltline Body Shop 71M was assigned the fourth starting position in the third heat. After the green flew, with only two laps complete, Saldana worked his way up to third position, passing Kraig Kinser.  The heat was won by pole sitter Craig Dollansky, second place starter Tim Kaeding finished second and Saldana was third across the finish line.
Saldana earned a spot in the dash and after the inversion draw, he was allocated the fourth position on the grid.  When the race went green, Daryn Pittman lost the handle on his car and spun, collecting Cody Darrah and Tim Kaeding.  Pittman went back to the pits while Darrah and Kaeding went to the work area, made repairs, and rejoined the field.  On the restart, Saldana was moved up to the outside of row one next to pole sitter Kerry Madsen.  When the field broke, Madsen took the lead with Saldana riding second in hot pursuit. Schatz was third.  And that was the finish order when the checkered flag flew.
Saldana's second place finish won him the second starting position in the A-Main. When the field broke, pole starter Madsen jumped to the lead followed by Saldana, McMahan and Schatz.  On lap four, McMahan was able to sneak past Saldana for second.  Saldana was now fending off a challenge by Donny Schatz.  On lap 13, the leaders were running in heavy traffic.  On lap 15, Schatz was able to reel in Saldana and by lap 18 Schatz took the lead.  With three laps to go, Darrah was able to steal fourth place.
With one lap to go, Trey Starks brought out the yellow when he rolled to a stop on the race track.  World of Outlaws rule call for a green, white, checker finish in situations such as this but there was no change among the leaders from the restart to the checker.
Schatz scored the victory, Madsen was second and McMahan rounded out the podium.
Darrah was fourth and Saldana was fifth.  The Motter team's consecutive top-5 finishes were now extended to five.  Saldana's strong finish boosted the team to No. 5 in World of Outlaws point standings.
The Western Swing continues Monday, Sept. 2 in Elma, Wash. and begins a string of seven back-to-back races ending Sept. 8 in Antioch, Calif.