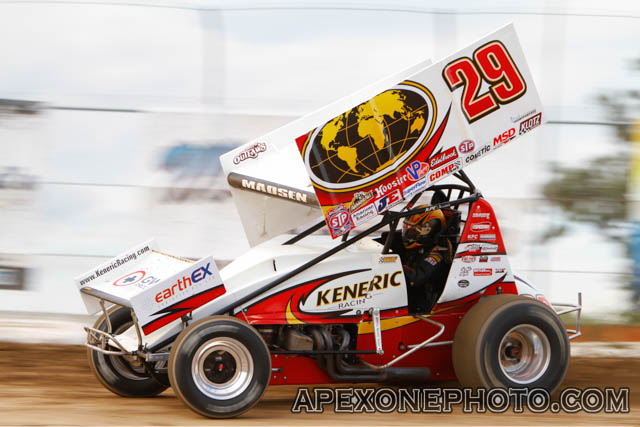 By Bill W
September 10, 2013 – The west coast trip for the World of Outlaws, Kerry Madsen and the Keneric Racing #29 team was capped off last weekend with two nights at the Gold Cup in Chico, California Friday and Saturday, and Sunday's event at the Antioch Speedway.  The teams head back over the Rockies this week to compete Friday night at the Clay County Fair Speedway in Spencer, Iowa and Saturday at the Deer Creek Speedway near Spring Valley, Minnesota.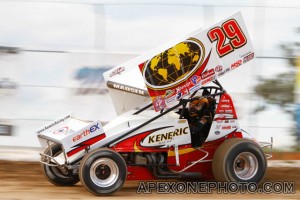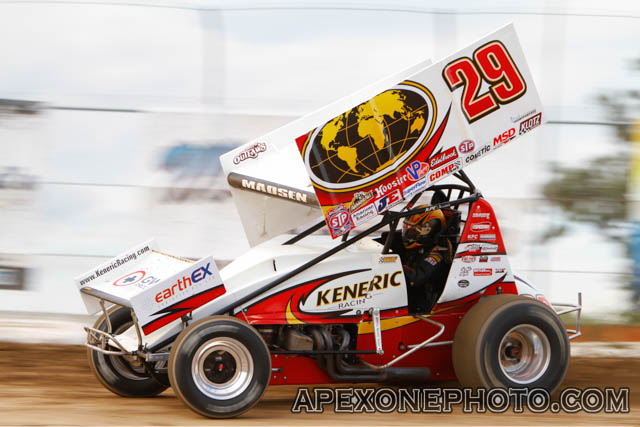 Kerry's strong west coast runs hit a snag at the Silver Dollar Speedway in Chico on Friday.  "We didn't qualify well (36th)," he says.  "We went out late.  It was disappointing.  I never recovered.  Chico is tough to get out of a hole, because it's tough to pass.  We got to fifth (from 8th) in the heat (one spot out of a transfer).  We made a little bit of progress in the B (15th to 7th), but not enough."
The St. Mary's, New South Wales, Australia driver would move forward seven spots in the feature.  "We had to take a provisional," says Kerry.  "We almost got in a couple of incidents and finished 19th.  It was disappointing with how good we had been.  It was a bit of a letdown, but it happens."
The team was motivated for Saturday's finale at Chico.  "We changed some things and thought we'd be a lot better," says Kerry.  "We drew an early number, which we thought was going to be good.  The powers that be decided the track was ready to qualify on, when it was really greasy.  The times at the beginning were six-tenths off of those at the end.  We just got taken out by the track being greasy (33rd quick).  We actually didn't do too badly for where we went out, but it just got too fast at the end.  It was one of those things…when there are 55 cars and someone is going to be unhappy."
The team did what they could to rebound, but fell short.  "We just never got out of jail again," says Kerry.  "We couldn't make it out of the heat (7th), and we threw a 'Hail Mary' pass at the car in the B and weren't very good at all (13th to 8th).  We weren't the only Outlaw with an early qualifying spot, so (Donny) Schatz and (Craig) Dollansky took a provisional.  We were on the outside looking in.  We were doing so well, that kind of brings you back down to 'Earth' a little bit."
At Antioch on Sunday, things were much better.  "We qualified fifth, but we missed the Dash (finishing third in the heat)," says Kerry.  "We started 11th and moved up to 7th in the feature.  We had a really good racecar, but it took rubber about a third of the way through the race.  We got in line after that.  That was disappointing.  I think we had a top five car.  After such a bad weekend at Chico, it cheered us up a little bit to have a good car at Antioch."
Kerry has his eye on the remaining WoO schedule.  "We have ten races left, and they are all tracks we've been good at," he says.  "Williams Grove has been hit and miss, but we're looking for a strong finish here."
In the fourteen events since the Knoxville Nationals, Kerry has a win in Edmonton, Alberta, five podium finishes, six top fives and eight top tens.  "It's kind of nice to have a day to chill out after Speedweek or 'Hell Week' or whatever you want to call it," he says of the west coast trip.  "We were pretty happy with the whole trip west after the Nationals.  We had a few misses, but we also felt we could have had five or six wins too."
Follow Keneric Racing & Kerry Madsen on Facebook and Twitter!
Keneric Racing
www.KenericRacing.com
http://www.facebook.com/kenericracing
http://twitter.com/kenericracing
Kerry Madsen
http://www.facebook.com/pages/Official-Fan-Page-for-Kerry-Madsen/101145169933686
http://twitter.com/kmr29
To receive Kerry's Releases, send an e-mail to sprntcar@hotmail.com  This e-mail address is being protected from spambots. You need JavaScript enabled to view it with "Madsen" in the subject line!
Kerry Madsen (KMR) Bob & Peter Gavranich (Keneric Racing)
Earthex (Des Johnstone & Murray Lumsden) Morrison Motors (Brian Morrison) KPC Chassis (Steve Kent)