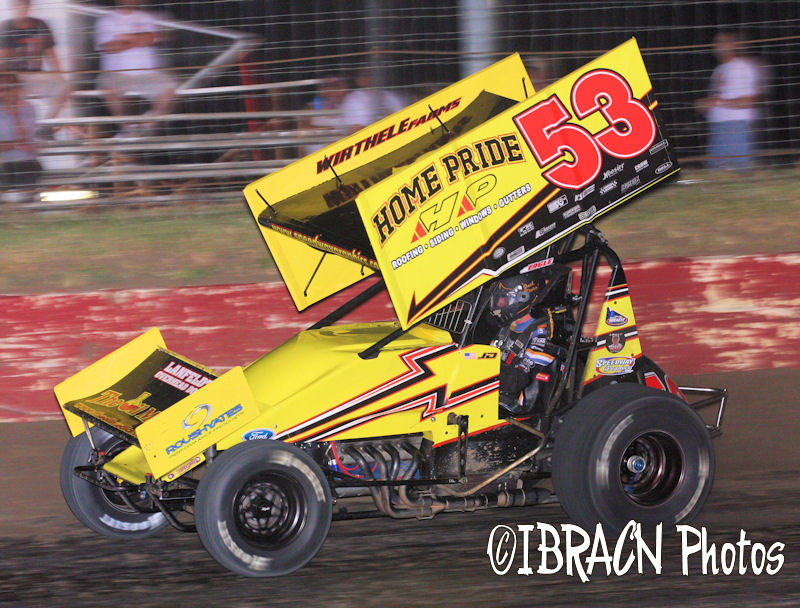 Inside Line Promotions
SPRINGFIELD, Neb. (Sept. 17, 2013) – After spending last weekend at his sister's wedding, Jack Dover is amped to return to the track for a marque doubleheader on Friday and Saturday.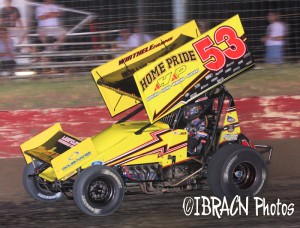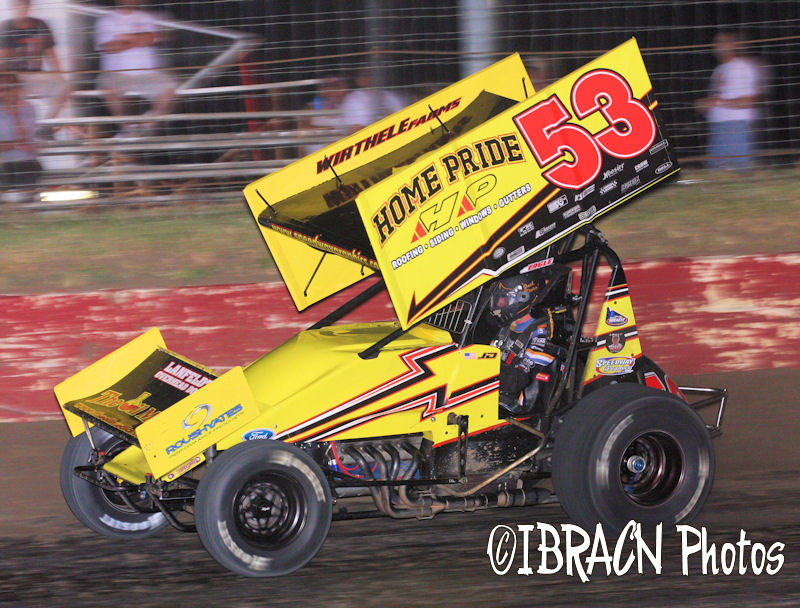 In a quest for his third consecutive ASCS Midwest Region championship and fourth title in the last six years, Dover will compete at I-80 Speedway in Greenwood, Neb., for the 2nd annual Midwest Fall Brawl sponsored by Home Pride Companies, Inc.
"I'm looking forward to it more than the Knoxville Nationals," he said. "There's more money on the line and I run really well at the track. I have a good chance at it."
In fives races at the big track this season, Dover has been dominant. He hasn't placed outside the top three in a heat race and has two feature wins and four top-five finishes. In fact, his worse result is a 12th-place finish at the track.
At last year's inaugural Midwest Fall Brawl, Dover claimed his heat race and the feature on the opening night before placing third in the finale. This season, there's a lot more money on the line.
The feature winner receives $2,500 each night with a $20,000 bonus in the Durst Motorplex/ZOZ Farms Double Down Back-to-Back Challenge for sweeping the weekend. The hard charger in each feature gets additional money and there is bonus money for feature laps led. There is also a King of the Hill competition to wrap up the weekend – which Dover won last season – that pays $1,000 to win.
"The key will be luck for one thing and making sure you have no mechanical issues," Dover said. "Chris is up here going through the motors making sure everything is tip top."
Additionally, the Midwest Fall Brawl presents the final two ASCS Midwest Region races of the season. Dover holds an 82-point advantage and can wrap up his fourth region championship since 2008 by placing 10th or better each night.
SEASON STATS –
38 races, 12 wins, 19 top fives, 22 top 10s, 27 top 15s, 32 top 20s
UP NEXT –
Friday and Saturday at I-80 Speedway in Greenwood, Neb., with the ASCS Midwest Region
VIDEO –
Here is in-car video of Jack winning the 5th annual Steve King Memorial at The Great American Dirt Track in Jetmore, Kan., on May 25: http://youtu.be/jmbnDjFA3YQ
Here is in-car video of Jack claiming his heat race with the Nebraska 360 Sprints at Butler County Speedway in Rising City, Neb., on May 18: http://youtu.be/3yWrbbW2Qxk
MEDIA LINKS –
Website: http://www.JackDoverRacing.com
Twitter: https://twitter.com/JackDoverRacing
Facebook: https://www.facebook.com/jackdoverracing?fref=ts
SPONSOR SPOTLIGHT – Eagle Motorsports
Eagle Motorsports, formerly known as Eagle Chassis, has fabricated sprint car chassis since 1998. Eagle has been a part of winning three Knoxville Nationals. For more information, visit http://www.EagleMotorsports.com.
"Eagle chassis are one of the easiest to drive and one of the easiest to work on," Dover said. "And they've been great with custom, reliable chassis because of my height."
Dover would also like to thank Certified Transmission, Home Pride Companies, Inc., Roush Yates Racing Engines, Thorpe's Body Shop, Trail Performance Coatings, Inc., The Oil Medics, ButlerBuilt Professional Seat Systems, Keizer Wheels, Schoenfeld Headers, Shaver Racing Engines, Langfeldt Overhead Doors, K&N Filters, FK Rod Ends, DMI, Speedway Motors and Vortex Wings for their continued support.
PARTNERSHIP OPPORTUNITIES –
Jack Dover Racing is close to being able to compete across the country by returning to the Lucas Oil ASCS National Tour, where Dover has finished in the top 10 both seasons he has raced full time with the premier 360 sprint car series. He is also ready to compete with the World of Outlaws STP Sprint Car Series en route to his dream of racing in NASCAR. The only variable missing is a reliable truck and trailer. For more information on partnership opportunities, e-mail teamdover@gmail.com.
JACK'S SHOUTOUT –
Jack wants to give a special notice to his sister, Trish, and brother-in-law, Mark, on their recent marriage.
"Congrats to my sister and brother-in-law on getting married," Jack said. "It's great to have another person in the family and I wish them the best."