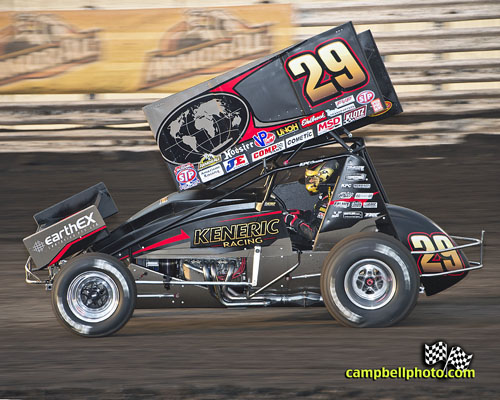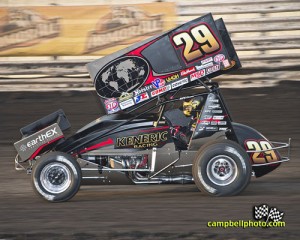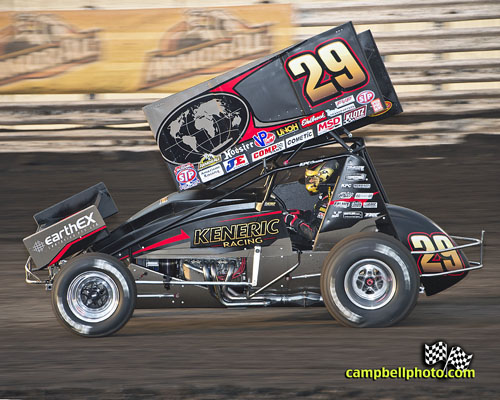 By Bill W
September 18, 2013 – After a month on the road heading west, in two weeks time, the World of Outlaws are going from California to Pennsylvania.  Kerry Madsen and the Keneric Racing #29 team were in action last weekend in Iowa and Minnesota.  A sixth place finish was the result at the Clay County Fair Speedway in Spencer on Friday, and a ninth place finish was added at Deer Creek Speedway near Spring Valley, Minnesota on Saturday.
At Spencer, Kerry timed in 11th quick.  "We went out late, and qualified pretty well for that," he says.  "We won the heat, and won the Dash.  I didn't feel real great in the Dash though."
The team prepared to start on the pole of the main event.  "We tried some things with the car and messed up," says Kerry.  "We got the lead early, but (Donny) Schatz passed me in three and four on the bottom.  I decided I better get down to the bottom.  (Mark) Dobmeier got by me and we were third."
A double-file restart hurt the veteran.  "We had a bad restart, and we were running fifth," says Kerry.  "We had a red there, and we made some changes.  We were really good after that.  We ended up sixth.  I was disappointed with that to be honest, because it was definitely a missed opportunity."
Spencer's event was late in running, but Saturday's run at Deer Creek took barely two hours.  "A lot of it was the rain on the horizon," says Kerry of Deer Creek.  "We got a late pill and qualified thirteenth.  That meant we missed the heat inversion by one."
After finishing sixth in his heat, Kerry would line up in the seventh row for the feature.  "We started 13th and ran ninth," he says.  "We were actually making better progress, but I was the victim of a flagrantly bad slidejob.  Somehow, we didn't junk our car, but we fell back to ninth."
As rain began to fall, Kerry held onto his top ten finish.  "We had a good car," he says.  "It started raining, so you had to kind of get in line around the top.  It's the first time I've ever had to take a tear-off off for rain in a sprint car race.  The track was slick to the cushion.  It was not going to be good to try a slidejob."
Brother Ian Madsen was the winner at Deer Creek.  It was his first ever WoO win.  "They're all pretty pumped," says Kerry of Ian's team.  "He's running around like King Kong today."
Follow Keneric Racing & Kerry Madsen on Facebook and Twitter!