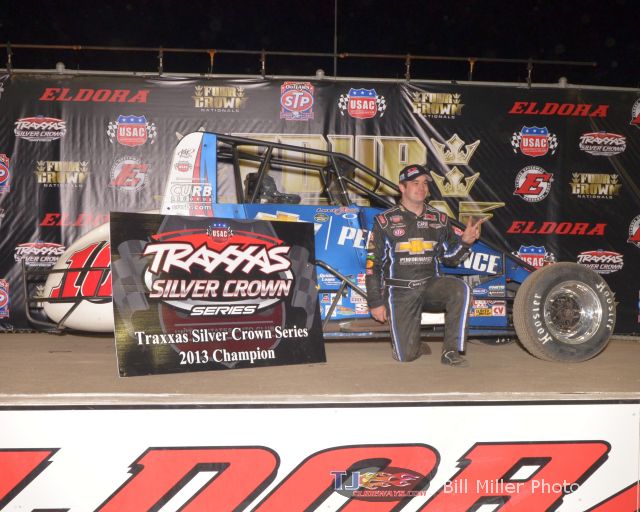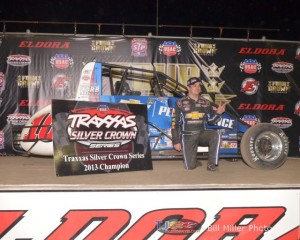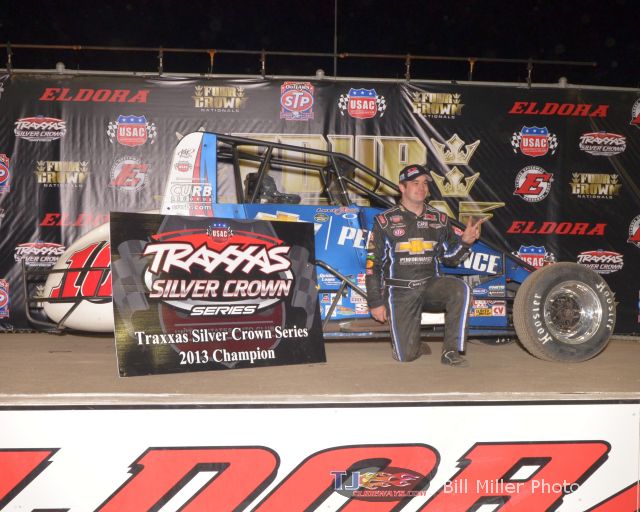 From Tony Stewart Racing
Rossburg, OH – (September 22, 2013) – Bobby East continued the championship tradition for Tony Stewart Racing (TSR) Saturday night at the famed Eldora Speedway in Rossburg, Ohio, by earning his second consecutive USAC TRAXXAS Silver Crown Series title.
East, in his second year with Tony Stewart/Curb-Agajanian Racing, drove his No. 10 Chevrolet Performance/Curb/Beast machine to a sixth-place finish in the 4-Crown Nationals at Eldora. He ended the season with 387 points, six more than runner up Chris Windom. East is the second TSR driver to earn back-to-back Silver Crown titles. The recently retired Levi Jones won the Silver Crown championship in 2010 and 2011.
"This is a great feeling to win our second USAC Silver Crown title," said East, the 32nd series champion in Silver Crown's 42-year history. "Last year, we had the perfect scenario of winning the final race and the championship, but tonight we came up a little short in winning the race, but we still got the championship.
"This has been a tough year in a lot of ways. I had the privilege of watching Jason (Leffler) race here (Eldora) many times and have nights just like we had. He was always the first to tell me that a championship isn't won in a single night, that it takes a whole season. I learned a lot from him and I'm proud to dedicate this year's championship to his memory."
A native of Pittsboro, Ind., the 28-year-old East has continued a winning legacy between the East and Stewart names. Bob East Sr. and Stewart, the three-time NASCAR Sprint Cup Series champion, were co-owners of a team that captured four consecutive Silver Crown owner championships between 2002 and 2005.
This year's Silver Crown championship is Stewart's 13th as a USAC car owner. Stewart has seven Silver Crown championships and six Sprint Car titles. Stewart now has 17 total owner championships, as TSR is a four-time winner of the World of Outlaws STP Sprint Car Series championship (2001, 2008, 2009 and 2012).
"Winning championships is the result of so many people working toward one goal," Stewart said. "There is a tremendous amount of pride in winning championships from all of us at TSR and Curb-Agajanian. Bobby and the entire team did a great job again this season winning another USAC Silver Crown championship, which I consider to be one of the most competitive series in all of racing. To win another championship with Curb and our fourth with Chevrolet Performance makes this even more special. We can't compete at a championship level without these partnerships."
"We are excited and proud to be associated with Tony Stewart and Bobby East," said Mike Curb, chairman of Curb Records. "Winning is important to all of us and there's nothing better than earning a championship. It was exciting to see Bobby and the team earn consecutive USAC Silver Crown titles at the historic Eldora Speedway."
Consistency is what enabled East to capture his second Silver Crown title and third in USAC. East, winner of the 2004 USAC National Midget Car Series championship, began this season's Silver Crown title hunt in May with an eighth-place finish in the season-opener at the Indiana State Fairgrounds, and ended the campaign with one victory, three top-fives and five top-10s in the eight races season.
"These guys are awesome – Brad Mariscotti, my dad (Bob East), Warren Beard, who was with us most of the season, and Marty Williams, who helped us the past few races – everyone is just awesome to work with on this team. We had some ups and downs this season, but we never gave up. I'm proud to have had the opportunity to be the driver of this Chevrolet Performance/Curb car. It's a privilege to work with such a dedicated team and all of their hard work enabled us to bring our partners, Chevrolet Performance and Curb, as well as our owners, Tony Stewart, Mike Curb and Cary Agajanian, another USAC championship.
"My parents, my sisters and my wife – we're a racing family. My parents have helped me so much and helped me gain the opportunity to advance in the sport. My dad was, again, a huge part in winning this title. He helped us out not only on the pavement, but on the dirt a lot this year, and his knowledge was definitely an asset in putting two championships in a row together. My wife has been my spotter most of the season and she's been a great asset as well. My mom has been a huge source of support, as have the rest of my family, and that's been a big part of our success this year."
Bobby East: Driver of the No. 22 Chevrolet Performance/Curb Records USAC Silver Crown Series Car
Date of Birth: 12.17.84
Hometown: Brownsburg, Ind.
Residence: Pittsboro, Ind.
Marital Status: Married, Courtney
Children: None
Highlights: 2013 USAC Silver Crown Series champion, with one victory… 2012 USAC Silver Crown Series champion, with two victories… 2004 USAC National Midget Car Series champion… 2001 USAC National Midget Rookie of the Year… 11 career USAC National Silver Crown Series victories… 15 career USAC National Sprint Car Series victories… 23 USAC National Midget Series victories… Veteran of 31 NASCAR Camping World Truck Series races from 2005 to 2008… 11 NASCAR Nationwide Series starts… One ARCA Series start in 2005… Became the youngest USAC winner in series history when he won at Anderson (Ind.) Speedway in April 2001 at the age of 16 years, six months and 25 days.
About Chevrolet
Founded in 1911 in Detroit, Chevrolet is now one of the world's largest car brands, doing business in more than 140 countries and selling more than 4 million cars and trucks a year. Chevrolet provides customers with fuel-efficient vehicles that feature spirited performance, expressive design, and high quality. More information on Chevrolet models can be found at www.chevrolet.com.
About Chevrolet Performance Parts
More information and ordering details about Chevrolet Performance parts are available at www.chevroletperformance.com. New-component features and additional insider information about the latest from Chevrolet Performance is available at www.TheBlock.com, the automotive social community powered by Chevrolet Performance.
About Curb Records
Celebrating its 50th anniversary, Curb Records is one of the world's leading independent music companies. Owned and operated by Mike Curb since 1962, Curb Records has achieved 433 number one records, over 1,500 hundred Top Ten records and charted over 4,500 total records. Today's roster includes some of the top names in Country, Christian and Pop/Rock music. Curb Records was honored as Billboard Magazine's 2001 Country Music Label of the Year and Radio & Records Magazine's 2005 Overall Gold Label of the Year. For more information, visit www.curb.com"