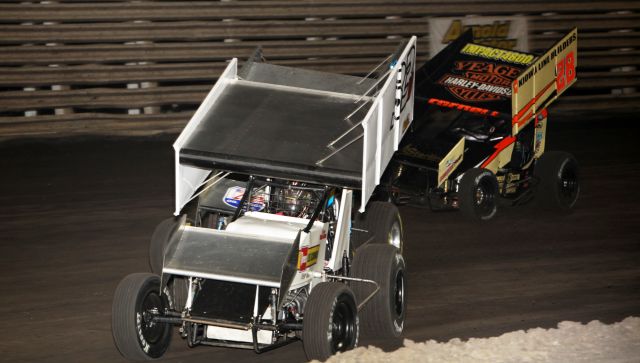 Inside Line Promotions
YAKIMA, Wash. (Sept. 26, 2013) – Henry Van Dam scored a pair of podiums last weekend at Central Washington State Fair Raceway to cap the ASCS Northwest Region season on the right foot.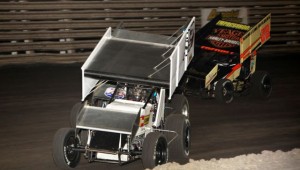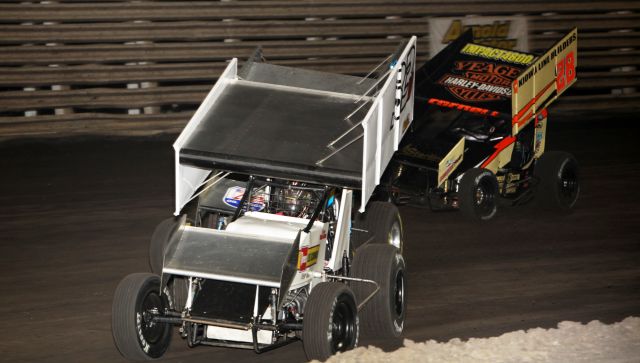 Van Dam, who has recorded five straight podium finishes in 360ci action, also placed second in the ASCS Northwest Region championship standings for the third consecutive season.
"Overall it was a good, consistent weekend, which is not a bad thing," he said. "If you can get in the top three there you are able to pay for tires and fuel. It's always a plus to cover your expenses. We had a lot of people who came over family and fan-wise. It was a real good turnout to have fun with everybody."
The action started on Friday with Van Dam qualifying 10th quickest. He then advanced from fourth place to second, which earned him enough points to qualify for the dash redraw.
"Friday night we didn't really qualify that great," he said. "With that format I guess it's alright not to. The track was pretty narrow so I was happy that we were able to get around a couple of people."
Van Dam started and finished second in his dash, which determined the lineup for the outside row in the main event. Since he placed in the runner-up position in the dash, he started the feature fourth.
"In the feature we had a really good car," he said. "At one point in the race early I tried a few different lines and lost a few spots, and I was able to work my way from there. It took me most of the race to get those spots back."
Van Dam rallied to the runner-up position, but wasn't able to capitalize on a restart in the final 10 laps.
"I had something for him for the win," he said. "I just didn't get a very good restart and spent too much time trying to catch up. We caught lapped traffic on the last lap. If I could have been close to him we would have had a shot at it."
Van Dam placed second to earn his 10th top-five result of the season.
On Saturday, he returned to the fast track for the ASCS Northwest Region finale.
"We made some changes during the day to get the car better," he said. "It definitely was better. We qualified better."
After qualifying fourth quickest, Van Dam charged from sixth to second place in his heat race to be the high-points driver. The series didn't run dashes on Saturday and Van Dam pulled the No. 6 in the feature redraw, which determined the lineup for the main event.
"We made some more changes for the feature, but we kinda missed it a little bit," he said. "I just couldn't feel the front end much. It made it hard to put my car in the right spots on the race track. It felt like my front end was sliding. I would move the wheel and it wouldn't do anything to the car."
Van Dam advanced to third place to end the weekend.
He is scheduled to compete on Saturday at Grays Harbor Raceway in Elma, Wash.
QUICK RESULTS –
Sept. 20 – Central Washington State Fair Raceway in Yakima, Wash. – Qualifying: 10; Heat race: 2 (4); Dash: 2 (2); Feature: 2 (4).
Sept. 21 – Central Washington State Fair Raceway in Yakima, Wash. – Qualifying: 4; Heat race: 2 (6); Feature: 3 (6).
SEASON STATS –
40 races, 1 win, 11 top fives, 24 top 10s, 32 top 15s, 37 top 20s
UP NEXT –
Saturday at Grays Harbor Raceway in Elma, Wash.
MEDIA LINKS –
Website: http://www.HenryVanDam.com
Twitter: https://twitter.com/VanDamRacing
VIDEO –
Here is a link thanks to ARRacing Videos to Van Dam's victory at Grays Harbor Raceway on June 15: http://youtu.be/sFPjfxd5Vgs
APPAREL –
Van Dam has t-shirts and sweatshirts available at his racing trailer at every race he competes in. For his schedule, visit http://www.HenryVanDam.com.
SPONSOR SPOTLIGHT – A.R.T Speed Equipment
Established in 1976, A.R.T. Speed Equipment is a parts and fabrication shop with a huge inventory of sprint car and mini sprint parts. A.R.T. also builds top-notch chassis. For more information, visit http://www.ARTspeedequip.com.
"I've been using A.R.T. chassis for the past few years and they are made with awesome quality, but the awesome customer service I receive makes it a great company," Van Dam said.
Van Dam would also like to thank Kovash Logging, Johansen Excavating, Enumclaw Xpress Lube, Les Schwab Tire of Enumclaw, Factory Kahne, Clems Enumclaw Powersports, Van Dam Dairy, Village Green Resort, Bob and Joan Shumway, Kellan and Kelsey Hall, Foothills Auto Supply, American Powder Coating, Pete Vos, Char's Barber Shop, Wesmar Race Engines, SpeedMart, Van Dam Farms and Rich Van Dam Dairy for their continued support.