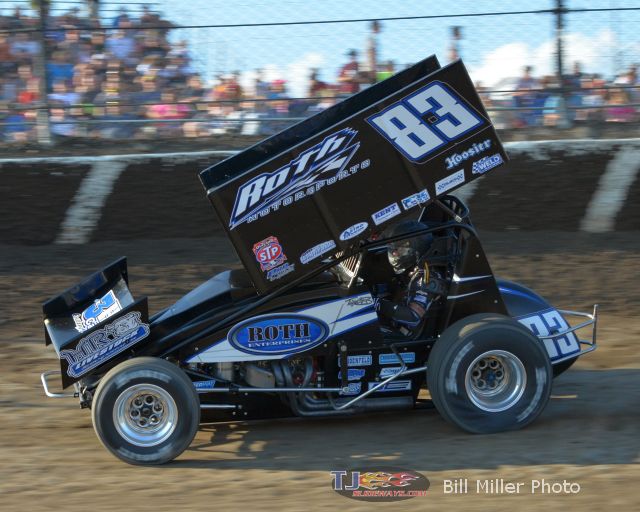 By Gary Thomas
Stockton, CA – November 4, 2013…When it comes to dominating performances San Jose, CA's Tim Kaeding has certainly had a fair share throughout his career and on Saturday night at the Stockton Dirt Track he definitely had another, by handily winning the 360 Sprint Car portion of the 30th annual "Tribute to Gary Patterson."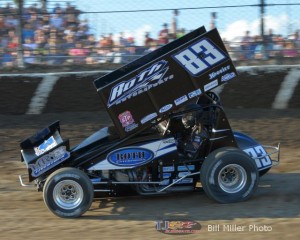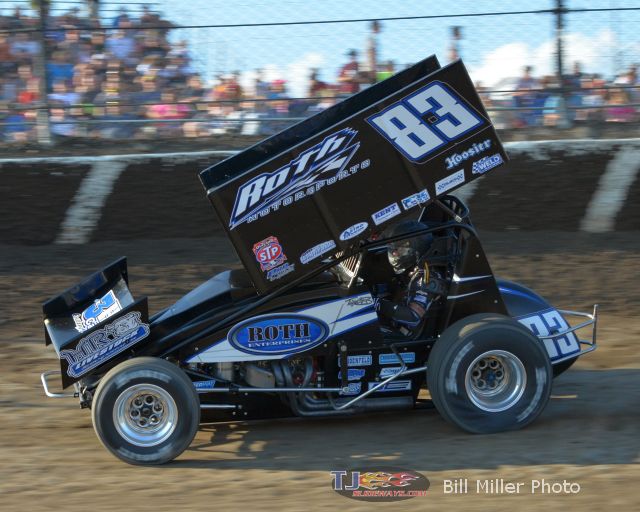 Kaeding held a near half-lap lead at times during the 30-lap contest and motored away following a late-race restart to take the checkered flag by 2.349 seconds over Rutherford's Rico Abreu and 11th starting Geoff Ensign of Sebastopol. "TK" has had another tremendous season driving for Dennis & Teresa Roth and Saturday's win was his first at the Stockton Dirt Track, after finishing runner up to Kyle Larson in March with the World of Outlaws at the 3/8 mile oval.
"This thing was a rocket ship in the main event right there and I really have to thank my whole team for everything they have done for me this season." commented Kaeding. "Dennis & Teresa Roth have given me a great opportunity these last number of years and it's been a great season for us in 2013. I've also been friends with Gary Patterson's son Jimmy for a long time, so it's pretty cool to win here tonight at the GP and that one was definitely for Jimmy. I also want to thank all you fans for coming out tonight and supporting us."
When the feature began it was Abreu jumping into the lead ahead of pole sitter & Chase Chevrolet Dash winner Shane Golobic of Fremont. Around lap-eight Kaeding made his presence known and carved his way around Golobic for second and then charged into the lead on lap-nine. After that the former two-time Golden State/ King of the West 410 champ rocketed away from the field in impressive fashion. The fight for third on back then became the spot to watch, as Ensign battled Golobic for the third position.
Ensign would eventually take command of third on lap 23, prior to Golobic suffering a flat tire with just a handful of laps remaining, putting an end to his solid run. Up front it was all about Kaeding as he led the final four laps and took the checkered for victory aboard his Roth Enterprises No. 83 mount. Abreu finished second in the Abreu Vineyards No. 24 machine and would eventually cap the night by winning the King of the West 410 Sprint Car Series portion of the "Tribute to Gary Patterson."
Ensign scored a strong third place finish and was fun to watch through traffic in the McClish Motorsports No. 5v Sprinter. The 24-year-old also won a USAC Western Classic Series main event at the Stockton Dirt Track in June. Hanford's Mitchell Faccinto, who has less than 10 Winged Sprint Car starts in his career, brought home an impressive fourth place finish at the helm of the Western Metal No. 37. This year's "Fall Nationals" champion at the Silver Dollar Speedway, Mason Moore of Chico, did a solid job in the feature and rounded out the top-five aboard his Moore Insurance Services No. 22m Sprint Car.
Completing the top-10 in the 30-lapper were 17th starting Andy Gregg of Placerville, 22nd starter & hard charger in the main event Justin Sanders of Prunedale, 16th starter Sean Becker from Roseville, Henry Van Dam of Enumclaw, Washington and row-nine starter Chase Johnson from Penngrove.
The 12-lap Last Chance Qualifier was captured by Sean Becker, with the six-lap Chase Chevrolet Dash being picked off by Shane Golobic, who will take home an extra $400. Second place finisher in the Dash Rico Abreu will also get $200 and third place Tim Kaeding will receive $150.
We'd like to give thanks to Chase Chevrolet for their support of the 360 Sprint Car Dash during the "Tribute to Gary Patterson" at the Stockton Dirt Track. The four eight-lap heat races were claimed by Tim Kaeding, Mitchell Faccinto, Shane Golobic and Clarksburg's Justyn Cox. The 360's used group qualifying to open the night and it was Chico's Jonathan Allard setting a new track record by clocking in at 14.400 around the 3/8 mile clay oval for fast time.
The Stockton Dirt Track is located on the San Joaquin County Fairgrounds in Stockton, California and the physical address is 1658 S Airport Way, Stockton, CA 95206. For information on the speedway visit www.stocktondirttrack.com
You can also like the track on Facebook at https://www.facebook.com/stocktondirt?fref=ts as well as follow on Twitter at https://twitter.com/stocktondirt and also visit www.stockton99.com for information on the paved oval.