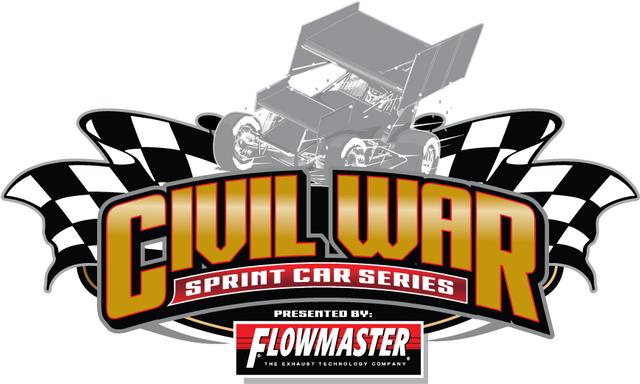 From Peterson Media
With the 2014 season just a couple of weeks away from kicking off, the Prentice Motorsports Group has decided to in fact acknowledge the 50lb weight break for teams utilizing an ASCS engine.
"After speaking with several teams and fellow promoters, we have decided to in fact acknowledge the 50lb weight break for teams using an ASCS engine as seen in years past," John Prentice said. "This will make teams that chose to utilize an ASCS engine meet a minimum weight requirement 1475lbs, and teams using an open headed engine 1525lbs," John Prentice said.
Teams are encouraged to visit the new Civil War Series Presented by Flowmaster website to read over the new rules for the 2014 season, as well as take the time to fill out forms that we have posted under the 'Driver' section.
Fans can also click around our new website for schedule info, and interactive content when the season kicks off by clicking over to www.civilwarsprints.com.
The 2014 season is scheduled to fire off on March 15th, 2014 at the Marysville Raceway Park.
The Civil War Sprint Car Series would like to thank Flowmaster, BR Motorsports, A.R.T. Speed Equipment, Brodix, ButlerBuilt, CRV Carbon Solutions, Design 500, Dirt Solution, Taco Bravo, Hansen Machine, Frankland Racing Supply, Fuel Safe, Hoosier, Joe Hunt Magnetos, Kaeding Performance, King Racing Products, KSE Power Steering Products, MotoWear, MPD, All Pro, RCM Design, Rod End Supply, Racing Optics, SRP, Swepco, VSR, and Weld Racing for their support.
CIVIL WAR SERIES PRESENTED BY FLOWMASTER- Founded in 1991 as the North-South Series, the Civil War Sprint Car Series was born in 1993 giving 360 Sprint Cars in California a sanctioning body. What started as just a handful of races at three different tracks has evolved into quite the series. In 2014, the Civil War Sprint Car Series will host 14 events at 8 different tracks around California.