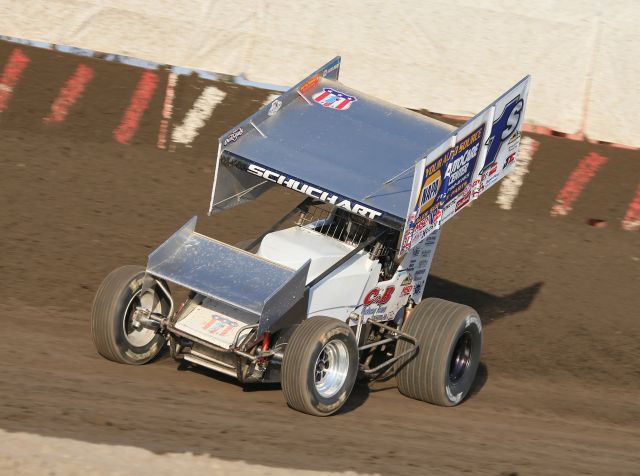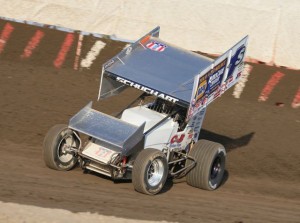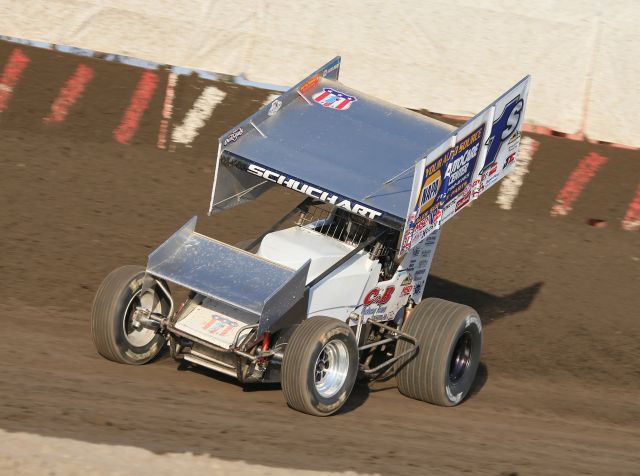 From Linda Mansfield

Tulare, CA — (March 15, 2014) — Rookie Logan Schuchart (pronounced SHU-hart) had an excellent showing in the World of Outlaws STP Sprint Car Series Friday night in his first visit ever to Thunderbowl Raceway. Driving the Shark Racing #1S, the 21-year-old driver from Hanover, Pa. qualified eighth, finished second in his heat, led all six laps enroute to winning the dash, and then led the first 22 laps of the 35-lap A main, eventually finishing eighth.
He set the fastest lap of the feature too, taking only 13.640 seconds to cover the one-third-mile, high-banked clay oval that he said reminded him of a "skinny Lincoln," referring to his home track in New Oxford, Pa.
Schuchart ran a lap in 13.005 seconds in time trials to qualify eighth in the 31-car field, only 0.205 of a second off the time recorded by the fastest qualifier, Joey Saldana.
He started second to Cody Darrah in the second heat, and the front row finished in the same positions that they'd started in eight laps earlier. That put Schuchart in the dash, and when that line-up was determined by a draw he had the pole followed by five-time champion Donny Schatz and defending champion Daryn Pittman.
That didn't intimidate him though, as Schuchart led all six laps and won that handily to earn the pole for the 24-car A main. Schatz was second and Pittman finished third. Schuchart's fastest lap in the dash was lap two, clocked at 13.582. It was the first WoO dash victory of Schuchart's career.
He held the point for the traditional four-abreast pace lap before the feature, and after the green dropped he led the first 22 laps of the A main, rebuffing everything Schatz and then Pittman threw at him. He started to catch the back of the field by lap six, and at times he had a 1-second lead. That shrunk to just 0.3 of a second in lapped traffic, and Pittman finally got around him with a move to the outside with 22 laps complete.
Schatz passed Schuchart on lap 24 to relegate him to third place. Schuchart was able to hold that position until lap 28 when Paul McMahan also passed him. Eventually others did too as his car's handling changed, but he took the checkered flag in eighth place.
Although he finished fourth in a WoO feature last year in New York, this was his best WoO feature finish so far this season.
"It's the most laps I've ever led in an outlaw race too," Schuchart noted.
"We were fast; it felt good," he said.  "Lapped traffic didn't help, but I felt the bottom was the fastest way around.  My car just got too tight.  I still was fast in one and two, but in three and four I couldn't turn. Before that it was rolling around nice and I felt really fast.
"One time near the end I was so tight that I pushed all the way up to the wall, but it was OK," he added.
"Everybody on the Shark Racing team did a great job," he emphasized.  "Everybody worked very hard, and it was a team effort.  I'm glad we could turn our luck around, and we'll just keep pushing to do better.
"I was kind of bummed out because I wanted to win, but my grandfather said this shows we're on the right track, and hopefully we'll do even better tomorrow."
Schuchart will get to try to post another top-10 finish tomorrow night at the same track, as Friday's race was the first half of a two-night program.
Pittman, who went on to post his first WoO victory since last July, said he didn't feel Schuchart made any mistakes, but it was just a case of lapped cars holding him up. "I think he'll get a win before the year is up," Pittman predicted.
Schatz, who finished second, was also complimentary, noting that Schuchart was "setting a really good pace" while he was at the front of the pack, "and I was doing everything I could to chase him."
The good showing was especially gratifying considering that Schuchart was the victim of an unavoidable accident on March 6 at the Dirt Track at Las Vegas Motor Speedway in which his car was hit by one competitor, flipped, and then was hit by another competitor. The car Schuchart drove on Friday night was the team's spare car, although Schuchart said "it uses some of the same parts that were on the one that we crashed."
Both Schuchart and his teammate, Jacob Allen, are in contention for the prestigious Kevin Gobrecht Rookie of the Year Award Presented by ButlerBuilt.
Shark Racing, which is owned by National Sprint Car Hall of Fame member Bobby Allen, one of the original outlaw drivers and Schuchart's grandfather, is sponsored by the following:
Your Auto Source NAPA Autocare Center
Pell's Tire Service
Marty Thompson
Don Ott Racing Engines
Rich Fogle Custom Pole Buildings
Newman's Towing & Recovery
CnB Mushroom Farms
Brenneman Painting
Speedway 94
Dirt: The Game
Lisa Alwine and Silpada Jewelry
Lebo Skin Care
DMI
Penske Shocks
ButlerBuilt Seats
Tony Stewart Racing
SR Lubricant Solutions/Micro-Armor
Restart Communications
The team, Schuchart and Allen have Facebook pages and Twitter accounts, and Schuchart has a Web site at Shark1s.com.
Free audio coverage of all WoO races is available on Dirtvision.com, as well as pay-per-view coverage of selected events, including both Thunderbowl shows.