PETERSEN MEDIA
Making his third start aboard the Van Dyke Motorspor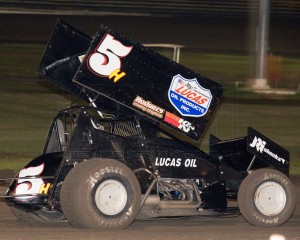 ts No. 5H in Chico, CA on Friday night, Chase Johnson rebounded well from a tough Silver Cup, as he scored a sixth place finish on a very tricky Silver Dollar Speedway.
"Our goal was essentially just to get some laps and finish after what we went through at Silver Cup," Johnson said. "We all worked really well together, and we were all pleased with how our night went."
With 20 cars on hand at the ¼ mile speedway, Johnson went out last during time trials, and timed his Lucas Oil/K&N Products/JRI Shocks backed entry in fifth fastest.
In heat race action, Johnson got spun around in the first corner, and was forced to start from the rear on the slippery surface, but he was able to find some grip, and race his way back to the third spot, putting him in the third row for the feature event.
As the track was still tricky in the feature, Johnson admittedly played it a little too cautious in the early goings, and slipped back to the eighth spot, as he jockeyed for position.
Clicking off very strong laps, the track slowly got better as the race wore on, and Johnson was able to claw his way back to the sixth spot at the finish line in what was a non-stop feature event.
"I really wanted to get a top five, but thinking back, I played the first lap way to cautious, and lost a bunch of spots," he said. "We were able to get moving forward, but with the race going non-stop, it was tough to get back up towards the front, but it was a nice night for sure. I have to thank Harley again for the opportunity to drive his hot-rod, and I am looking forward to Stockton on Friday night."
The Van Dyke Motorsports team would like to thank Lucas Oil,  K&N Products, JRI Shocks, NAAKE Suspension Rodgers Racing Engines, FSR Radiators, for their support during the year.
Chase Johnson would like to thank Johnny Franklin Mufflers, Newman Freeman Racing, Pit Stop USA, Napa Auto Parts, Flowmaster, Shifty Illustions, Don's Truck Repair, VSR,  and IWear for their support through the year.
2014 BY THE NUMBERS: Races-3, Wins-0, Top 5's-0, Top 10's-1
ON TAP: Chase Johnson and the Van Dyke Motorsports team will return to action on Friday night at the Stockton Dirt Track for the FVP Shootout.