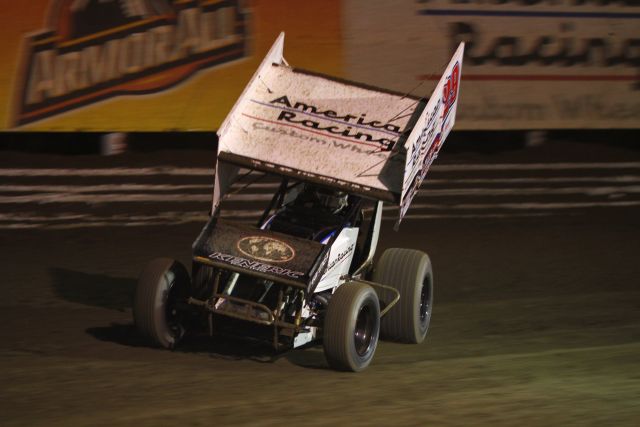 PETERSEN MEDIA
 Hitting the scenic Calistoga Speedway in California on Saturday and Sunday night, Kerry Madsen scored a seventh place finish on a grueling track on Saturday night, before charging from 16th to sixth on a slick, racy track on Sunday night.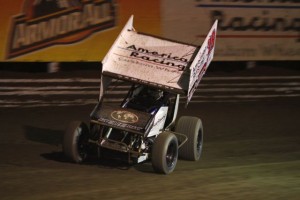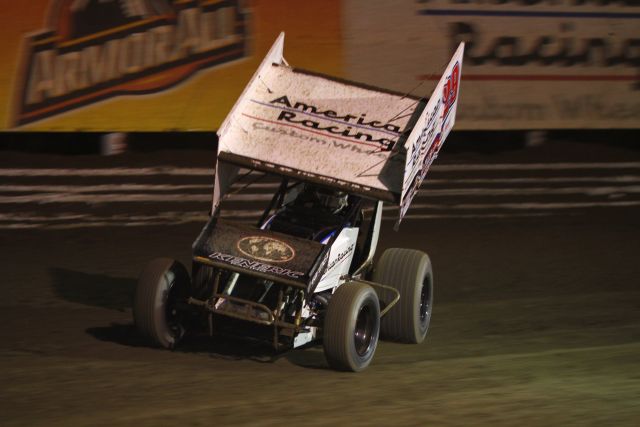 "It was a tale of two tracks over the weekend," Madsen said. "Saturday night it was fast, tough, and grueling, and on Sunday night you were able to move around, and it was a fun weekend."
With 28 cars on hand Saturday night, Madsen timed his Keneric Racing/American Racing entry in fourth fastest putting him in the first heat, where he scored a fifth place finish, and transferred to the feature.
On a demanding track, where passing was at a premium, Madsen focused on holding it to the floor and making clean laps, with no mistakes.
Though it wasn't one of the most exciting nights of racing, the Knoxville, IA resident held strong, as he settled for a seventh place finish.
Back in action on Sunday night, Madsen and his team were greeted with a slick track early, as he timed his EarthEX/GWM Products entry in 16th fastest, but with the low car-count, he missed the three-heat inversion.
Charging from sixth to third in his heat, Madsen transferred to the feature, where he found himself in the eighth row.
With track conditions ideal for passing, 'The Mad Man' lived up to his name as he rode the Calistoga cushion, as he carved his way to the front of the field.
Sitting just outside the Top-10 when the caution flew with five to go, Madsen continued to run the cushion, as he clawed his way up to the sixth spot by way of his late pass on Paul McMahan, and he would hold the spot at the finish line.
"Sunday night we really had another awesome racecar," Madsen explained. "Tyler, Chris, and Brandon really worked hard, and though we missed it a little in time trials, we went forward in our heat and the main. Huge thanks to everyone at Keneric and American Racing for making sure we have awesome equipment."
2014 BY THE NUMBERS: Starts-19, Wins-4, Top-5's- 8, Top 10's-13
ON TAP: Madsen and his Keneric Racing/American Racing team will be in action on Friday night at the Kings Speedway in Hanford, CA before heading south to the Perris Auto Speedway in Lake Perris, CA to close out their California tour.
STAY CONNECTED: Keep updated with Kerry Madsen, Keneric Racing, and American Racing in a variety of interactive ways-
American Racing
Facebook- www.facebook.com/amercanracingwheels
Instagram- @AmericanRacing
Twitter- @AmericanRacing
Keneric Racing
Facebook- www.facebook.com/KenericRacing
Twitter- @KenericRacing
Kerry Madsen
Facebook- http://www.facebook.com/pages/Official-Fan-Page-for-Kerry-Madsen/101145169933686
Twitter- @KMR29
AMERICAN RACING: American Racing is an iconic brand and a wheel industry leader in craftsmanship, engineering, innovation and performance. Founded in 1956 as a manufacturer of bespoke magnesium and aluminum racing wheels, its roots date back to the golden era of hot rodding. American Racing is a Wheel Pros brand. Wheel Pros products are sold worldwide in more than 20 countries on four continents and through a U.S. network of more than 25,000 authorized dealers. It is one of the world's largest suppliers of branded custom wheels, performance tires and related accessories for cars, SUVs and light trucks.