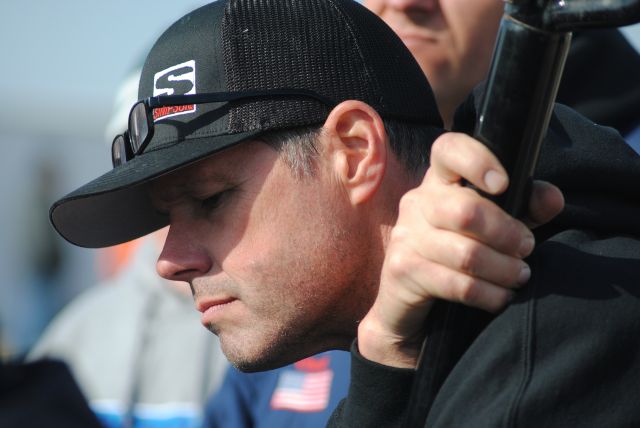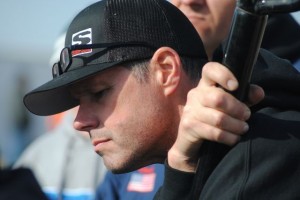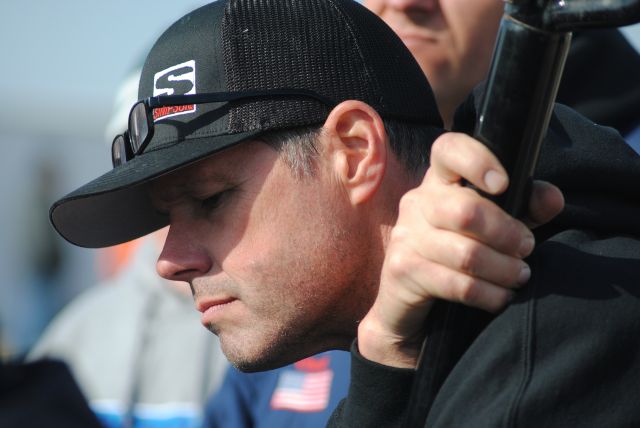 From Brian Lisaki
Fremont, OH — (April 12, 2014) — Though it's a new "team" and car number, the results are already the same for Dale Blaney. The Low Rider opened Fremont's Speedway's 64th season of racing in dominating fashion Saturday on JRC Transportation Night, leading all 30 laps to claim his 20th career win at "The Track That Action Built."
Blaney teamed up with car owner Tony Kennedy to form a new team in 2014 bringing in long-time mechanic George Fisher. While the familiar #2 was replaced with a #14k, the GF1 chassis was also a part of the new team. The result? Blaney picked up the UNOH All Star win at Attica last week followed by the Fremont victory in the Fort Ball Pizza Palace 410 Sprint Division Saturday.
"Tony Kennedy's put together a great team. A lot of the same stuff we've had the past couple of years…GF1 cars, Ti22 is helping us but the main thing is George is back working on it. We're getting rolling. We are getting better and better. We had a pretty decent Florida…hurt a couple of motors but we've been pretty fast every night and that's all I can ask for," said Blaney beside his Kennedy Cattle/Penske Shocks/Ti22 Performance backed machine.
"We're looking forward to this year. I hate to lead races but my car was really good and when your car is that good you try to get out there and get as many lapped cars between you and them and I was picking them off pretty decent. Car was really good on the bottom and I could float the top in one and two if I had to and that's all I could ask for," added the Hartford, Ohio driver.
Not to be out-done, Lindsey, Ohio's Steve Rando put on a dominating performance in the Fremont Federal Credit Union 305 Sprints. Rando took the lead on lap two and never looked back, winning his fourth career Fremont feature by nearly half a track.
"We finally got a decent motor this year…it runs great. It was a great handling car tonight," said Rando beside his Davis Fabricators/North Coast Sealing/North Coast Asphalt/G&H Restoration/Attitudes Hair Salon/Westway Farms/Thorbahn Woodworking/Lake Front Woodworking backed #19r. "I lost brakes on the last lap, but other than that it was a great car. I have to thank my parents, my girlfriend, all my uncles and all my sponsors."
Risingsun, Ohio's Shawn Valenti made it a clean sweep of the weekend in the AAA Ohio Auto Club Dirt Trucks. Valenti, who also won Friday night at Attica, started the night by establishing a new track record in the group qualifying. He would then take his heat race and then pounced when leader Cory Ward tangled with a lapped truck to take the lead in the feature on lap six. Valenti would pull away for his 10th career Fremont win.
"The lapped traffic was tough. You didn't know which way to go on some of them. But we were able to keep the nose clean and come up through the traffic. It was an awesome truck. I have to give all the thanks to Jeff Babcock. He puts me in this thing and keeps me going," said Valenti. "I have to thank Craig Miller Trucking, Dave Story Equipment, JP Enterprise, Best Performance Motorsports, KT Enterprise, KS Sales and Service. It's great to pull off a sweep."
Shane Stewart and Blaney would bring the field to the green for the 30-lap 410 sprint feature. The pair would race side by side the first lap with Sheldon Haudenschild, Byron Reed, Rob Chaney and Broc Martin in tow. Blaney would gain the upper hand on lap two but the action would grind to a halt when Duane Zablocki tipped over in turn four. On the restart Randy Hannagan would get side ways and then coast to a stop necessitating another restart.
When the green flew again Blaney pulled away from Stewart with Haudenschild, Reed and Brian Lay (up from his 9th starting position) in tow. Lay would take fourth on lap five.
Blaney would catch the rear of the field on lap nine and got his first challenge as the lapped cars were racing side by side. Blaney patiently picked them off one by one. Stewart pulled close on lap 11 as Blaney worked traffic. But, once he got a clear track Blaney pulled away again until he once again encountered traffic battling in front of him on lap 16.
But once again Blaney worked through traffic like a surgeon and Stewart could not gain ground. The final caution flew on lap 21 when D.J. Foos spun, putting Stewart, Haudenschild, Lay, Brock Martin, Chaney and Reed right on Blaney's rear bumper. With the clear track Blaney pulled away while Haudenschild drove under Stewart for second. Reed would rebound to move back into the fifth spot on lap 23.
The remaining laps ticked off quickly as Blaney cruised to the win over Haudenschild, Stewart, Lay and Reed.
Rookie Kyle Capodice and Tyler Gunn would bring the 305 sprint field to the green for their 25-lap feature. But Paul Weaver would slide off the track to bring out the caution. On the second restart Jimmy Colvin got upside down on the front stretch – he was okay but was done for the night.
The third time was the charm with Gunn and Rando battling for the lead with Capodice, Jordan Ryan and Alvin Roepke in tow. Rando would drive into the lead on lap two as the caution flew for Dustin Dinan who stopped with engine woes. The race would go without caution the rest of the distance.
When the green flew so did Rando, pulling away quickly from the field while Gunn, Ryan, Nate Dussel and John Ivy gave chase. Ryan would move into second on lap five as the leaders raced into traffic three circuits latter. The top five of Rando, Ryan, Gunn, Ivy and Dussel would remain that way for some time.
Rando's only challenge was working through heavy lapped traffic at times. He even escaped near disaster once on the front stretch when one of the lapped machines got side ways in front of him. But, he maintained his poise and continued to pull away. Ivy would move into third on lap 18 but the rest of the field had nothing for Rando who took the checkered by a comfortable margin over Ryan, Ivy, Dussel and Gunn.
Curt Inks and Cory Ward brought the field to the green for the 20 lap dirt truck feature with Ward gaining the upper hand over Jimmy McGrath Jr., Cory McCaughey, Valenti, Brad Keckler and Inks. Babcock would drive into third on lap three. As the field caught several slower trucks by lap five it was McGrath who nosed ahead over Ward with Valenti glued to their rear bumper.
As the trio of leaders entered turn three a lapped track got a bit side ways and Ward clipped the machine, causing damage as he went pit side handing the lead to Valenti. Valenti would pull away from McGrath as Matt Foos charged into third. Foos would take the runner-up spot on lap eight with the caution flying a circuit later for Keith Sorg. On the restart Bob Dible would spin necessitating another restart. When the green flew again so did Valenti, opening up a sizeable lead over Foos, McGrath, Inks, Keckler, Dustin Keegan, Dana Fry and Jeff Ward.
Valenti quickly caught some of the rookie truck drivers by lap 12 and waited patiently to navigate around them. Late in the race McGrath would rally to get by Foos for second. Keckler and Keegan would round out the top five at the checkers.
Fremont Speedway will be back in action Saturday, April 19th on Burns Petroleum Night. There will be free camping for the fans. The night includes the Kistler Racing Products FAST (Fremont Attica Sprint Title) Championship Series Presented by KS Sales and Service for the 410 sprints and the JLH General Contractor FAST 305 Championship Series Presented by Engine Pro for the 305 sprints. The dirt trucks will also be in action.
For more information go to www.fremontohspeedway.com or www.fastondirt.com
Fremont Speedway – 4/12/2014
JRC Transportation Night
Fort Ball Pizza Palace 410 Sprints (30 Cars)
[#]-Starting Position
Qualifying – Fricker's Restaurant/Callie's Performance
1. 53-DJ Foos, 12.868; 2. 9X-Rob Chaney, 12.945; 3. 35-Stuart Brubaker, 12.955; 4. 14-Dale Blaney, 13.007; 5. 5R-Byron Reed, 13.039; 6. 9Z-Duane Zablocki, 13.069; 7. 77-Shane Stewart, 13.078; 8. 11N-Randy Hannagan, 13.167; 9. 93-Sheldon Haudenschild, 13.169; 10. 2+-Brian Smith, 13.216; 11. 40DD-Caleb Griffith, 13.268; 12. 83M-Broc Martin, 13.303; 13. 45L-Brian Lay, 13.351; 14. 40-Caleb Helms, 13.360; 15. 5T-Travis Philo, 13.399; 16. 60-Jody Keegan, 13.409; 17. 55-Brad Bowman, 13.518; 18. 16-Chris Andrews, 13.559; 19. 6M-Max Stambaugh, 13.592; 20. O9-Craig Mintz, 13.612; 21. O7X-Dain Naida, 13.682; 22. 81-Lee Jacobs, 13.692; 23. 39M-Matt Merrill, 13.730; 24. 46AU-Stuart Williams, 13.735; 25. 9W-Jac Haudenschild, 13.770; 26. 63-Chad Kemenah, 13.787; 27. 17H-Jarod Horstman, 13.846; 28. 33M-Bryan Sebetto, 14.083; 29. 312-Mike Linder, 17.000; 30. 17-Scott Euler, 99.990
Heat 1 American Powersports – (8 Laps – Top 4 finishers transfer to the A-feature)
1. 93-Sheldon Haudenschild[4] ; 2. 45L-Brian Lay[3] ; 3. 5R-Byron Reed[5] ; 4. 53-DJ Foos[6] ; 5. O7X-Dain Naida[1] ; 6. 9W-Jac Haudenschild[7]
Heat 2 – Kistler Racing Products (8 Laps – Top 4 finishers transfer to the A-feature)
1. 16-Chris Andrews[2] ; 2. 81-Lee Jacobs[1] ; 3. 9X-Rob Chaney[6] ; 4. 40-Caleb Helms[3] ; 5. 63-Chad Kemenah[7] ; 6. 2+-Brian Smith[4] ; 7. 9Z-Duane Zablocki[5]
Heat 3 – Hoosier Racing Tire (8 Laps – Top 4 finishers transfer to the A-feature)
1. 77-Shane Stewart[5] ; 2. 5T-Travis Philo[3] ; 3. 40DD-Caleb Griffith[4] ; 4. 6M-Max Stambaugh[2] ; 5. 39M-Matt Merrill[1] ; 6. 35-Stuart Brubaker[6] ; 7. 17H-Jarod Horstman[7]
Heat 4 – The Computer Man (8 Laps – Top 4 finishers transfer to the A-feature)
1. 46AU-Stuart Williams[1] ; 2. O9-Craig Mintz[2] ; 3. 83M-Broc Martin[4] ; 4. 14-Dale Blaney[6] ; 5. 60-Jody Keegan[3] ; 6. 11N-Randy Hannagan[5] ; 7. 33M-Bryan Sebetto[7]
Dash – Borer Mirror and Glass (6 Laps, finishing order determined first 6 starting positions of A-feature
1. 77-Shane Stewart[2] ; 2. 14-Dale Blaney[4] ; 3. 93-Sheldon Haudenschild[1] ; 4. 5R-Byron Reed[3] ; 5. 9X-Rob Chaney[5] ; 6. 53-DJ Foos[6]
B-Main – Computer Man Inc. (10 Laps – Top 4 finishers transfer to the A-feature)
1. 35-Stuart Brubaker[1] ; 2. 2+-Brian Smith[4] ; 3. 9Z-Duane Zablocki[2] ; 4. 11N-Randy Hannagan[3] ; 5. 9W-Jac Haudenschild[9] ; 6. 60-Jody Keegan[5] ; 7. 33M-Bryan Sebetto[12] ; 8. 55-Brad Bowman[6] ; 9. 63-Chad Kemenah[10] ; 10. 17H-Jarod Horstman[11] ; 11. 39M-Matt Merrill[8] ; 12. O7X-Dain Naida[7]
A-Main – (30 Laps)
1. 14-Dale Blaney[2]; 2. 93-Sheldon Haudenschild[3]; 3. 77-Shane Stewart[1]; 4. 45L-Brian Lay[9]; 5. 5R-Byron Reed[4]; 6. 83M-Broc Martin[8]; 7. 9X-Rob Chaney[5]; 8. 40DD-Caleb Griffith[7]; 9. O9-Craig Mintz[18]; 10. 53-DJ Foos[6]; 11. 81-Lee Jacobs[19]; 12. 2+-Brian Smith[14]; 13. 35-Stuart Brubaker[11]; 14. 16-Chris Andrews[16]; 15. 40-Caleb Helms[10]; 16. 5T-Travis Philo[15]; 17. 46AU-Stuart Williams[20]; 18. 6M-Max Stambaugh[17]; 19. 11N-Randy Hannagan[13]; 20. 9Z-Duane Zablocki[12]
Hard Charger: O9-Craig Mintz[+9]
Fremont Federal Credit Union 305 Sprints (22 Cars)
[#]-Starting Position
Qualifying – Callie's Performance
1. 1-Nate Dussel, 14.167; 2. 8I-John Ivy, 14.191; 3. 8-Bobby Clark, 14.202; 4. 7A-Alvin Roepke, 14.286; 5. 6-Dustin Dinan, 14.318; 6. 19R-Steve Rando, 14.353; 7. 5R-Jordan Ryan, 14.355; 8. 7M-Brandon Moore, 14.400; 9. 1W-Paul Weaver, 14.487; 10. 9-Jimmy Colvin, 14.612; 11. 68G-Tyler Gunn, 14.625; 12. 12-Kyle Capodice, 14.684; 13. 25-Jason Keckler, 14.749; 14. 36-Seth Schneider, 14.753; 15. 10-Josh Harrison, 14.754; 16. 8M-T.J Michael, 14.770; 17. 11G-Luke Griffith, 14.804; 18. 22D-Dan Hammond, 14.839; 19. 32-Ryan French, 14.932; 20. 22M-Dan McCarron, 14.984; 21. 48-Mike Burkin, 15.429; 22. 3J-Trey Jacobs, 99.000
Heat 1 American Powersports – (8 Laps – Top 5 finishers transfer to the A-feature)
1. 8M-T.J Michael[1] ; 2. 25-Jason Keckler[2] ; 3. 1-Nate Dussel[6] ; 4. 5R-Jordan Ryan[4] ; 5. 7A-Alvin Roepke[5] ; 6. 9-Jimmy Colvin[3] ; 7. 3J-Trey Jacobs[8] ; 8. 32-Ryan French[7]
Heat 2 Kistler Racing Products – (8 Laps – Top 5 finishers transfer to the A-feature)
1. 36-Seth Schneider[2] ; 2. 6-Dustin Dinan[5] ; 3. 11G-Luke Griffith[1] ; 4. 8I-John Ivy[6] ; 5. 68G-Tyler Gunn[3] ; 6. 7M-Brandon Moore[4] ; 7. 22M-Dan McCarron[7]
Heat 3 – Hoosier Racing Tire (8 Laps – Top 5 finishers transfer to the A-feature)
1. 19R-Steve Rando[5] ; 2. 22D-Dan Hammond[1] ; 3. 48-Mike Burkin[7] ; 4. 10-Josh Harrison[2] ; 5. 12-Kyle Capodice[3] ; 6. 1W-Paul Weaver[4] ; 7. 8-Bobby Clark[6]
A-Main – (25 Laps)
1. 19R-Steve Rando[4]; 2. 5R-Jordan Ryan[3]; 3. 8I-John Ivy[7]; 4. 1-Nate Dussel[8]; 5. 68G-Tyler Gunn[2]; 6. 7A-Alvin Roepke[6]; 7. 25-Jason Keckler[9]; 8. 36-Seth Schneider[10]; 9. 12-Kyle Capodice[1]; 10. 8-Bobby Clark[16]; 11. 48-Mike Burkin[15]; 12. 8M-T.J Michael[12]; 13. 10-Josh Harrison[11]; 14. 22D-Dan Hammond[14]; 15. 3J-Trey Jacobs[22]; 16. 7M-Brandon Moore[17]; 17. 22M-Dan McCarron[21]; 18. 11G-Luke Griffith[13]; 19. 32-Ryan French[20]; 20. 1W-Paul Weaver[18]; 21. 6-Dustin Dinan[5]; 22. 9-Jimmy Colvin[19]
Hard Charger: 3J-Trey Jacobs[+7]
AAA Auto Club Dirt Trucks (21 Trucks)
[#]-Starting Position
Qualifying – Callie's Performance
1. 7B-Shawn Valenti, 17.998; 2. 17-Bob Dible, 18.203; 3. 2-Matt Foos, 18.243; 4. 5JR-Jimmy McGrath Jr., 18.248; 5. D1-Dustin Keegan, 18.289; 6. 36M-Cory McCaughey, 18.342; 7. 3X-Brad Keckler, 18.455; 8. 18W-Cory Ward, 18.494; 9. 4S-Keith Sorg, 18.546; 10. 9-Curt Inks, 18.593; 11. 37-Eric Devanna, 18.639; 12. 7-Dana Frey, 18.695; 13. 5-Jim McGrath, 18.728; 14. 45-Brian Melnek, 18.807; 15. 99H-Art Howey Jr., 18.855; 16. 33-Jeff Ward, 18.912; 17. 115-Ben Good, 18.971; 18. 79-Andrew Lutman, 19.062; 19. 22-Brandon Leighton, 20.638; 20. 3-Andy Earnhart, 21.248; 21. 10-Roger Inks, 99.000
Heat 1 American Powersports – (8 Laps – Top 5 finishers transfer to the A-feature)
1. 7B-Shawn Valenti[6] ; 2. 5JR-Jimmy McGrath Jr.[5] ; 3. 33-Jeff Ward[1] ; 4. 3X-Brad Keckler[4] ; 5. 9-Curt Inks[3] ; 6. 22-Brandon Leighton[7] ; 7. 5-Jim McGrath[2]
Heat 2 Kistler Racing Products – (8 Laps – Top 5 finishers transfer to the A-feature)
1. 45-Brian Melnek[2] ; 2. D1-Dustin Keegan[5] ; 3. 115-Ben Good[1] ; 4. 18W-Cory Ward[4] ; 5. 37-Eric Devanna[3] ; 6. 3-Andy Earnhart[7] ; 7. 17-Bob Dible[6]
Heat 3 Hoosier Racing Tires – (8 Laps – Top 5 finishers transfer to the A-feature)
1. 2-Matt Foos[6] ; 2. 7-Dana Frey[3] ; 3. 36M-Cory McCaughey[5] ; 4. 99H-Art Howey Jr.[2] ; 5. 79-Andrew Lutman[1] ; 6. 4S-Keith Sorg[4]
A-Main – (20 Laps)
1. 7B-Shawn Valenti[8]; 2. 5JR-Jimmy McGrath Jr.[6]; 3. 2-Matt Foos[7]; 4. 3X-Brad Keckler[3]; 5. D1-Dustin Keegan[5]; 6. 33-Jeff Ward[13]; 7. 7-Dana Frey[10]; 8. 17-Bob Dible[16]; 9. 9-Curt Inks[1]; 10. 115-Ben Good[14]; 11. 36M-Cory McCaughey[4]; 12. 37-Eric Devanna[9]; 13. 99H-Art Howey Jr.[12]; 14. 22-Brandon Leighton[19]; 15. 10-Roger Inks[21]; 16. 3-Andy Earnhart[20]; 17. 79-Andrew Lutman[15]; 18. 45-Brian Melnek[11]; 19. 4S-Keith Sorg[17]; 20. 18W-Cory Ward[2]
Hard Charger: 17-Bob Dible[+8]