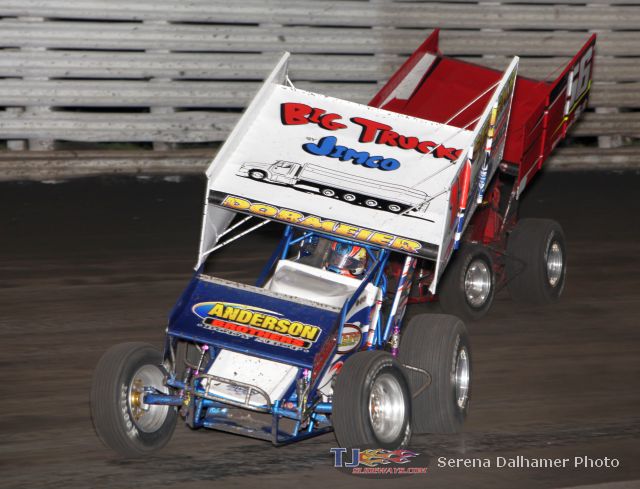 By Bill W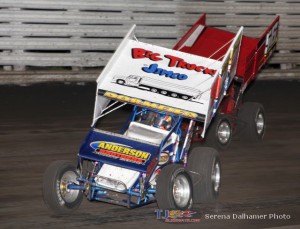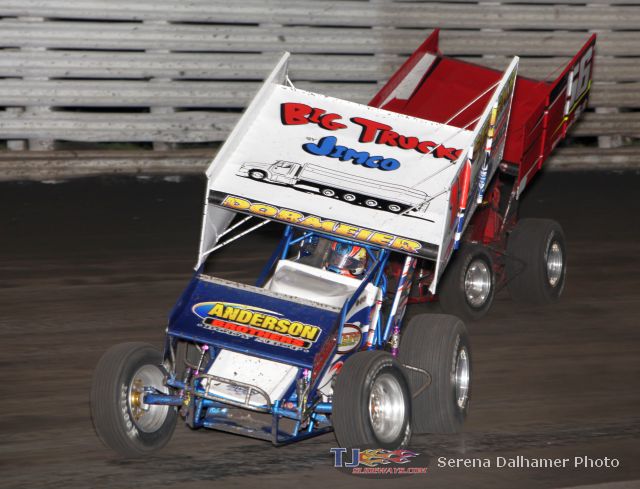 May 14, 2014 – Mark Dobmeier and the Dobmeier/Lunstra #13 team are searching for speed after a charge from row eight to tenth last Saturday night at the Knoxville Raceway.  The Grand Forks, North Dakota driver is looking to compete in three events this weekend starting with River Cities Speedway in his hometown on Friday, Knoxville Raceway in Iowa on Saturday, and Huset's Speedway near Brandon, South Dakota on Sunday.
With thirty-six stout competitors at Knoxville last Saturday night, Mark timed in 19th quick.  "The track kind of threw us for a loop," he admits.  "We only had a couple of groups in front of us, so we had to make a decision and go.  We were expecting to run the bottom.  The track was kind of changing though.  It seemed like the better times were on the top, so we went to the top.  We just weren't good."
Mark would run second in his heat and transfer to the feature.  "We ran decent in the heat," he says.  "The driver had a little error, but we made up for it and got back into second.  We've put this new car together, and it was the second week on it.  We're still getting things regrouped and reorganized."
The track conditions were unlike the first three nights at Knoxville this season.  "There's been a bottom every week," says Mark.  "Saturday, the bottom was just too slim, where a guy couldn't carry the speed down there.  It turned into a track that was just on the top.  It was kind of a different track than we've had this year, but it was still one of the typical Knoxville tracks."
Starting 16th, Mark would move forward to a tenth place finish at the checkers.  "It was kind of one-lane around the top, so it was tough to make up ground," he says.  "A lot of the guys were doing it though, and we know we can get better.  We were able to get to tenth.  We were o.k., but we weren't near as good as we needed to be.  We're adjusting on things, and trying to get it where we need it to be.  We'll keep trying, because we're not there yet."
Unlike last week, the forecast is dry for all three events planned this weekend.  River Cities is still working hard to ready for 2014.  "They're on as of now," says Mark of River Cities planned event for Friday.  "I know they have water at the track at least.  So far, they're planning on it."
The Dobmeier/Lunstra team would like to thank Senske and Son Transfer, Big Trucks by Jimco, Sioux Falls Ford, IQ Bid, Dammer Trucking, ACME Tool, Strong Box and Tire Boss for all their help!