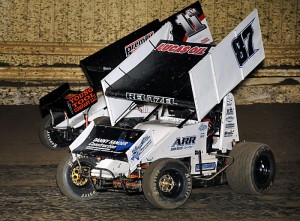 From Lonnie Wheatley
Clute, TX — (May 13, 2014) — When last Thursday's ASCS National event at Kansas City's Lakeside Speedway was cancelled a day in advance, Aaron Reutzel and crew member Ryan Beechler were ever so close to simply heading home and taking a weekend off.
They didn't though and the results proved well worth it with Reutzel parking the Stafford Performance-powered Bob and Christie Miller's Car Parts Machine/Wren Motorsports No. 87 Triple-X in victory lane on successive nights at Creek County Speedway on Friday and then I-30 Speedway on Saturday night.
The latest pair of triumphs run Reutzel's season total to five wins with those triumphs coming in the last seven nights out, also extending the team's streak of top-ten finishes to nine in a row with 11 top-fives in the last 14 starts.
"We're rolling right now," Reutzel summed up.  "We can't seem to do any wrong right now, our confidence is up and we just have to keep it going."
The latest weekend double nearly didn't happen.  Sitting in Little Rock when the Lakeside cancellation was announced and with a good chance of rain throughout the weekend, the temptation to go home was a strong one.
"Ryan really wanted to try something out on a small, slick track, and that's what Creek County usually is, so off we went," Reutzel explained.
Creek County is in fact a small quarter-mile clay oval located about 20 minutes southwest of Tulsa, OK.  But they didn't get the slick track they were looking for at the $2,000-to-win ASCS Sooner Region event.
A heavy and rough track had Reutzel and Beechler loosening up the Momentum Racing Suspensions/Danny Sander Construction/ButlerBuilt machine for the night, with another good heat race run putting Reutzel in the redraw.
And when things are going good, they go good, with Reutzel redrawing the pole position.
Reutzel jumped into the lead at the outset in the 25-lapper and aside from some issues with lapped traffic that opened the door for a challenge from Mike Goodman, the Clute, TX, had the field covered.
"I felt like we had the fastest car even if we did start up front," Reutzel explained.
Traffic issues came in the form of Sean McClelland.  "Driving back around me was one thing, but chopping me off getting in the corner was another.  I thought we were buds, but I guess I know how to race him in the future."
With Reutzel mired down momentarily, Goodman slid into the lead exiting turn two and then blew through the turn three cushion to leave the door open for Reutzel.  Reutzel took quick advantage and raced on to his fourth win of the season unabated.
A late night at the track had Reutzel and Beechler ready to point the rig towards home.  But that urge to try out some new things on a slick track beckoned, leaving the team's fortune to the toss of a coin.  Tails would send the team home with heads dictating a trip to I-30 Speedway.
Heads it was and off to Little Rock, AR, the Lone Star Hydro Maintenance/BC Fundz/Wright Way Logistics team went.
"We wanted to try some slick track stuff, but we didn't take into account what three inches of rain earlier was going to do," Reutzel explained.  "It was way rougher and heavier than Creek was, it was wild rough and heavy!"
With the feature lined straight-up according to passing points in the Interstate Cup feature event atop the ¼-mile clay oval, "We drew a decent heat and won it," Reutzel comments as he earned a front row outside starting position for the main event.
Reutzel once again took command early and was in control throughout for his fifth win of the year.
"With the track like that you've gotta be loose enough to go through the ruts and loose enough to work through traffic," Reutzel explains.  "I never had an issue slowing down and doing what I needed to do to get through traffic."
Reutzel went on to say, "Blake (Hahn) was a little faster but we were better in traffic, he definitely challenged us though."
The previous night's action at Creek County Speedway may have actually worked to Reutzel's advantage in this case at I-30 Speedway.
"Luckily we ran Creek the night before, if we hadn't done that we never would have loosened the car up enough for I-30," Reutzel explained.  "We loosened it way up for Creek and went a lot further with it at I-30, a lot further than we could have gone otherwise.  It worked out just right."
While the team went in search of a slick track or two after Thursday night's rainout, they instead found a pair of cowboy-up, heavy bullrings.  Adapting to the conditions seamlessly though, a pair of wins was the result of a spur-of-the moment weekend double.
With ASCS National events in Oregon over the next two weekends cancelled, Reutzel will fill in with a pair of Regional weekends including Lone Star action at Boyd and Devil's Bowl this weekend and then most likely Gulf South events at Cotton Bowl Speedway in Paige, TX, and Shady Oaks Speedway in Goliad on Memorial Day weekend before National action resumes at Salina, KS, and Eagle, NE, to close out the month of May.
2014 Quick Stats:  21 races, 5 wins, 11 top-fives, 16 top-tens, 3 heat race wins, 2 "B" Main wins.
Up Next: ASCS Lone Star at Boyd Raceway in Boyd, TX, on Friday, May 16, and ASCS Lone Star vs. ASCS Sooner at Devil's Bowl Speedway in Mesquite, TX, on Saturday, May 17.
Keep Track:  Keep track of Aaron Reutzel's on track-action including schedule and results at http://www.aaronreutzelracing.com/, on Facebook at https://www.facebook.com/pages/Aaron-Reutzel-Racing/117666254913127 or on Twitter at @AaronReutzel.  You can also e-mail Aaron at aaronreutzel@yahoo.com.