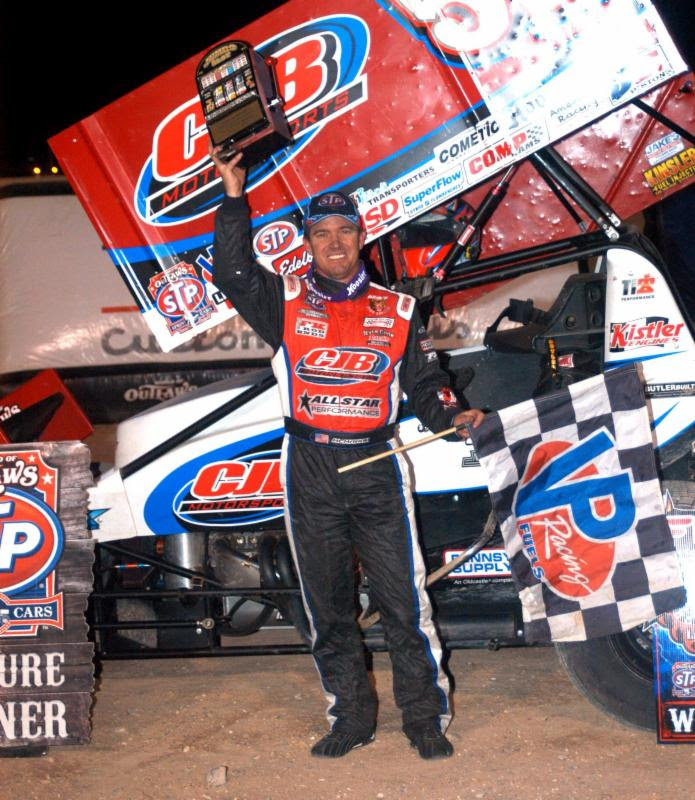 From CJB Motorsports
TELFORD, PA. – May 14, 2014 – Paul McMahan parked his #51 Bairs Tree Service/ Nyce, Crete & Landis Block & Concrete/ All Star Performance sprinter early at Jacksonville (Ill.) Speedway. It was his first DNF of the season. Less than 36 hours later, he and his team were celebrating in victory lane at Tri-State Speedway in Haubstadt, Ind.
Welcome to the ups and downs of the World of Outlaws STP Sprint Car Series.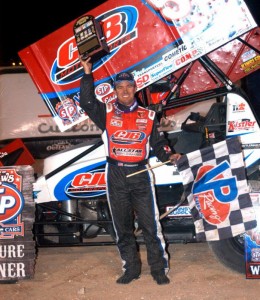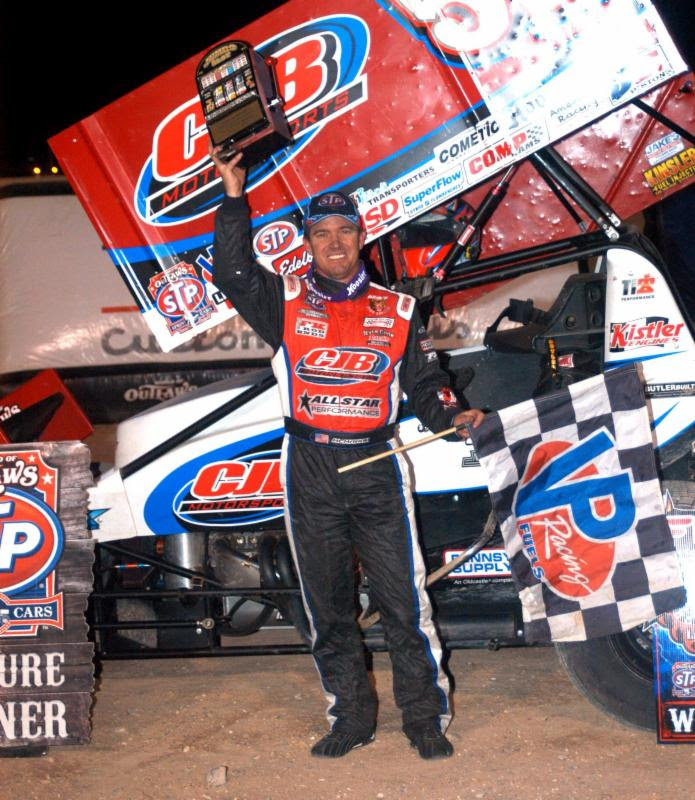 "Our night at Jacksonville was one I'd soon just forget," said McMahan. "We had some issues all night long and got caught up in this and that. We eventually just pulled in early and finished dead last."
After a rough night in Illinois, the CJB team trucked north to Wilmot (Wis.) Raceway where they regained their consistent form.
"Wilmot was a nice rebound for us," explained the California native. "We timed in fourth and made progress all night before we finished third to David (Gravel) and Joey (Saldana). It was a great night considering what happened at Jacksonville."
With momentum once again on their side, McMahan and the crew rolled into Tri-State Speedway in Haubstadt, Ind.
"Everything went right for us at Haubstadt," said McMahan. "We picked up our second quick time of the year, started the feature in fourth and made it up to second after Sammy (Swindell) and Joey got tangled up with a lap car. That put us on the outside of the restart alongside Steve (Kinser). We beat him to turn one on the restart and held on. I am so incredibly proud of my guys and my car. Haubstadt is an exciting track and fun place to win at."
As the temperatures rise across the country, so does the number of races that the World of Outlaws STP Sprint Car Series will contest in a weeks time. Five events in six days will give the teams their first taste of a very competitive and exhausting summer schedule.
"We're getting into this summer stretch and it will really test the guys," said the Nashville, Tenn. resident. "What we have coming up is the type of schedule that we'll see during the summer months. It's going to test us quite a bit. We head into Pennsylvania for three shows in a row. We're right in the middle of one of the toughest areas in the world to race sprint cars because the local competition is so good. We're going to have to work hard and dig deep but I am excited. We're building towards this championship run and are within 13 points of Joey for the lead. We're setting ourselves up to be there at the end of the season with a shot at this title."
CJB MOTORSPORTS 2014 STATS:
Starts: 25
Quick Times: 4
Wins: 2
Top-5's: 15
Top-10's: 22
UP NEXT:  A swing through Pennsylvania and the Northeast is up next as the CJB Motorsports team takes on Lincoln Speedway in Abbottstown, Pa, Williams Grove Speedway near Mechanicsburg, Pa. and Orange County Fair Speedway in Middletown, N.Y.
STAY CONNECTED WITH CJB MOTORSPORTS:
For up to the minute race updates and behind the scenes content from CJB Motorsports, please follow the team on Facebook and Twitter.
ABOUT CJB MOTORSPORTS: CJB Motorsports is a winged, 410 sprint car team that competes on the World of Outlaws STP Sprint Car Series tour with driver Paul McMahan. Founded in 2005, the Chad and Jenn Clemens owned organization has worked to establish a standard of excellence in short track racing through fielding competitive entries and providing exceptional exposure for marketing partners. The team is based out of Telford, Pennsylvania.
ABOUT R&R MEDIA GROUP: Armed with state-of-the-art technology and savvy multimedia experts, R&R Media Group represents an opportunity to push your organization to the next level. From well-crafted press releases to eye-catching videos, attention grabbing audio and outstanding service, our St. Louis based company can create custom media solutions for any need. Follow R&R Media Group online on Facebook and Twitter.