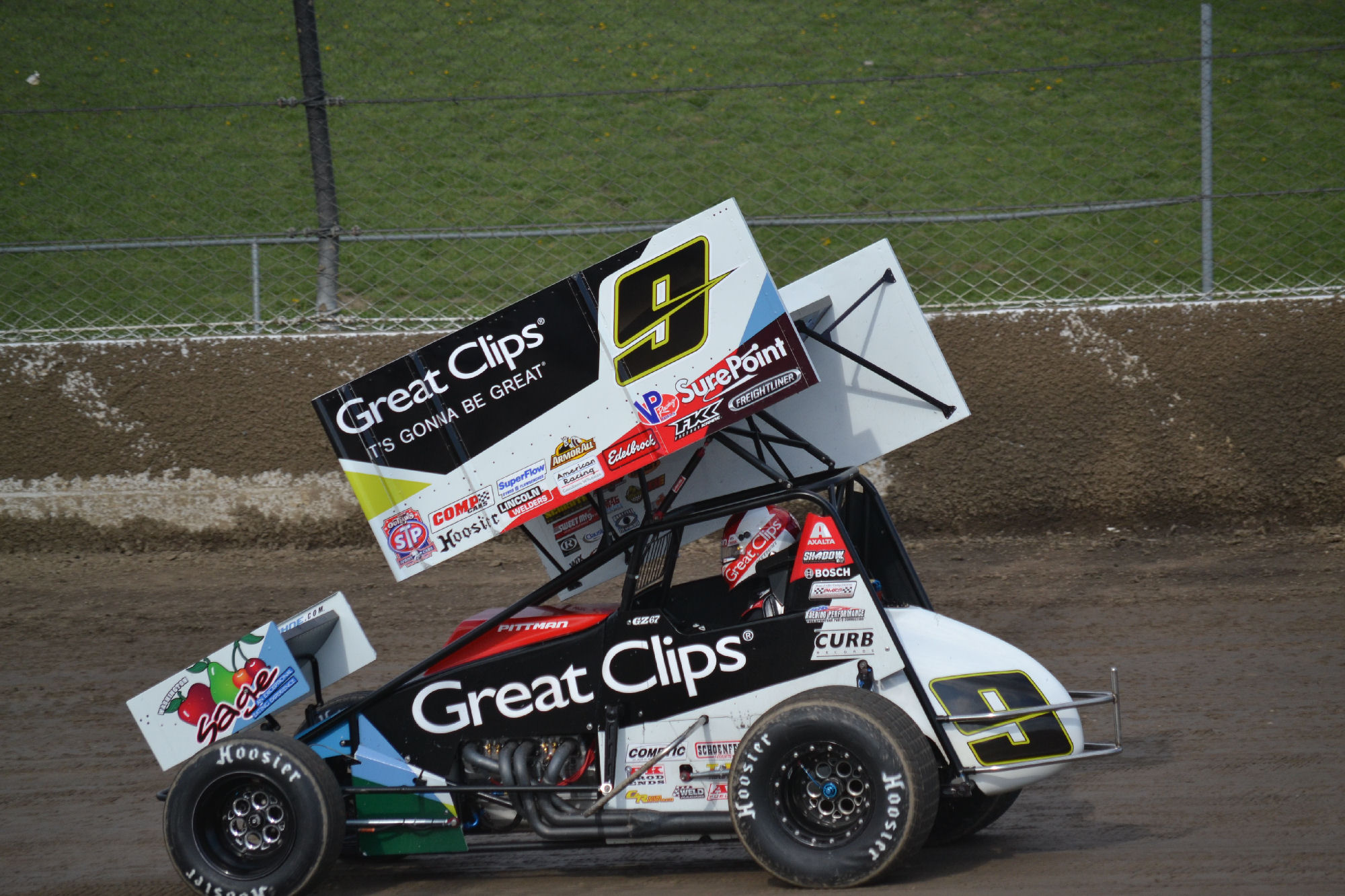 From Aaron Fiedler
MIDDLETOWN, N.Y. — May 18, 2014 — After sweeping the two events at Williams Grove Speedway, Daryn Pittman capped off a dominating weekend by winning the World of Outlaws STP Sprint Car Series race on Sunday night at Orange County Fair Speedway.
"I need somebody to pinch me," said Pittman, the 2013 series champion from Owasso, Okla. "This has been a whirlwind week. We struggled at Haubstadt (Ind.) and Wilmot (Wis.) last week and took a lot of blame on that myself and really needed to, as a team, come in here and run well and that was our goal. Never could we have dreamed that we would come up here and run as well as have."
Just as he did Friday and Saturday nights at Williams Grove, Pittman led flag-to-flag. Helping his efforts in each win, including at Orange County, was his finishing position in the Dash – and the random Dash inversion.
"We've had a lot of luck," Pittman said. "I think, hands down, we were the car to beat Friday night at Williams Grove. But Saturday and tonight the Dash draw obviously went our way. But like I said, the Great Clips team gave me a car good enough to take advantage of our starting spot and stay up front."
Pittman's three wins over the weekend pushed him to the points lead following Saturday night's event in Williams Grove. Following Orange County, he has extended his lead over second place Joey Saldana to 12 points. Just 56 points separate the top four drivers – Pittman, Saldana, Donny Schatz and Paul McMahan – in the fight for the championship.
After coming out on top in the Dash, Pittman and Saldana led the field to the checkered flag at Orange County, followed by Schatz, Steve Kinser and Cody Darrah.
The big 5/8-mile track tested each team's ability to generate high horsepower in the 25-lap A-main. Pittman jumped out to an early lead and saw a challenge from Saldana as he neared lapped traffic on lap nine. Saldana got close enough at this point to challenge for position, but after getting around Logan Schuchart, Pittman was able to hang on, sticking behind Kraig Kinser for much of the event. Pittman took the checkered with the Saldana, Schatz and Steve Kinser behind.
Second-place finishing Saldana in his Motter Equipment car struggled with his tires all night, including losing his right rear after the checkered flag fell. He said he expected more teams would use the same softer compound his team did, but many did not.
"I'm shocked I even made it," said Saldana, of Brownsburg, Ind. "With about 15 to go it started shaking pretty bad. That was definitely a blessing from someone – nothing we did other than trying not to blow the tire and luckily it blew after the checkered so definitely a good run for us.
"We made it, that's all that matters. We finished second and we'll go on to New Egypt."
Schatz, who piloted his STP/Armor All car to a third place finish, said the track just would not
"It was tricky to get moving around," said Schatz, of Fargo, N.D. "We tried everything we could and couldn't make anything happen. I guess some days are like that."
Schatz, who sits just 24 points out of the championship lead, said he's happy that he is not fighting the same deficit he faced at this same point last season. He said he looks forward to the heat of the summer as his team battles for more wins.
The World of Outlaws STP Sprint Car Series races into New Egypt Speedway in New Egypt, N.J., on Tuesday night for the NAPA Auto Parts Outlaw Classic. The STP Sprint Cars end the week at the Dirt Track at Charlotte Motor Speedway on Friday night in Concord, N.C..
ORANGE COUNTY FAIR SPEEDWAY NOTES: Daryn Pittman has started first in the Dash in his last three wins – zero were inverted on Friday, eight were inverted on Saturday and zero. He won the last three races from the pole position and led every lap in all three events… Prior to Williams Grove, Pittman was tied for the most wins on the season at three. He now has double the wins of the next nearest drivers, David Gravel, Donny Schatz and Brad Sweet… The top three finishers in tonight's race, Daryn Pittman, Joey Saldana and Donny Schatz finished in the same order on May 16 at Williams Grove.
SEASON WINNERS: Daryn Pittman – 6 (Thunderbowl Raceway on March 14, Calistoga Speedway on April 6 and Devil's Bowl Speedway on April 19, Williams Grove Speedway on May 16 and May 17, Orange County Fair Speedway, May 18); David Gravel – 3 (Merced Speedway on March 28, Eldora Speedway on May 3, and Wilmot Raceway on May 9); Donny Schatz – 3 (Volusia Speedway Park on Feb. 15, The Dirt Track at Las Vegas on March 6 and Devil's Bowl Speedway on April 19); Brad Sweet – 3 (Volusia Speedway Park on Feb. 14, Tucson International Raceway on March 8 and Calistoga Speedway on April 5); Kerry Madsen – 2 (Stockton Dirt track on March 22 and El Paso Speedway Park on April 15); Paul McMahan – 2 (The Dirt Track at Las Vegas on March 5, Tri-State Speedway on May 10); Joey Saldana – 2 (Perris Auto Speedway on April 12 and Salina Highbanks on April 25); Rico Abreu – 1 (Thunderbowl Raceway on March 15);Christopher Bell – 1 (Jacksonville Speedway on May 7); Cody Darrah – 1 (Kings Speedway on April 11);Steve Kinser – 1 (Volusia Speedway Park on Feb. 16); Stevie Smith – 1 (Lincoln Speedway on May 14); Shane Stewart – 1 (Eldora Speedway on May 2); Sammy Swindell – 1 (Federated Auto Parts Raceway at I-55 on April 26).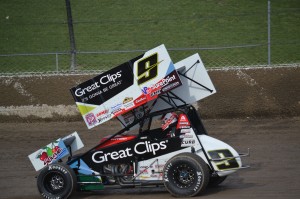 World of Outlaws STP Sprint Car Series Statistical Report; Orange County Fair Speedway; Middletown, N.Y.; May 18, 2014
A-Main – (25 Laps) – 1. 9-Daryn Pittman [1] [$10,000]; 2. 71M-Joey Saldana [2] [$5,500]; 3. 15-Donny Schatz [3] [$3,200]; 4. 11-Steve Kinser [4] [$2,800]; 5. 4-Cody Darrah [5] [$2,500]; 6. 49-Brad Sweet [6] [$2,300]; 7. 51-Paul McMahan [8] [$2,200]; 8. 5W-Lucas Wolfe [12] [$2,100]; 9. 48-Danny Dietrich [9] [$2,050]; 10. 83-David Gravel [16] [$2,000]; 11. 94-Ryan Smith [10] [$1,500]; 12. 7S-Jason Sides [18] [$1,200]; 13. 65-Dave Ely [13] [$1,100]; 14. 5-Justin Barger [20] [$1,050]; 15. 1A-Jacob Allen [14] [$1,000]; 16. 1-Sammy Swindell [17] [$900]; 17. 11K-Kraig Kinser [19] [$800]; 18. 1S-Logan Schuchart [22] [$800]; 19. 17B-Steve Buckwalter [11] [$800]; 20. 29-Kerry Madsen [7] [$800]; 21. 65B-Russ Bennett [21] [$800]; 22. 19M-Brent Marks [15] [$800]; Lap Leaders: Daryn Pittman 1-25; KSE Hard Charger Award: 83-David Gravel [+6]
Qualifying – 1. 9-Daryn Pittman, 17.105; 2. 71M-Joey Saldana, 17.201; 3. 15-Donny Schatz, 17.363; 4. 29-Kerry Madsen, 17.375; 5. 11-Steve Kinser, 17.413; 6. 48-Danny Dietrich, 17.469; 7. 94-Ryan Smith, 17.477; 8. 4-Cody Darrah, 17.533; 9. 51-Paul McMahan, 17.546; 10. 49-Brad Sweet, 17.566; 11. 17B-Steve Buckwalter, 17.583; 12. 5W-Lucas Wolfe, 17.641; 13. 65-Dave Ely, 17.671; 14. 1A-Jacob Allen, 17.675; 15. 19M-Brent Marks, 17.680; 16. 83-David Gravel, 17.681; 17. 1-Sammy Swindell, 17.938; 18. 7S-Jason Sides, 18.008; 19. 11K-Kraig Kinser, 18.051; 20. 5-Justin Barger, 18.254; 21. 65B-Russ Bennett, 19.076; 22. 1S-Logan Schuchart
Heat 1 – (8 Laps – Top 6 finishers transfer to the A-feature) – 1. 49-Brad Sweet [1]; 2. 94-Ryan Smith [2]; 3. 9-Daryn Pittman [4]; 4. 29-Kerry Madsen [3]; 5. 83-David Gravel [6]; 6. 65-Dave Ely [5]; 7. 11K-Kraig Kinser [7]; 8. 1S-Logan Schuchart [8]
Heat 2 – (8 Laps – Top 6 finishers transfer to the A-feature) – 1. 4-Cody Darrah [2]; 2. 11-Steve Kinser [3]; 3. 71M-Joey Saldana [4]; 4. 17B-Steve Buckwalter [1]; 5. 1-Sammy Swindell [6]; 6. 5-Justin Barger [7]; 7. 1A-Jacob Allen [5]
Heat 3 – (8 Laps – Top 6 finishers transfer to the A-feature) – 1. 51-Paul McMahan [2]; 2. 5W-Lucas Wolfe [1]; 3. 15-Donny Schatz [4]; 4. 48-Danny Dietrich [3]; 5. 7S-Jason Sides [6]; 6. 19M-Brent Marks [5]; 7. 65B-Russ Bennett [7]
Dash – (6 Laps, finishing order determined first 8 starting positions of A-feature) – 1. 9-Daryn Pittman [1]; 2. 71M-Joey Saldana [2]; 3. 15-Donny Schatz [3]; 4. 11-Steve Kinser [5]; 5. 4-Cody Darrah [6]; 6. 49-Brad Sweet [8]; 7. 29-Kerry Madsen [4]; 8. 51-Paul McMahan [7]