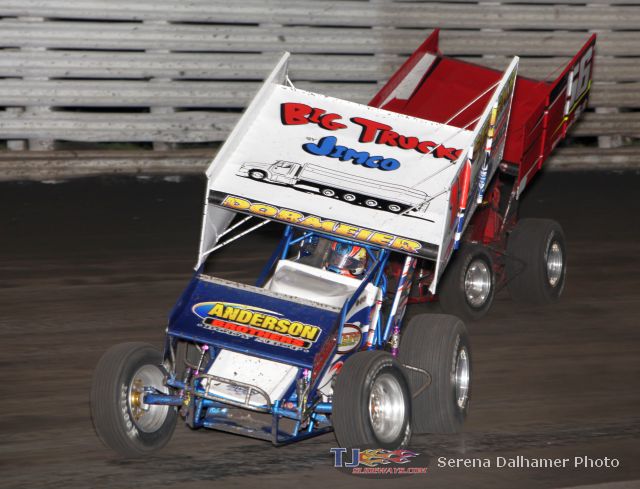 By Bill W
May 19, 2014 – Mark Dobmeier and the Lunstra/Dobmeier #13 team finally got a three-race weekend in…sort of.  The feature on Friday night at River Cities Speedway in Grand Forks, North Dakota was postponed to this Friday, with Mark leading the event.  The Grand Forks native finished sixth in action Saturday night at Knoxville Raceway in Iowa before a third place run on Sunday at Huset's Speedway near Brandon, South Dakota.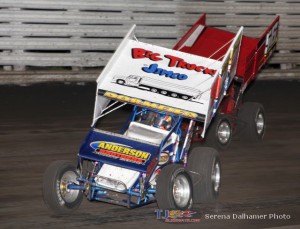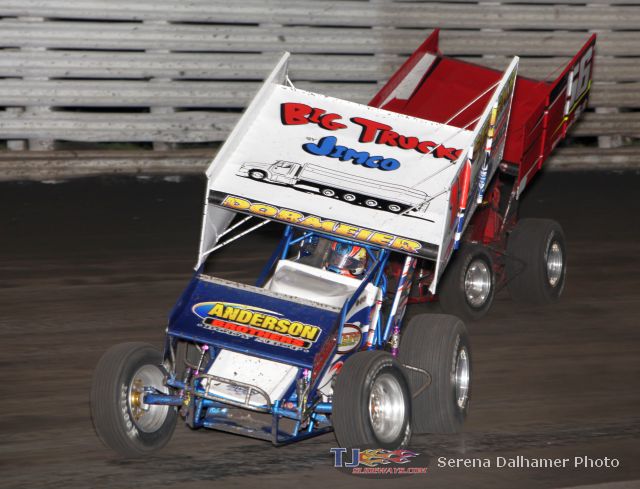 It was the lid lifter at River Cities, and the folks were ready to get a race in.  "They were kind of undecided what to do, and they decided to go for it," says Mark.  "The weather hasn't been very nice up here.  Obviously, there was still a little frost in the ground yet.  There were a couple of holes, but it was race-able for the first night."
After running second in his heat, Mark readied for the feature.  It got off to a bumpy start for some.  "We were supposed to start sixth, but after guys kept tangling up, we ended up starting on the front row outside," he says.  "We got the lead, and got one lap in before we had another red flag.  They decided it was late and the track was rough, so they postponed it until this Friday."
After the ten hour tow to Knoxville, Mark qualified eighth quick, an improvement over the previous weeks.  "We figured a few things out in qualifying," he says.  "We had things rolling really well there and in the heat race.  We ended up battling back and winning the heat."
Starting outside row one, Mark got off to a bit of a slow start, but found himself battling with Terry McCarl and Craig Dollansky for fourth and fifth.  "For about two or three laps, we had a three-way battle in every corner," he says.  "It was pretty fun there for a while.  They were a little bit better than me though."
Still, Mark would finish a strong sixth.  "We just weren't quite there on the slick in the feature," he says.  "We keep changing things, and keep getting better…we're just not quite there yet.  We are improving things early in the race, but we need to improve on our program later on.  We'll be just fine."
At Huset's opener on Sunday, he would qualify third quick and finish fifth in the heat.  "The track was a little bit rough and chunky in the heats," says Mark.  "We finished right where we started.  They brought the blade out, and made it kind of a racetrack for the feature."
Mark would start fourth in the main event.  "It slicked off a little too much and started laying rubber about a third of the way through the feature," he says.  "Before that, we struggled a little bit, and battled back to third.  We got in line after that with the rubber.  We were able to salvage a third out of it, which was a good solid run to start Huset's."
It will be a busy Memorial Day weekend for the team.  "We'll do our normal three races…River Cities, Knoxville and Huset's," says Mark.  "We may throw in the Monday night race at Huset's too, we'll just have to see."
The Dobmeier/Lunstra team would like to thank Senske and Son Transfer, Big Trucks by Jimco, Sioux Falls Ford, IQ Bid, Dammer Trucking, ACME Tool, Strong Box and Tire Boss for all their help!