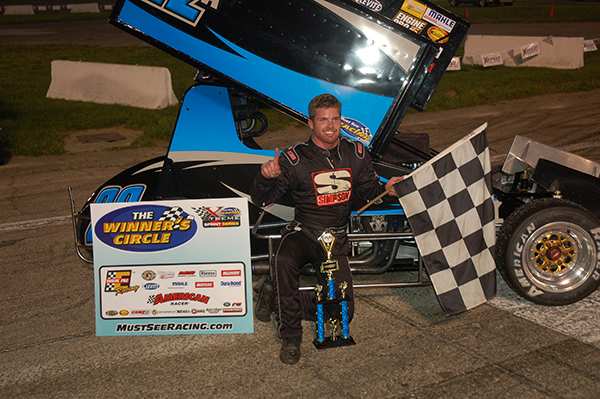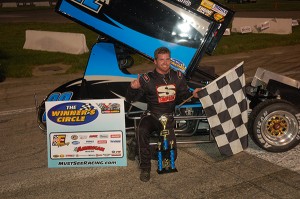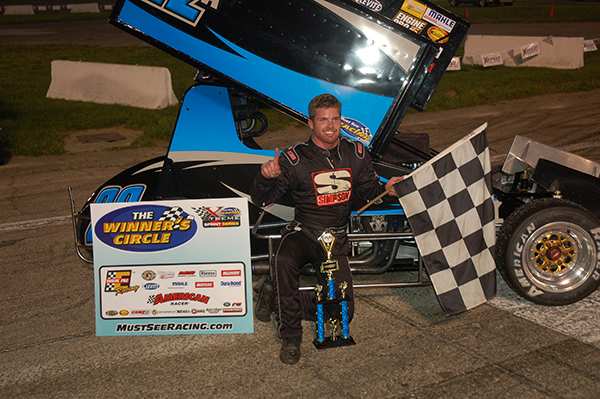 From David Sink
Anderson, IN – (May 21, 2014) – Troy DeCaire took advantage of his outside front row starting position to take the lead at the drop of the green and never looked back. The Tampa, FL driver lead all sixty laps to claim his first Must See Racing Xtreme Sprint Series (MSRXSS) win of the season Wednesday night at Anderson Speedway. The event officially kicked off "Little 500 Week".
DeCaire out dueled pole sitter Kody Swanson at the drop of the green for the lead. Swanson trailed DeCaire closely until Swanson was forced into the pits with mechanical issues on lap twenty-one. DeCaire then was able to breath easier for the next twenty laps. Brian Gerster closed the gap and reeled DeCaire in during the final twenty laps of the race, but was unable to mount a serious assault on DeCaire. DeCaire worked lapped traffic superbly en-route to his win.
In victory lane DeCaire admitted the win wasn't as easy as it appeared."I tried to run as hard as I could without giving up a win" DeCaire described in victory lane."I couldn't stay on the bottom like I wanted to and I was struggling with it. We'll take any kind of motivation we can get. I just wanna get back to where we belong. I feel like we deserve to win races. Hats off to DJ Racing. Dick and Jane spend a lot of money and time. My whole family is here helping. I appreciate everything they do for me and I'm glad we could get another win".
Brian Gerster started the night off with quick time when he turned a lap of 10.569 seconds. Heat races were won by Jacob Wilson, Jimmy McCune, and Aaron Pierce.
Must See Racing teams will now turn their attention to the 66th annual Pay Less Little 500. Qualifying is scheduled for Thursday and Friday afternoon to set the starting field for Saturday's event.
For more info on Must See Racing please visit www.mustseeracing.com
A MAIN RESULTS
POS # DRIVER LAPS
1 22A Troy Decaire 60
2 50M Brian Gerster 60
3 88 Jimmy McCune 60
4 07 Jacob Wilson 60
5 26P Aaron Pierce 60
6 45 Ryan Gillenwater 60
7 40 David Byrne 60
8 07L Ryan Litt 60
9 27 Cody Gallogly 60
10 18 Jim Sheets 55
11 10 Ron Koehler 54
12 81 Danny Smith 34
13 64 Kody Swanson 21
14 1 Tim Cox 10
15 43 Sam Davis
0