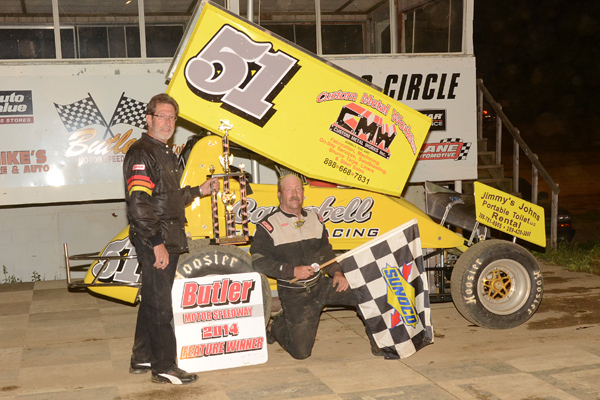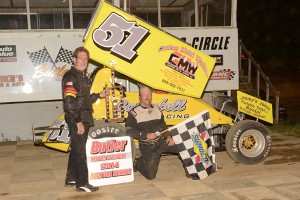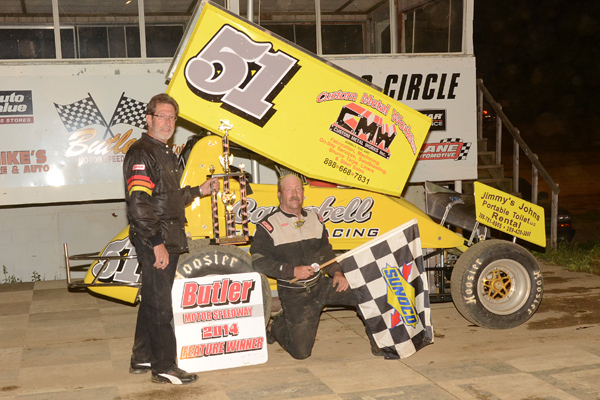 From Tom Willavize
Quincy, MI — (May 24, 2014) — Roger Campbell and Doug Zimmerman would lead the field to green with Campbell getting the early lead.  Zimmerman would set his sights on the lead with a lap 2 pass on Campbell.  Zimmerman would lead over Campbell, Ryan Kirkendall and John Gall.  With 2 laps to go, Campbell would launch to the bottom of turns 3 and 4, and pull off a slide job pass ahead of Zimmerman.  With the white flag waving Zimmerman would make a last lap effort on the top of 3 and 4, but couldn't make it stick.  At the checkered flag it was Campbell winning the Albert Alma Donaldson Memorial feature.  Zimmerman would hold on to the runner up position, followed by Kirkendall, Gall and Ken Mackey. Heat race wins were picked up by Campbell and Zimmerman.
  Coming up on
Saturday June 7
the All Star Circuit of Champions roll into Butler Motor Speedway for the 1st of 2 stops during the 2014 season.  Then on
Saturday June 14
the Sod vs NRA WWIII Sprint car show hits the 3/8 mile high banks.
Butler Speedway Results – May 24, 2014
Winged Sprints
Feature: 1. 51 Roger Campbell, 2. 19 Doug Zimmerman, 3. 27K Ryan Kirkendall, 4. 81 John Gall, 5. 25M Ken Mackey, 6. 50B Mike Burns, 7. 47 Robert Bulloch, 8. 33 Brandon Hyliard, 9. 5Q Quentin Blonde , 10. 8 Aaron Huff, 11. 94 Fred Worden IV , 12. 96 Josh Mohr , 13. 00 Emily Rogers
Heat Winners: Roger Campbell, Doug Zimmerman