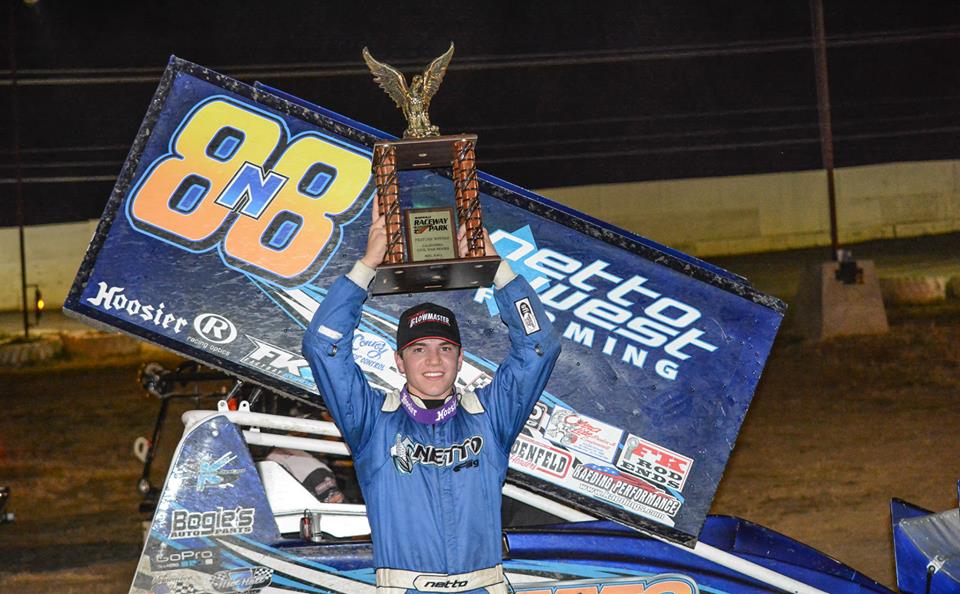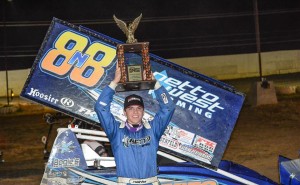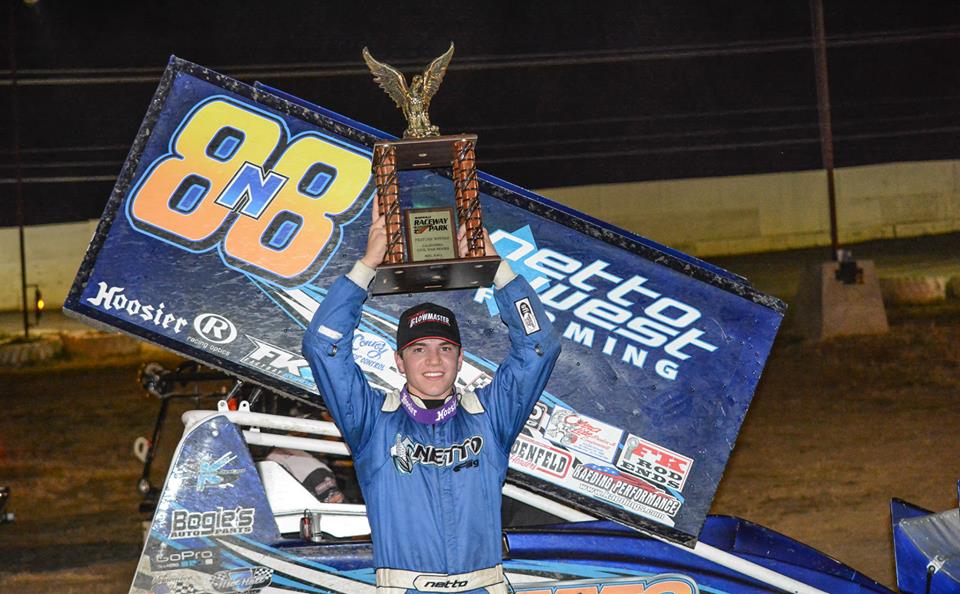 From Peterson Media
Marysville, CA — (May 25, 2014) — Making his first start at the Marysville Raceway Park, Hanford, CA driver, DJ Netto found himself in victory lane as he picked up his first career Civil War Series Presented By Flowmaster feature event.
With John Michael Bunch and Cody Lamar on the original front row, a false start put them in the second row, with Mason Moore and Andy Forsberg taking over the front row for a second attempt at a start.
Moore got the jump and took off on the hooked up Marysville Raceway Park with Andy Forsberg and Bunch chasing after him.
The complexion of the race changed on the ninth lap with the leaders in thick traffic, resulting in Moore getting on his side, giving the lead to Forsberg.
With Forsberg out front, he quickly stretched out his lead, though behind him some moving and shaking was happening, as Jason Statler, Shane Golobic, DJ Netto, and Geoff Ensign were working their way forward.
Getting around Lamar and Bunch, DJ Netto became a factor as he took over the second spot, and began chasing after Forsberg in traffic, until mechanical woes found Forsberg on the 20th lap, causing him to slow, bringing out the caution and giving Netto the lead.
The restart saw Netto lead the field to green aboard his Netto Ag/KPC No. 88N, but he had his hands full with Shane Golobic hot on his tail.
Getting into lapped traffic with just a handful of laps to go, Netto carefully picked his lines, as Golobic looked for an opening.
The white flag lap saw Golobic get the opening he was looking for in the last pair of corners, but Netto was able to hang on and beat him to the checkered flag to pick up the win with Shane Golobic holding on to second, and Cody Lamar capping off a very strong night crossed the stripe in the third position.
"It has just been one of those years, and it is awesome to get a win with the Civil War Series," a jubilant DJ Netto said in victory lane. "I saw Shane Golobic show me his nose in the last corner, and I just stood on the throttle and here we are."
After opting to skip his college graduation Saturday morning, Shane Golobic rebounded from a rough start to his night to finish in the second spot.
"We would have liked to be one spot better, but after the way our night started, we are pretty happy with a second place finish," Golobic said. "I had one shot at DJ Netto on the last lap and went for it, but he was able to beat us to the line, and I have to congratulate him."
Capping off a stellar night, Cody Lamar took the final spot on the podium, and was pleased with how his new team performed.
"We have been running at Marysville Raceway Park for a few weeks now, and to run up front with the Civil War Series is pretty cool," Lamar said. "I have to thank my family, Lancaster Locksmith and everyone who helps us with this thing.
Following the top three across the line was Dash winner, John Michael Bunch, 20th starting Geoff Ensign, 19th starting Jason Statler, Jimmy Truli, Sean Becker, Colby Wiesz, and Steven Tiner rounding out the Top-10.
John Michael Bunch started the night off by timing in fastest in qualifications, and heat race wins went to  Becker, Andy Forsberg, Lamar and Netto.
Alissa Geving won the C main, and Golobic won the night's B Main event.
The Civil War Series Presented By Flowmaster returns to action tonight at the Silver Dollar Speedway in Chico, CA for the annual Silver Dollar Fair Race.
RESULTS-
38 Cars
Fast Time- John Michael Bunch
Feature (Starting Position)
1. DJ Netto (5), 2. Shane Golobic (9), 3. Cody Lamar (2), 4. John Michael Bunch (1), 5. Geoff Ensign (20),  6. Jason Statler (19), 7. Jimmy Truli (5), 8. Sean Becker (8), 9. Colby Wiesz (11), 10. Steven Tiner (17), 11. Justin Sanders (18), 12. Matt Peterson (12), 13. Justyn Cox (16), 14. Mason Moore (3), 15. Dean Freitas (13), 16. Andy Forsberg (4), 17. Kurt Nelson (7), 18. Koen Shaw (10), 19. Peter Paulson (22), 20. Craig Stidham (14), 21. Herman Klein (15), 22. Jim Richardson (21)
The Civil War Sprint Car Series would like to thank Flowmaster, BR Motorsports, A.R.T. Speed Equipment, Brodix, ButlerBuilt, CRV Carbon Solutions, Design 500, Dirt Solutuion, Taco Bravo, Hansen Machine, Frankland Racing Supply, Fuel Safe, Hoosier, Joe Hunt Magnetos, Kaeding Performance, King Racing Products, KSE Power Steering Products, Pit Stop USA, MPD, All Pro, RCM Design, Rod End Supply, Racing Optics, SRP, VSR, Frankland,  and Weld Racing for their support.
CIVIL WAR SERIES PRESENTED BY FLOWMASTER- Founded in 1991 as the North-South Series, the Civil War Sprint Car Series was born in 1993 giving 360 Sprint Cars in California a sanctioning body. What started as just a handful of races at three different tracks has evolved into quite the series. In 2014, the Civil War Sprint Car Series will host 14 events at 8 different tracks around California.