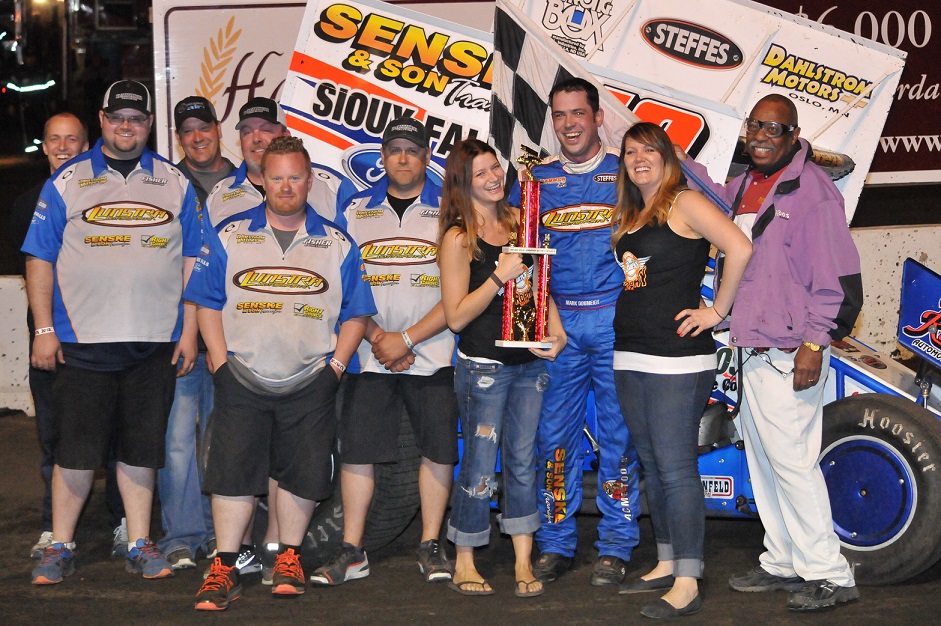 From Bill W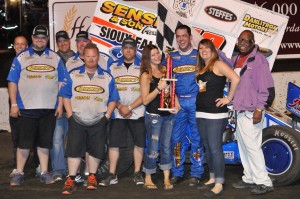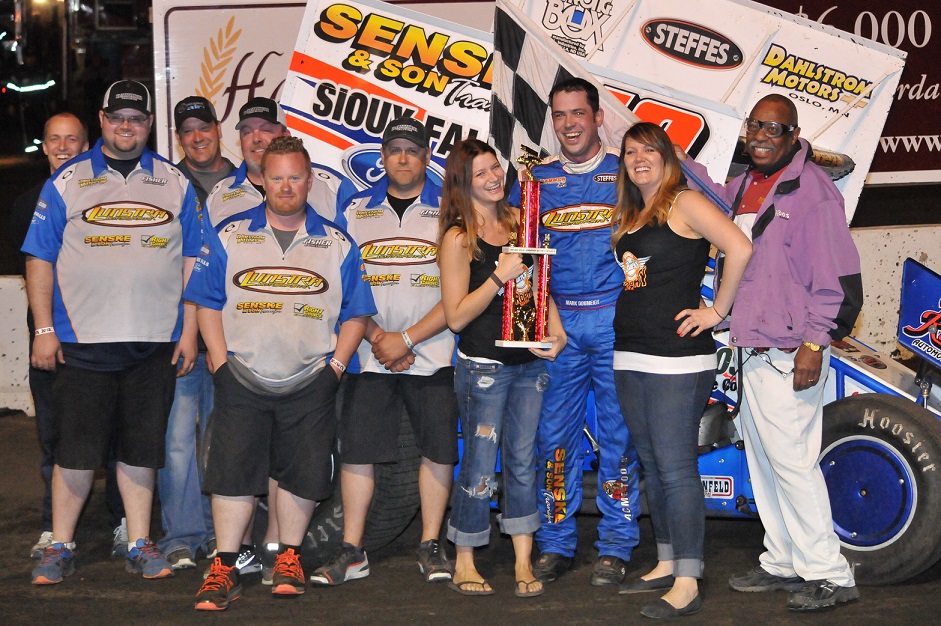 May 28, 2014 – The wins had to start coming eventually, and "Dynamite" Mark Dobmeier recorded his first two of the season last weekend.  The first came Friday night in a make-up feature at the River Cities Speedway in Grand Forks, North Dakota.  The second came Sunday at the Huset's Speedway near Brandon, South Dakota where Mark is the five-time and defending track champion.
The make-up feature was first up Friday night at River Cities.  Mark was under the impression that with a lap in the books and a lead, that that's the way it would go green.  He was wrong.  "I thought we were supposed to start from there, but River Cities has their own rules," he says.  "They restarted the whole race, with the cars that had crashed starting in their original positions.  So we ended up starting sixth."
It mattered not, as Mark would end up in Victory Lane.  "It was actually a pretty good race," he says.  "(Lou) Kennedy was out leading it by a pretty good margin.  He was running strong, but he got caught up in some lapped cars and bobbled up a bit.  I was able to sneak by him with about three laps to go."
The regular program is run, handicapping drivers by point average.  "We started ninth in the heat and we were able to run up to second," says Mark.  "That put us starting ninth in the feature too.  I was actually up to second at one point, and we had a yellow that put me back to third."
That's when some craziness occurred.  "We had a restart, and we ran a green flag lap," says Mark.  "I went around and there was a lapped car spinning on the top of turn four.  We were just about three-wide for the lead at that point, and I moved down to the bottom.  I got into the inside berm to avoid a collision.  Because I touched the inside berm, they wanted to put me back two spots under that caution.  The problem was, the radios weren't working.  I had no idea what the flagman was after.  Every lap, he got madder and madder, but he failed to point where he wanted me to go.  He yelled in the receiver, which I wasn't hearing.  We ended up running third, but they DQed me afterwards, so officially I was 26th!"
At Knoxville Raceway in Iowa on Saturday, Mark timed outside the heat inversion (20th quick).  "We were in the first group of qualifying, which I thought would be an advantage," he says.  "Then the track threw us for a loop.  We knew the track was drying out, but we didn't know it was drying out that much.  We didn't have it near tight enough, and we timed in 19th and missed the invert and everything."
Unfazed, he was able to come from row four in his heat and grab the final transfer spot to the feature (sixth).  He would start outside of row eight.  "We had a good car," says Mark of his feature mount.  "We drove forward.  Sixteenth to ninth doesn't sound like a whole lot, but when you consider the field at Knoxville and the guys you have to pass…it's not easy.  We were happy with that finish for where we started."
It was on to Huset's Sunday night.  "We missed in qualifying a little bit (sixth quick)," says Mark.  "We ran well in the heat.  We got up to second (from fourth) and we were nipping at Jody (Rosenboom) at the end for the win."
Starting third in the heat, it took a while for Mark to get going, but once he did, he was a rocket.  "We were back to fifth at one point," he says.  "(Terry) McCarl was by us.  The tires heated up though, and the driver got up on the wheel a little bit.  We were able to get by McCarl, (Craig) Dollansky, (Ian) Madsen and we actually drove away a little bit at the end.  That thing was on a rail.  I could throw it pretty much wherever and it would respond."
This weekend will see the Lunstra/Dobmeier #13 team do their normal triumvirate of shows at River Cities, Knoxville and Huset's.
The Lunstra/Dobmeier team would like to thank Senske and Son Transfer, Big Trucks by Jimco, Sioux Falls Ford, Steffe's Auctioneers, Dammer Trucking, ACME Tool, Strong Box and Tire Boss for all their help!