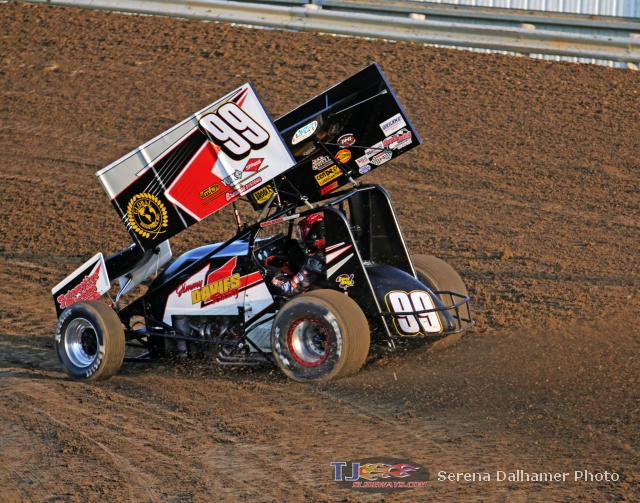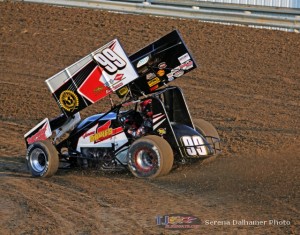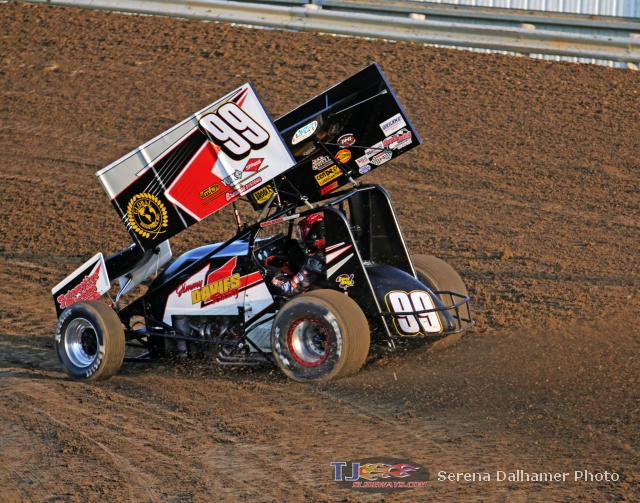 From Bill W
June 3, 2014 – Terry McCarl won for the second year in a row at the Independence Motor Speedway in Independence, Iowa with the Sprint Invaders last Friday night. The win came aboard the Jimmy Davies #99. It was the third different car that the Altoona, Iowa driver has wheeled to victory this season. This weekend, he plans on running the TMAC Motorsports #24 against the World of Outlaws on Friday at I-80 Speedway in Greenwood, Nebraska before returning to weekly action at Knoxville Raceway on Saturday. Sunday, he will pilot the Jeremy Scadden #6 at Huset's Speedway near Brandon, South Dakota.
TMAC got the call from Davies last week. "I've known him for a long time," he says. "I knew he had good equipment. He recently hurt his back, so he's had some drivers filling in for him until he feels better. Honestly, I wasn't crazy about doing it, because I wanted to focus on (son) Carson. He had some bad luck lately at Burlington, where a push truck drove over the back of the car and broke the coupler in the rear-end. I looked at the weather Saturday and Sunday (at Knoxville and Huset's) and it looked like rain. That ended up happening, so I decided to do it. I could race and still help Carson at the same time. It worked out really well."
The partnership was an opportunity to run a different setup and work with a different team as well. "Scott Bonar is the crew chief," says TMAC. "I like to get with new people like Scott and Jimmy on setups. If you think you know everything in this sport, you are wrong. I tried to hire Scott a couple times when I was on the Outlaw tour. He's a good mechanic, really knowledgeable and a hard worker. They run a whole different shock and chassis package. Manny Rockhold from Automotive Machine does the engines, so you know he does a good job. We won the Knoxville 305 championship with one of his engines."
TMAC was complimentary of the 3/8-mile Independence Motor Speedway. "Independence is nice and wide," he says. "It's forgiving if you get over the edges. It reminds me of Attica (OH) a little bit, but it's more round. It's a fun track."
The preliminary events went without a hitch. "The car felt comfortable hot lapping," says TMAC. "We went out and started third and ran second in the heat. I felt we were as fast as Jon Agan, if not catching him a little bit. We were able to win the Dash from the pole as well. We really didn't make a whole lot of changes throughout the night."
Carson's night did not go as smoothly. "Unfortunately, Carson was struggling with some mag problems that cut out on him in hot laps and the heat," says TMAC. "He did a start and park in the feature, which took some things off my mind knowing that he wasn't going to be out there."
Starting fifth in the feature, TMAC quickly made his way to second, before passing leader Tony Shilling for good on a lap four restart. "We made a few changes for the feature," he says. "The track was really good. You could run wherever you wanted to in three and four. The cushion didn't move up as much in one and two, so you had to be on it out in the open. You could use the bottom in traffic though. The track was awesome and we could roll around there really well."
TMAC will be back behind the wheel of the #99 soon. "It looks like we'll be back in Jimmy's car at Donnellson later in the month (June 19)," he says. "We may run it a few more times this year. It was good to win for him at Independence. He had the folks from Fangman & Sons there which was really nice. There is a lot of pressure on you as a car owner, but when you go to drive for someone like Jimmy, there is a lot of pressure that you don't have on you. We all had a lot of fun. I look forward to driving for him again."
To check out opportunities to partner with TMAC Motorsports on a nightly basis, visit www.TerryMcCarl.com or call 515 957-0020!
Front Row Challenge Tickets on Sale!
The 19th Annual Casey's General Stores/Musco Lighting Front Row Challenge presented by Searsboro Telephone Company will be held Monday, August 4 at the Southern Iowa Speedway in Oskaloosa, Iowa.
Tickets are now on sale! For more information, call Front Row Challenge Enterprises, LLC at 515 957-0020. For further information, stay tuned to www.OskyChallenges.com!
Websites for the McCarl Gang!
Driverwebsites.com develops the websites for the McCarl boys. Check out www.TerryMcCarl.com, as well as www.AustinMcCarl.com and www.CarsonMcCarl.com!
This Month in TMAC History!
TMAC won on June 2, 2001 at the Knoxville Raceway. The race was held in conjunction with USAC's Silver Crown Hawkeye 100 won by JJ Yeley. With a draw format, TMAC started eighth in his heat and ran second. Starting seventh in the main event, he passed leader Jaymie Moyle on lap six and took off to the checkers ahead of Randy Anderson, Kerry Madsen, Calvin Landis and Don Droud Jr.