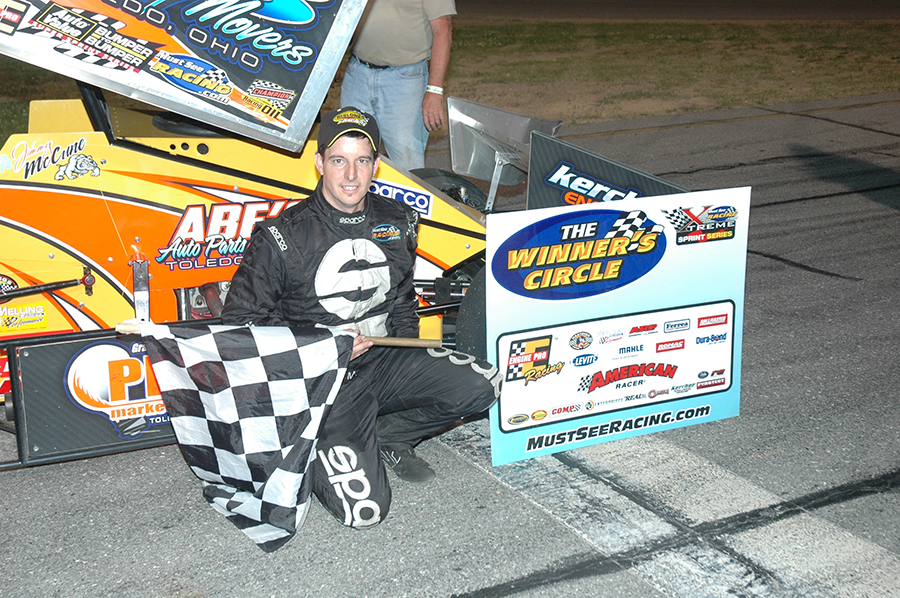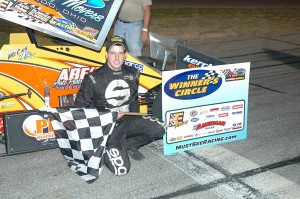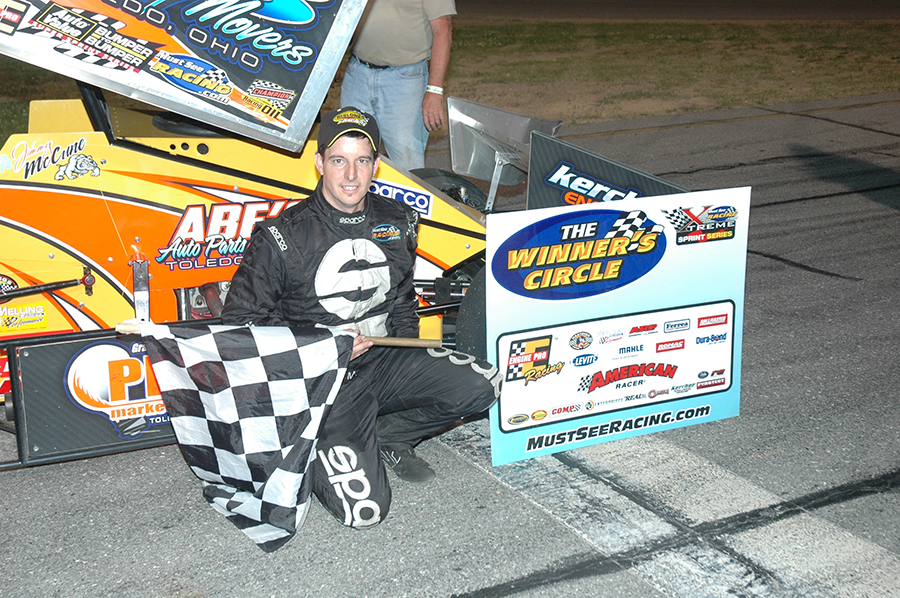 From David Sink
Clio, MI — (June 7, 2014) — Jimmy McCune continued his hot streak with his win in the Must See Racing Xtreme Sprint Series (MSRXSS) event Saturday night at Auto City Speedway. McCune became the fourth different winner in as many races in MSRXSS competition in 2014.
When the green flag dropped on the 50-lap "Xtreme Speed Challenge", pole sitter Ike Beasley got the jump and took command. Beasley was setting the pace while being smooth and patient with lapped cars. Jacob Wilson trailed Beasley for the first 26 laps before the first caution came out for the stalled machine of Jim Sheets. Up to that point, Beasley had done an outstanding job getting around lapped cars quickly. Wilson was unable to get close enough to mount a challenge on the leader.
When the race resumed, Beasley once again took command until another caution flew on lap 34 that eliminated several contenders including second place Wilson. RJ Payne oiled the track down in turns three and four and several cars went sliding and crashed into each other including: Wilson, Aaron Pierce, Ryan Litt, and Kody Swanson.
After a lengthy cleanup, the race resumed. Beasley found himself leading once again.  One lap later, second running Ryan Gillenwater and Beasley made contact battling for the lead entering turn one, leaving Beasley to lose control, and spin out. When the race went back to green, McCune moved to the high-side and challenged Gillenwater. The duo ran side-by-side in a thrilling battle that lasted until McCune assumed control of the top spot on lap 40 and never looked back.
Following McCune to the line was: Swanson, Gillenwater, Troy DeCaire, and Litt. In victory lane McCune explained the longer 50-lap race played into his favor. "We started extremely tight. We figured fuel load and tire wear would play into our favor. The track came to us late in the race. I just kinda peddled there mid-pack all the way through the race. The car came alive there at the end.I just can't say enough about this Kercher-Drinan. It's an awesome race car."
The battle for the lead with Gillenwater on lap 36-40, may have been the most exciting and intense moment of the night, and had the fans on their feet. "We never touched but battled extremely hard. I was running the high line and he was running the middle. There were several laps of knuckle biting and almost banging into each other. We had a hell of a battle there. Luckily we came out on top and drove away" concluded McCune.
Brian Gerster was the night's fastest qualifier with a lap of 13.034 seconds. Heat race wins went to Tyler Underwood, Gerster, and Billy Wease.
50-LAP FEATURE RESULTS
 Jimmy McCune (88)
 Kody Swanson (64)
 Ryan Gillenwater (45)
 Troy DeCaire (22)
 Ryan Litt (07L)
 Aaron Pierce (26P)
 Tyler Underwood (14c)
 Jacob Wilson (07w)
 John Turnbull (12)
 Ike Beasley (97)
11.     RJ Payne
12.     Brian Gerster (50m)
 Jim Sheets (18)
 Billy Wease (81)
 Jeff Bloom (26B)