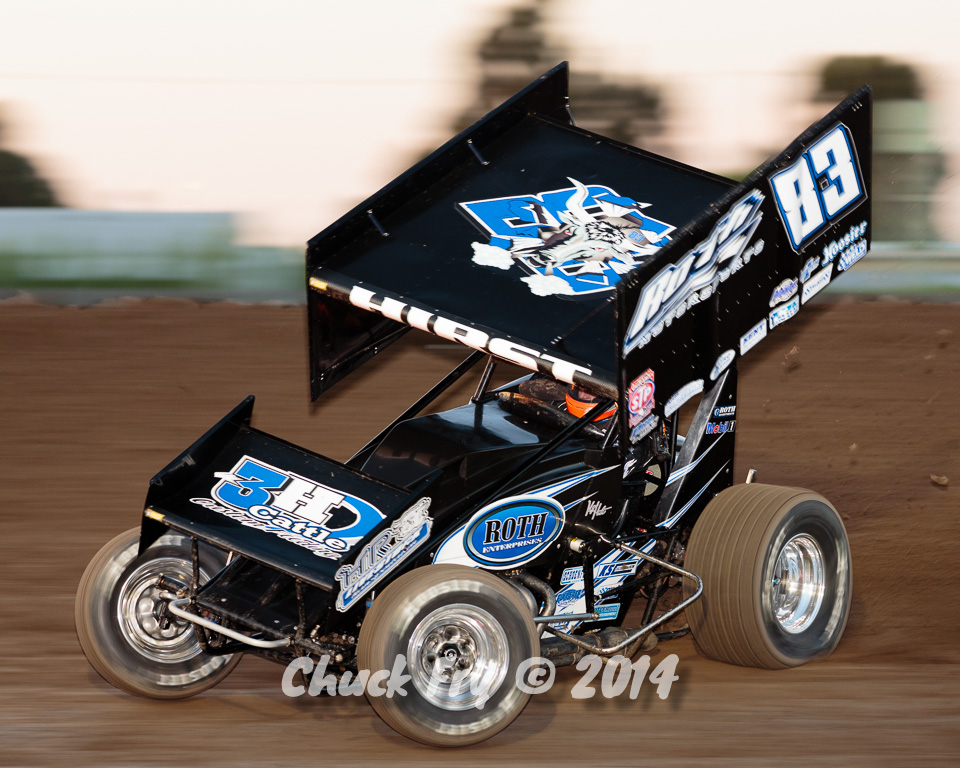 PETERSEN MEDIA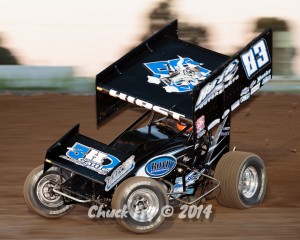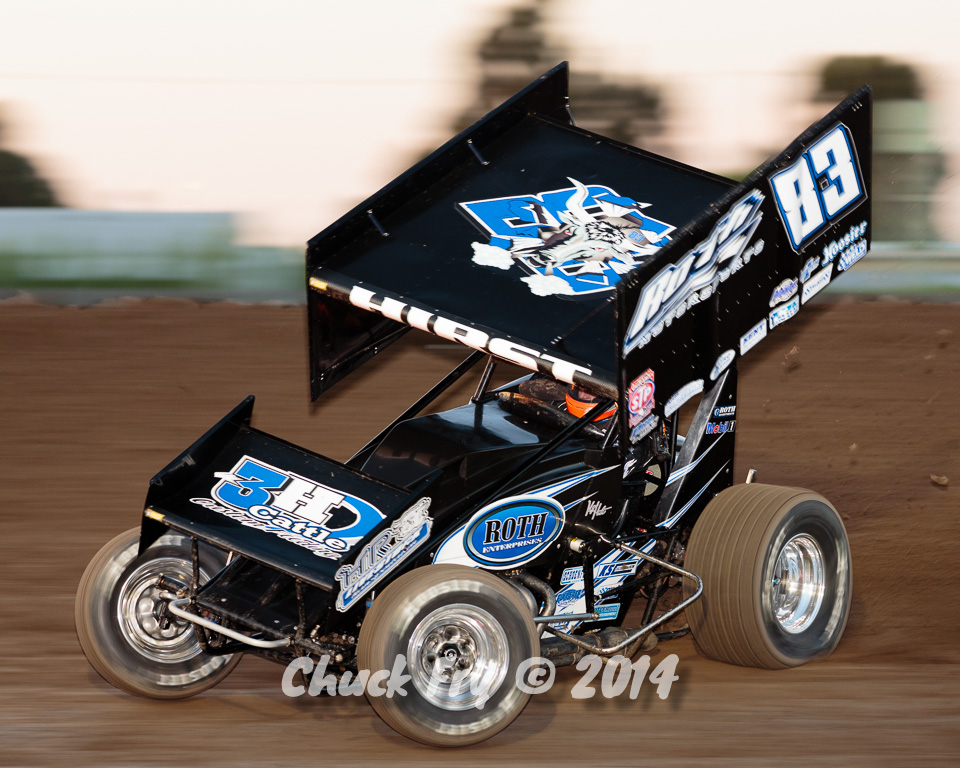 Spending his two-week King of the West break competing in the Northwest, Kyle Hirst climbed back aboard his Roth Motorsports machine over the last weekend and put together a strong weekend that saw him charge from 16th to win at the Silver Dollar Speedway on Friday night, before a nice third place finish in Marysville, CA put an exclamation point on his weekend.
"Wow," Hirst said following his Friday night victory. "This is awesome, and I cannot thank my guys enough for working hard all night after missing the inversion in time trials."
With 33 cars on hand on Friday night at the Silver Dollar Speedway, Hirst timed his Roth Enterprises/HR Livestock Transportation/3H Cattle machine in 18th fastest, putting him in a slight hole to start the night.
Getting the transfer out of the heat, Hirst moved on to the feature event, but found himself starting in the eighth row, on the very racy Silver Dollar Speedway.
When the race got underway, Hirst quickly planted his right-rear in the thick cushion, and began to navigate heavy traffic, as he looked to work his way forward.
Taking advantage of a lap-five restart, Hirst was able to propel himself into the Top-10, as he stayed true to the high, scary side.
Getting by the likes of DJ Netto, Evan Suggs, and a few others, all eyes were suddenly on Hirst, who sat in the sixth spot at the halfway point.
Continuing to work forward, Hirst took advantage of Willie Croft and Tim Kaeding's misfortune, and found himself in the second spot on the 22nd lap, chasing after race leader, Bud Kaeding.
With Kaeding out to a sizeable lead, Hirst was able to track him down, and by the time the leaders got into traffic, Hirst was able to make his move, and grab the top spot on the 30th lap, but Kaeding answered exiting turn two, only to see Hirst grab the lead for good as they crossed the stripe completing the 31st lap.
Hirst was jubilant in his celebrations as he won the race honoring his fallen friend, David Tarter, as donuts and a salute to the turn four crowd preceded his stop in victory lane.
"This is awesome," he exclaimed. "I wanted to win this race last year, and we came up short, and to get it done tonight from 16th makes it that much sweeter. The track was awesome, and my guys gave me a really good racecar."
Saturday night saw the King of the West Series venture to the Marysville Raceway Park for the first time since 2012, and with 25 cars on hand, KH timed in 10th fastest.
Picking up the heat race win, Hirst finished in the fourth spot in the dash, on the rough, and heavy track.
With the race going green, Hirst utilized the bottom of the speedway on this night, as he battled with Brent Kaeding for the fourth spot in the early goings of the race.
Getting into the third spot, Hirst set his sights on third running, Willie Croft, but passing amongst the lead pack was at a premium.
A late double file restart saw Hirst get around Mitchell Faccinto for the third spot, and the reigning series champion would hang onto the final podium spot, and bump his current series lead to 89-markers after his stout weekend.
"I cannot thank Dennis and Teresa enough for the team they have assembled and the constant support they provide," he said. "Todd, Jeff, Brent, Mikey, and everyone worked so hard in some pretty high heat, and it paid off for us."
Kyle and his Roth Motorsports team would like to thank Roth Enterprises, HR Livestock Transportation, 3H Cattle,  Mobil1, FK Rod Ends, Weld Wheels, Brown and Miller Racing Solutions, Kent Performance, Kaeding Performance, and Astro Titanium for their support in 2013.
2014 ROTH MOTORSPORTS BY THE NUMBERS: Starts-16, Wins-3, Top 5's-9, Top 10's-12
ON TAP:Hirst and his Roth Motorsports team will be in action on Saturday night at the Kings Speedway in Hanford, CA.
STAY CONNECTED: Stay connected to Kyle by following him on Twitter, @kylehirstracing, or by visiting www.rothmotorsports83.com.
PETERSEN MEDIA:Petersen Media is a promotional agency that can handle your public relations, marketing, and any other medial needs. Petersen Media utilizes multiple tactics to help you reach your intended audience, to boost awareness.
For more information contact sales@petersenmediainc.com, by phone at 916-342-3424, visit www.petersenmediainc.com,  www.facebook.com/PetersenMedia, or follow www.twitter.com/petersen_Media.