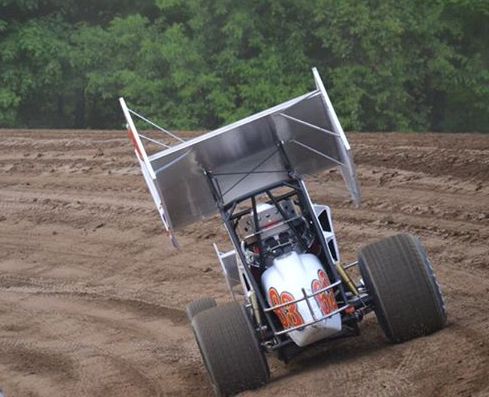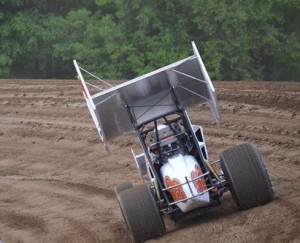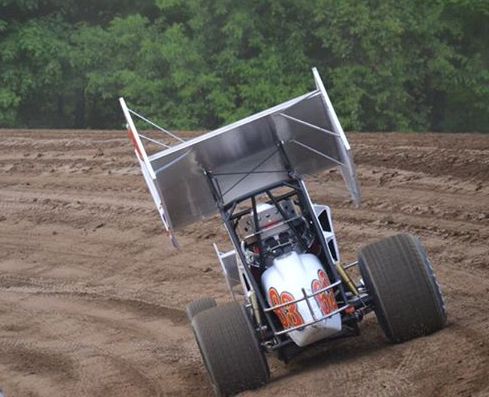 By T.J. Buffenbarger
The people at Butler Motor Speedway are trying. If you look at a few small things done to the facility over the past few weeks to make the facility better it could be a sign of better things to come. New light bulbs and fixtures made viewing better, nice signs welcomed us into the facility, there is a pit concession stand, and fresh paint on various items around the facility.
The fact there are two All Star shows (three with the potential expansion of the August show to two days, more on this later) and two SOD / NRA shows booked for 2014 shows Butler is trying to put on some larger events to draw fans. Saturday's UNOH All Star Circuit of Champions program drew a nice crowd. Denny Donaldson was on hand and mentioned he has been at the track quite a bit over the past two weeks helping with promoter Bob Garrett making improvements.
The program was completed at Butler before 11:00 after starting an hour behind due to track conditions and a street stock race that throw in before the sprint car race because it was going to go by quickly (it did not), which for there was an improvement. There are still problems at Butler. The track crew does not have the equipment to make for a really good race track on a consistent basis, the surface is still full of rocks, and like to fight person still frequents the pit area and stands. Overall the night was an enjoyable experience with a nice sized crowd on hand for what purse wise is the tied for the second biggest sprint car race in the state of Michigan this year.
It was nice to see some effort in what has appeared to be a stagnant effort at times at Butler. In the past we could not get anyone from the track to participate in our Great Lakes Preview Show, essentially free promotion for the facility. According to teams that have stuck around to race weekly at Butler there is no point fund for the division and the purse has been on the decline for some time. The effects are starting to show from this as the weekly car count has dwindled. Saturday there were signs of life with the healthy crowd on hand, many of which were regular readers of this website that I had never met until then.
Hopefully the improvements are a sign towards a point fund being established again and the weekly sprint cars being taken care of a bit more at Butler. Purse cuts and the lack of point fund has driven away a lot of cars that are just sitting in shops at this point until there is something to race for at Butler. Having a healthy Butler Speedway is imperative to the health of sprint car racing in the region. There are a lot of drivers in the area that got their start at Butler. Without that pipeline that provides a path for new talent and a weekly home in southern Michigan for sprint car teams to compete at would be a major blow to the division in the future.
Butler Speedway has a passionate fan base that loves sprint car racing and teams that call the track home. Hopefully this wave of effort continues so the weekly sprint car division can be propped up a bit to entice some teams to return. When you first pull into the facility at Butler the acres of mowed grass and front gate make a great first impression. I've always felt the way you walk into the grandstands through the entryways has a stadium like feel to it, now its time to take advantage of the good points and move forward to make Michigan's only weekly sprint car track even better.
Butler Notes…
Saturday night All Star and Butler officials announced the August program will be expanded to a two day program August 15 and 16 with a party between the Friday and Saturday portion of the program.   While being told this by both parties an official release has not been seen about the expansion yet, so we are waiting for the dust to settle (no pun intended) before changing our master schedule.
Ryan Ruhl finally found victory lane in his own car with the Engine Pro Sprints on Dirt presented by ARP Friday in dominating fashion at Hartford Speedway. Ruhl dominated Friday's event in front of one of the largest audiences to witness a SOD race at Hartford in recent memory. Ruhl also had a top ten running going at Butler with his 360 powered cars against the 410's Saturday at Butler before contact with a lapped car caused him to spin and bring out the caution flag. "Radical Ryan" now leads Dustin Daggett by four points going into Saturday's SOD / NRA event at Butler where Ruhl typical had run better than Daggett in the past. Could we have parody in the SOD series? Stay tuned…
Chad Blonde may have set a Butler altitude record after the steering box broke on his car and launched off the turn two banking on Saturday. This screen capture from High Vista Video shows the height Blonde achieved before remarkably landing on all four wheels. Even with the upright landing the damage suffered in the incident put Blonde on the sidelines for the evening.
Former Butler track champion KenMackey returned to Butler on Saturday only to suffer mechanical issues that ended his night after ¾ of a qualification lap. Mackey indicated he just assembled a new Maxim for his 360 engine and will return to SOD competition Saturday at Butler.
Doug Zimmerman had a good showing going for the local drivers drawing the front row for the dash on Saturday and earning the preferred outside front row position for the feature. Zimmerman got into the gas early between turns three and four though and was docked one row on the second attempt to start the feature. Zimmerman still had a solid top five run going when the front wing came apart on his car and dislodged, bringing out a debris caution and Zimmerman to the tail of the field.
Notes from elsewhere…
In today's world of race promotion we read and hear about creating events and not just races. Rich Farmer did just that with the Legends Race on Saturday at Fremont Speedway tied into their Hall of Fame Induction weekend. Open to all drivers that could find 305 sprint cars to drive that were at least 50 years of age or older and had not raced in two years, a nice field of drivers turned out with a full house to watch. Kudos to Fremont Speedway and all of the 305 sprint car teams that offered up cars for the Legends drivers to wheel on Saturday.
If there was any question on how hard the Legends Race participants would race on Saturday at Fremont, the images of broken and bent parts being thrown out on Twitter was proof otherwise. Kenny Jacobs and Jim Linder were among several drivers joining the upside down club on Saturday during the legends event. Thankfully there were no major injuries. On the upside I have never seen race teams so enthusiastic to fix broken race cars.
Eastern Storm proved to be a literal term for the USAC Amsoil National Sprint Car Series tour of Central Pennsylvania. Two of the races were rained out while Grandview's stop was rain delayed. The soggy weather could not dampen the enthusiasm for fans to see USAC in Central Pennsylvania.  Over the past three seasons teams have informed me this is one of the most fun portions of the tour and teams are greeted with possibly the most enthusiastic welcome on the entire National tour.
The Auto Value Super Sprints and Must See Racing split fans and teams of winged sprint car racing on Saturday night booked events 154 miles apart. Both races drew less than full fields with one event pulling 16 cars while the other drew 15. On a positive note some teams that might not have made the feature had there been one event at least made feature start money (or more), the series essential service a race team base that is not large enough to support such conflicts at this time. While both of these series have completely different agendas when it comes to tires and how they run, more work needs to be done to prevent scheduling conflicts.
One of the more odd occurrences was Kalamazoo Speedway using Jimmy McCune's photo to promote Saturday's AVSS event at Kalamazoo, only to have McCune race at Auto City. What was also odd was McCune made it clear he was going to Auto City all along.
Pennsylvania sprint car driver Jimmy Seeger being upgraded to serious condition from critical after his terrifying crash during hot laps at Williams Grove Speedway on Saturday. Friday was Seeger's first race back after suffering a broken back last season at Lincoln Speedway. Darren Pifer also is on the mend and is home recovering after suffering burns in a fire at Sportsmans Speedway. Pifier is very active on Twitter account and could still use some well wishes during the remainder of his recovery.
Skylar Gee, son of former driver Tim Gee, won the sportsman sprint car feature Saturday night at Castrol Raceway in Edmonton, Alberta.
Taylor Ferns picked up her first winged 410 sprint car victory on Friday night with the Ohio Valley Sprint Car Association. Ferns recently got back into winged sprint car racing for the first time since she was 14 and ran some races and the end of her rookie season with the OVSCA. Look for winged sprint car portion of her schedule to be fluid at this point changing as she gains experience while working around select midget and the entire USAC Silver Crown Series schedule.
Rob Ristesund tweeted that Tim Kaeding returned to action after two months on the sidelines, winning his second start since the layoff at Marysville Raceway Park driving for Paul Silva.  Kaeding will transition to the Phoenix Racing team this weekend with the World of Outlaws.