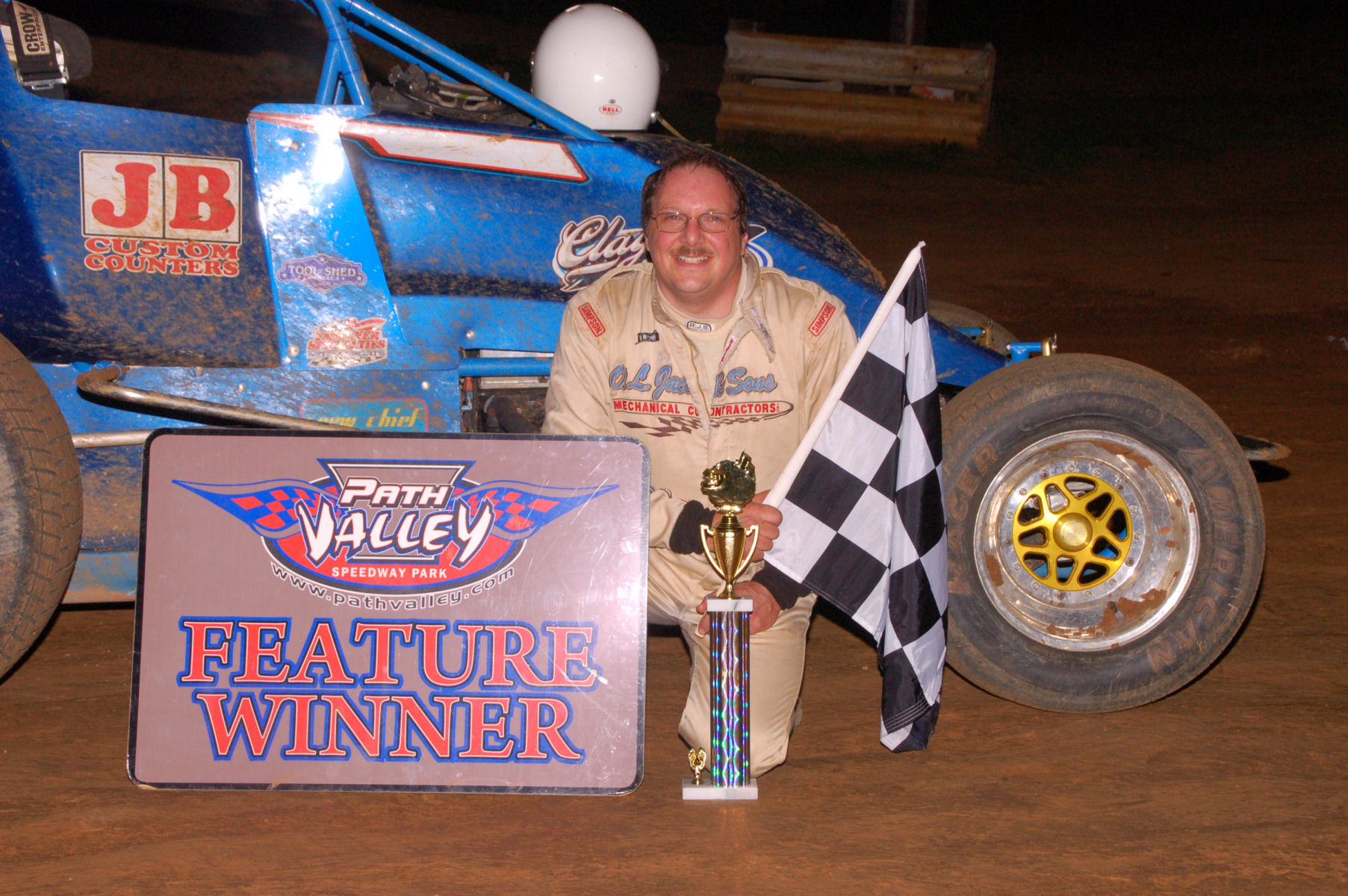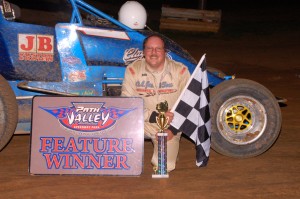 From Path Valley Speedway
Path Valley, PA — (June 20, 2014) — The Wingless Super Sportsmen ran the third of six races scheduled at Path Valley Speedway in 2014. Each race has seen a few more drivers and the level of exciting action has also increased each time.
Rookie Devin Beidel started second and won the drag race to turn one to capture the early lead of the Wingless Super Sportsman feature. Beidel was running the low groove while Joey Biasi was "flying high and wide", flirting with the outside guardrails in the corners. Biasi quickly caught Beidel and moved to the lead on lap three. Carmen Perigo was also working the high groove, but twice jumped the right rear tire of someone he was trying to pass and the second time he dropped back to the middle of the fifteen-car field. Then Perigo found his rhythm and started to march back toward the front. Every other lap or so Perigo would gain another position, finally chasing down Biasi and making the winning pass on lap twenty-one. In victory lane Perigo stated his engine was starting to have issues the last few laps, but it was still strong enough to hold on for the win. The victory gives Perigo two wins and a second place in the three races. Biasi held on to second, just ahead of Adam Wray, who claimed the Hard Charger award. Steve Wilbur ran in the top five all night, finishing fourth and Rick Barr completed the top five. Heat race checkers went to Wilbur and Perigo.
Wingless Super Sportsman: 1.Carmen Perigo (Stoystown, PA), 2.Joey Biasi, 3.Adam Wray, 4.Steve Wilbur, 5.Rick Barr, 6.John Wolfe, 7.Devin Beidel, 8.Bob Gutshall, 9.Dave Conrad, Jr., 10.Duaine Smith, 11.Jaremi Hanson, 12.Stan Wanner, 13.J.R. Mull, 14.Bryan Gontz, 15.Dave Socks
Lap Leaders: Devin Beidel (1-2), Joey Biasi (3-20), Carmen Perigo (21-25)
Heats: Steve Wilbur, Carmen Perigo