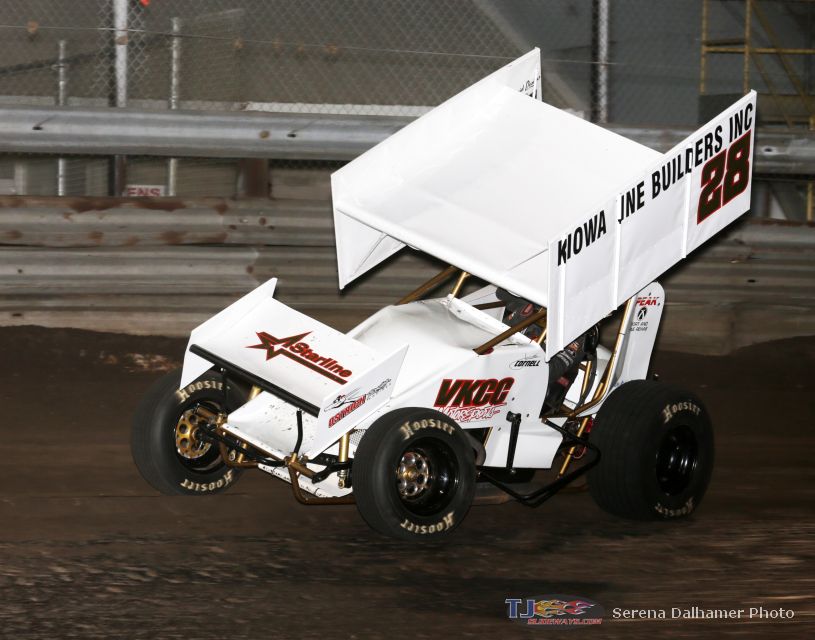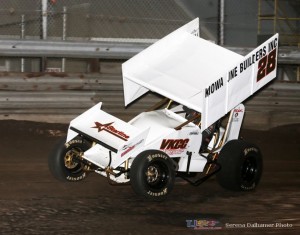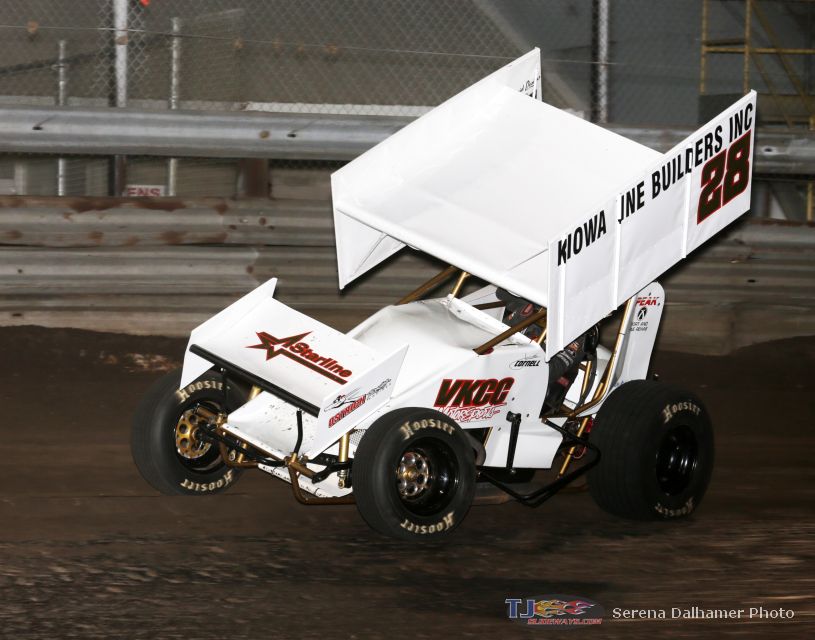 From Double-X Speedway
California, MO — (June 29, 2014) — Sunday Night Thunder roared again Sunday night with exciting racing action in all four classes that were on the card. All in attendance were "Racing for a Reason" as the night was celebrating the fight against Autism. Special events were planned and hosted by sprint car driver TJ Muths and his family to raise money for this worthy cause. The fundraising for this was not over shadowed by the action on the track though as the driver in attendance were definitely "Racing for a Reason".
Twenty winged sprint cars took to the track to "Race for a Reason" with Kyle Bellm and Brad Ryun leading the field to the green. Bellm would put the JHR 77 on the cushion and lead the first thirteen laps until making contact with the wall coming out of turn two while attempting to hold off a charge by second place running Jonathan Cornell. Bellm would flip after the incident also collecting Casey Baker as she tried to avoid Bellm's machine. After the track was cleared for the red flag, Cornell would assume the lead and hold off a strong running Evan Martin. As the checkered waved after 25 laps, Cornell claimed the victory, Martin was second, Tyler Blank claimed a solid third, TJ Muths ran fourth and Taylor Walton brought home his machine in fifth. Ricky Stangl was sixth, Lanny Carpenter seventh, Matt Close eighth, Broc Elliott was ninth and first night driver Bobby Duncan was tenth. Heat races were won by Bellm, Brad Ryun and Walton.
The 25th Season of racing at Double-X resumes this coming Thursday with the ASCS Warrior Sprint Cars on hand to start off the holiday weekend. After they make visits to Callaway Raceway on Friday and Randolph County Raceway on Saturday the traveling stars will return to Double-X on Sunday night to close out the weekend and to determine the point champion of the 4 day tour. Of course the important weekly support classes will also be on hand at Double-X Thursday and Sunday as well. Also, there will be the Cory Wierman memorial washer tournament to benefit the "Turn 1 Up and Coming Driver" fund on Sunday July 6 at Double-X. Contact Kara Korte at 573-645-4852 for more information.
Winged Sprint Cars–
Feature (20 cars, 25 laps, time 19:42) — 1. 28-Jonathan Cornell, Sedalia; 2. 4-Evan Martin, California; 3. 75-Tyler Blank, California; 4. 65-TJ Muths, Sedalia; 5. 15-Taylor Walton, Warrensburg; 6. 24-Ricky Stangl, Less Summit; 7. 24x-Lanny Carpenter, Clarksburg; 8. 5-Matt Close, LaMonte; 9. 75x-Broc Elliott, California; 10. 9x-Bobby Duncan, Desloge; 11. 49-Tyler Elliott, California;(DNF) 12. 1x-Brad Ryun, Higginsville (DNF); 13. 10-Will Register, Sedalia (DNF) 14. 9-Casey Baker, Lone Jack (DNF); 15.77-Kyle Bellm, Nixa (DNF); 16. 0- Randy Martin, California (DNF); 17.XX-AJ Wirts, California (DNF); 18. 18x-Nathan Ryun, Higginsville (DNF); 19. 7a-Paul Solomon, Melbourne, AU (DNF); 20. 7K-Kelly Newcomb, Tipton (DNS)
Heat 1–1. Bellm; 2. Cornell; 3. Close; 4. Baker; 5. Stangl; 6. Carpenter; 7. Duncan
Heat 2–1. B. Ryun; 2. Blank; 3. N. Ryun; 4. Register; 5. Wirts; 6. Solomon (DNF); 7. Newcomb (DNS)
Heat 3–1. Walton; 2. E. Martin; 3. Muths; 4. R. Martin; 5. T. Elliott; 6. B. Elliott